15 Unique Engagement Rings For Women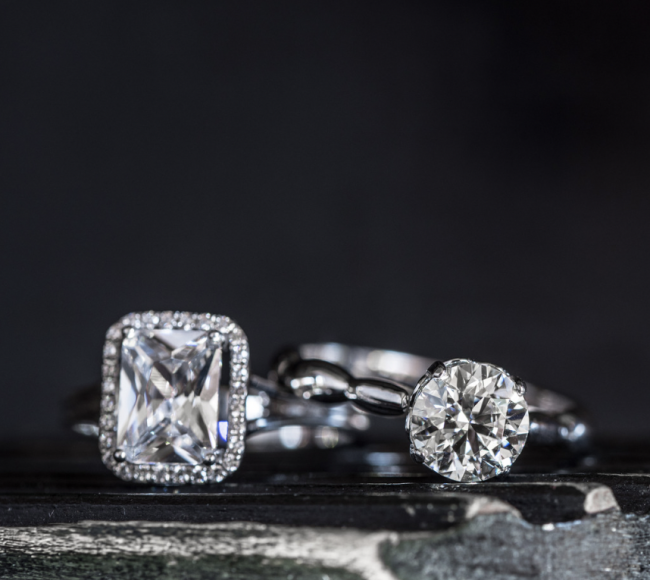 If you are looking for a unique engagement ring, Bling Advisor has the perfect selection for you! We offer a variety of rings that will make heads turn:
Our rings are made with high-quality, ethical materials and feature unique designs that you won't find anywhere else. We have something for everyone: multi-stone diamond rings, ring sets, center stone diamond rings, vintage rings, rubies, emeralds, and sapphires. Take a look at our 15 favorite unique engagement rings and find the perfect one for you!
Unique Engagement Rings with Multi-Stone Diamonds
The ring symbolizes your commitment to one another and will never go out of style. This gorgeous piece has the power to make you shine like no other. Its four diamonds – emerald-cut, marquise cut, extended princess cut, and brilliant round cut – will create an unforgettable sparkle.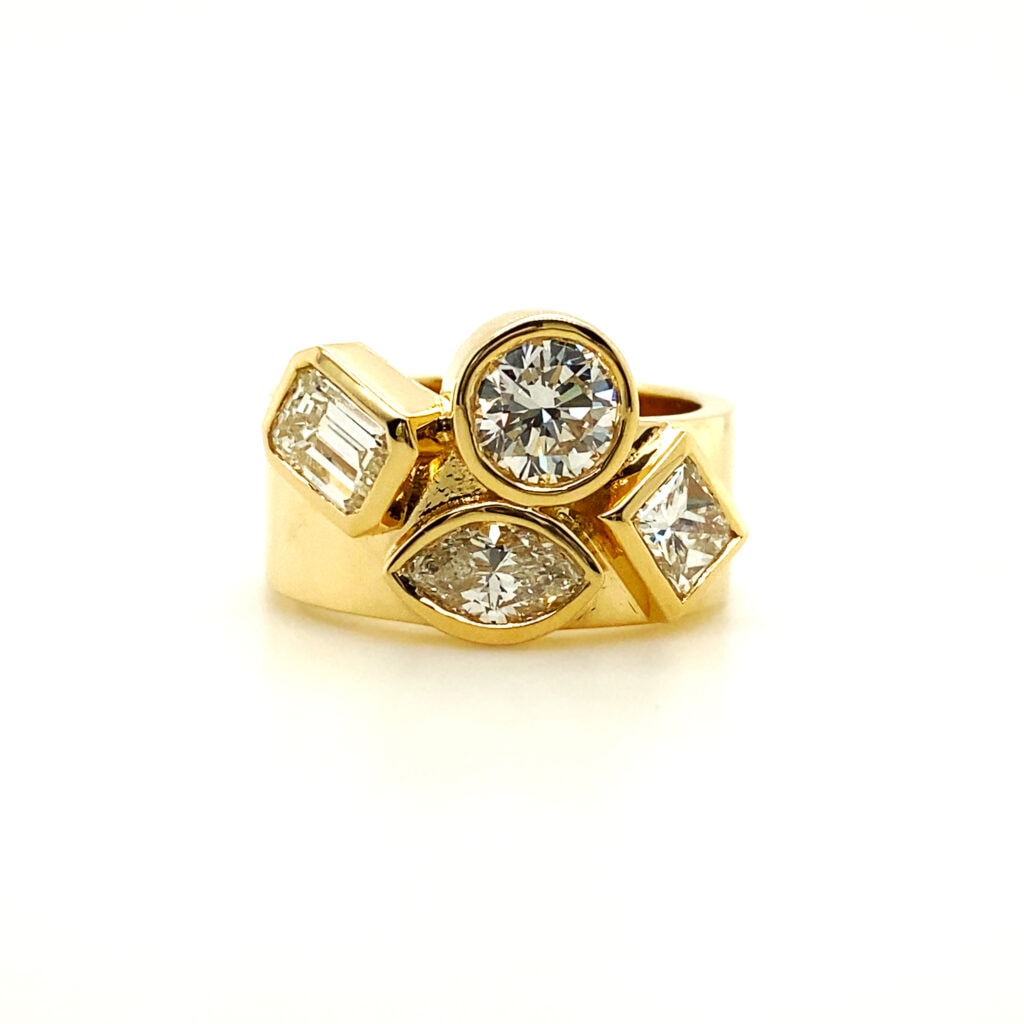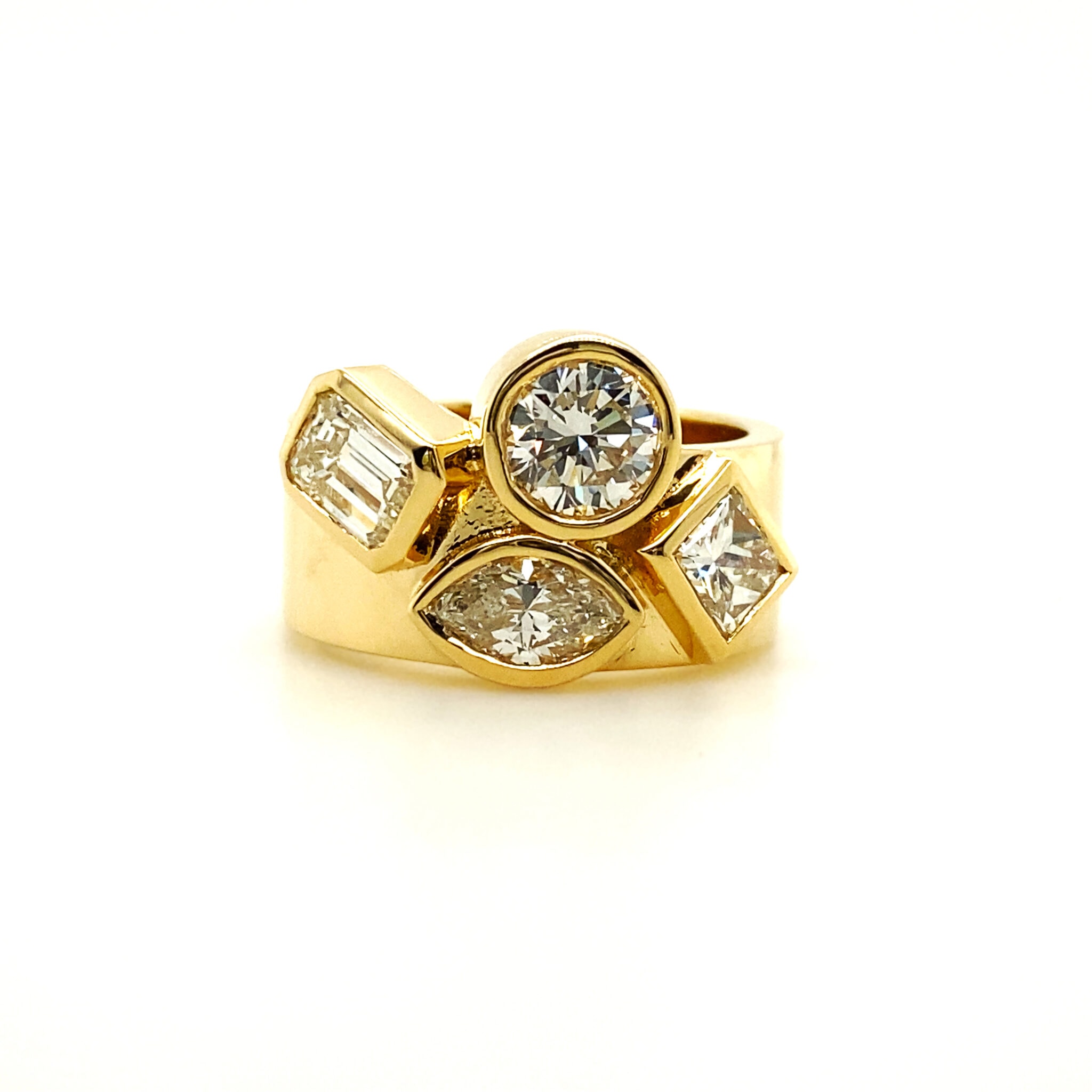 Description:
A .73ct emerald cut diamond, H-I color, SI-2, I-1 clarity
A .72ct marquise diamond, H-I color, SI-2, I-1 clarity
A .74ct round diamond, H-I color, SI-2, I-1 clarity
A .71ct elongated princess cut diamond, H-I color, SI-2, I-1 clarity
Set in 14k yellow gold
Size: 7
Learn more about diamond shapes and how it can affect its price.
It is hard to resist the allure of this beautiful ring! A stunning multi-stone diamond cluster design makes for an elegant and lightweight jewelry collection addition that can be worn daily without weighing down on your fingers or taking up space in your jewelry box. You'll feel like royalty when you wear it.
Description:
A .50ct round diamond
A .48ct princess cut diamond
A .50ct oval diamond
Accented by 3 round diamonds .05ct
Total Diamond Weight: 1.53ct, H-I color, Si-2-I1 clarity
Set in 14k white gold
Size: 6
This Toi Et Moi ring is a stylish way for you to include two of your favorite shape stones, oval and pear, into one beautiful design. This heirloom piece will be passed down through generations, making it an unforgettable symbol of your story together and yours alone!
Description:
An IGI-certified oval cut lab-grown diamond .76ct E color SI 1 clarity
A pear shaped lab-grown diamond .73 ct.
F color SI-1 clarity
Set in 14k rose gold
Size: 7
Learn more about the 4 C's and how to rate diamonds. Did you know that diamond were also April's birthstones?
Unique Engagement Rings with a Center Stone Diamond
This Cushion Cut Yellow Diamond Ring is sure to make an unforgettable impression. The center fancy light yellow diamond rests within a halo of 16 round, dazzling accent diamonds and sits on top of 18k gold. Surrounding this impressive stone are 46 white round diamonds that give that extra sparkle! This eye-catching design will surely capture anyone's attention, whether you're looking at it from afar OR up close…making it an ideal choice for those who want their unique engagement ring to stand out from the rest.
Description:
GIA cert, 1.31ct center fancy light yellow diamond
H-I color, SI-2 clarity
16 round fancy yellow accents in the halo equaling .24ct
Set in 18k yellow gold
46 white round diamonds equaling .80ct
Set in 14k white gold shank
Size: 7
Check those few tricks about how to make your diamond looks bigger!
The center salt & pepper diamond halo will make every outfit pop with its beautiful colors while also showcasing its antique qualities. With its one-of-a-kind color of diamond and oval shape this ring is both trendy and classic and will never go out of style. When you want a piece that is both elegant and unique, this ring has your name written all over it.
Description:
1.62ct center salt and pepper diamond
32 round diamond accent stones totaling .48ct
H-I color, 2 clarity
Set in a 14k rose gold halo style setting
H-I color, SI-2 clarity
Size: 6.5
That's a lot of diamonds! Fall in love with our beautiful custom-cut Salt and Pepper Shield Ring. The main ring has an exquisite Botswana conflict-free .95ct center diamond surrounded by 22 round accent stones, all set into 14k rose gold that will last forever with good care.
The addition of a custom rose gold band with six .03ct round diamonds G-H color and one marquise blue turquoise accent stone makes this unique piece even more beautiful.
Descriptions:
The main ring
Botswana conflict-free diamond
.95ct salt and pepper shield rose-cut center diamond
Surrounded by 22 round accent diamonds
11cts, G-H color, Si-1,2 clarity
Set in 14k rose gold
Size: 7
The matching custom rose gold band
Six .03ct round diamonds
G-H color, Si-1,2 clarity
One marquise blue turquoise accent
Size: 7
Unique Engagement Rings and Ring Sets with Rubies, Sapphires, and Diamonds
When buying an engagement ring, you want something that will impress your lover and last for years of wear. This beautiful Bling Advisor Ring is just what you need! The center oval ruby shines with vibrance, while ten baguette diamonds adorn each side in white gold. It's perfect as a symbol of promise and love. This ring will look wonderful and feminine on anyone who wears it – yourself included!
Description:
A center oval ruby 7×5, 1.26ct, A+ grade
10 baguette diamonds
8 round diamonds
0.31ct total diamond weight
Set in 14k white gold
This custom blue hexagon sapphire and diamond engagement ring set will be the talk of your next event. Sapphires are known for their strength, so they make a great choice for durability in everyday wear- so you'll be wearing this piece for many years after your engagement and wedding!
Description:
A center hexagonal cut unheated Madagascar Sapphire 1.55ct
A trapezoid step-cut diamond accents 0.26cts
F-color, VS-1 clarity
Set in 18k yellow gold
Matching ring jacket
22 round diamonds
0.22ct, G_H color, VS-2 clarity
Size: 6.5
It's time to make your dreams come true! This beautiful 1.36-carat sapphire center stone with 20 round accent diamonds will set off an engagement ring and will be the talk of the town. This feminine, one-of-a-kind sapphire engagement ring is for you.
Description:
Main ring: Oval teal blue 1.36ct center sapphire stone with 20 round accent diamonds running down the shank (.25ct total)
Band: 4 exquisite round and 3 pear diamonds totaling .45ct with H-I color and SI-1,2 clarity
All set in 14k yellow gold
Size: 7
This ring is one of a kind, with its beautiful combination of pink and blue. This piece has just enough color contrast for an interesting design while still being perfect for your outfit of the day.
Description:
A 2ct. cushion pink sapphire
Surrounded by 14 round blue sapphires set in the halo, 1.50ct total wt
Set with 2 princesses cut blue sapphires set into the halo, one at the top of each side of the shank
Set in 14k rose gold
Size: 7
This breathtaking ring is a true work of art. It's made from the most precious materials. It will make you feel luxurious every day. This custom sapphire has an elegant design that can be worn by itself or paired with another piece with different outfits. The unique cut of the sapphire makes it a one-of-a-kind piece for a one-of-a-kind love that will last forever.
Description:
Teal sapphire shield cut unheated weighing 1.18 ct. and diamond ring set in 18k yellow gold
16 round diamonds and 2 marquise diamonds weighing .44ct
Size: 7
This gorgeous orange sapphire ring is sure to make your bride-to-be feel like a princess. The pear-shaped center stone is 2.16 carats and features 25 round diamonds for extra sparkle. Orange gemstones are trending this year but with its classic pear shape this fantastic engagement ring will never go out of style.
The luxurious look would also be great paired with some elegant formal wear and will turn heads when you're attending that special event.
Description:
A center 2.16ct pear orange sapphire
25 accent round diamonds, G-H color, SI-1,2 clarity, .77ct
Set in platinum
Size: 6.5
One-of-a-Kind Vintage Engagement Rings with Diamonds
This stunning, art-deco-inspired Mosaic Emerald Cut Ring is picture-perfect. The elegant and chic design of an emerald-cut has been a favorite among jewelry lovers for years now! If you're looking to add some classically beautiful bling without breaking your budget, this fabulous ring will make anyone happy. Grab this special piece before it sells out.
Description:
Nine-piece diamond mosaic emerald cut ring set in 18k white gold
Mosaic layout is the size of a 2-carat emerald cut
A 14k white gold shank
Size: 6
Take the test and check which fine jewelry style is yours!
This beautiful ring is for a woman who wants to stand out from the rest with something vintage. It features an elegant, vintage design and eight delicate accent diamonds that celebrate your style without compromising on quality or comfort.
Description:
A 1.02ct J color, SI-1 clarity round center diamond
8 round old mine cut diamonds .24ct
J color, SI-1 – I1 clarity
Size: 8.5
Do you have an active lifestyle? Check out which engagement ring fits your lifestyle.
Here comes our last – but not least favorite – Lotus Blossom beauty! This stunning ring is a one-of-a-kind lotus flow inspired piece. The .68 ct GIA certified E-Color Clarity center round diamond will make any couple feel like royalty as it's set in 14k white gold with 30 accent diamonds weighing just over 1/4 carat. The lotus flower is a symbol of love and romance making it an excellent choice for an engagement ring.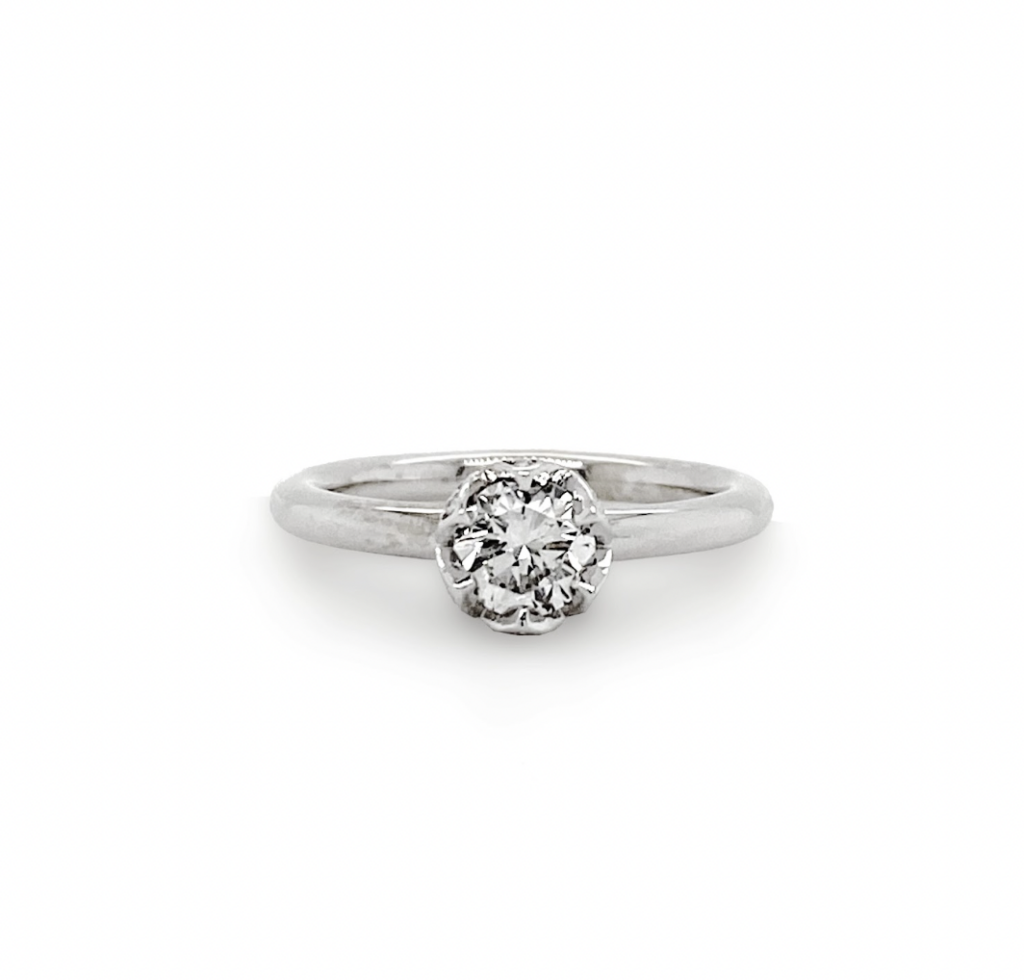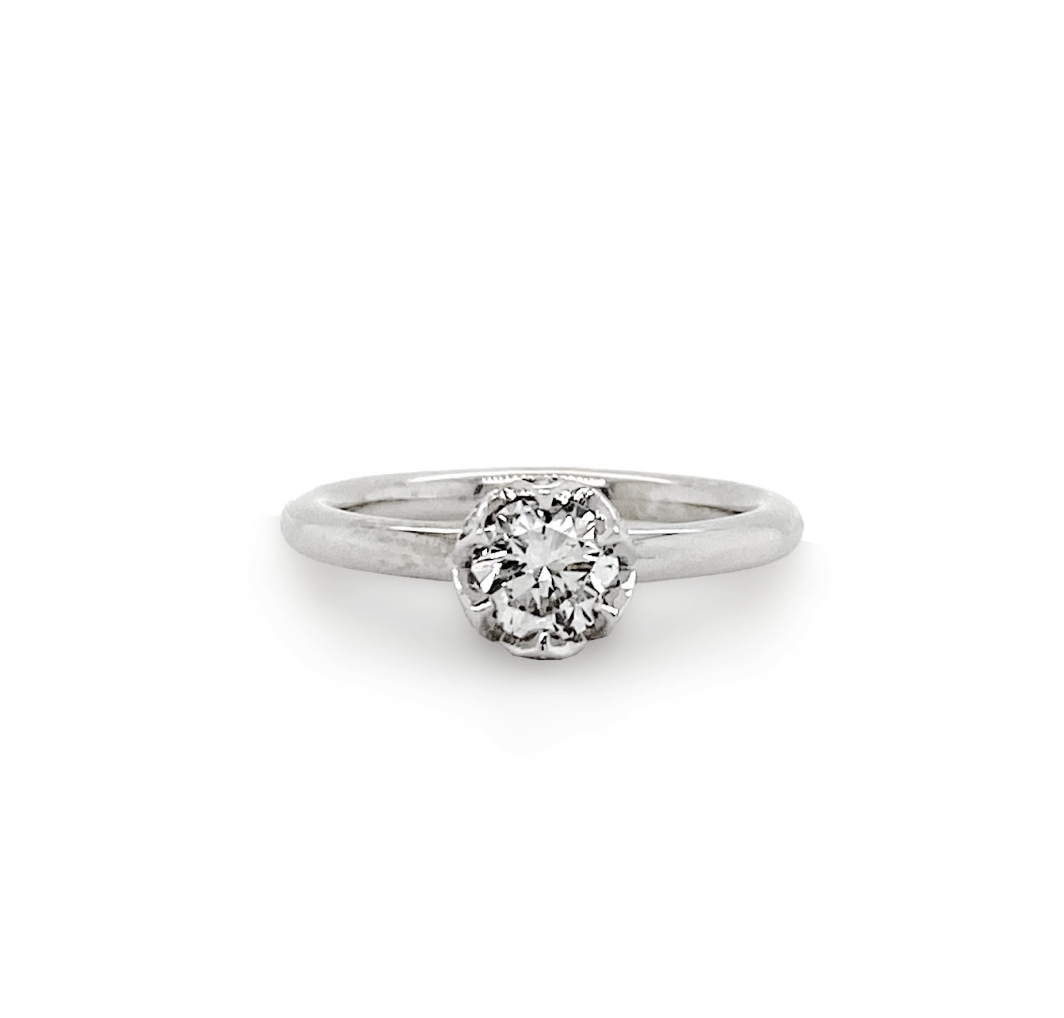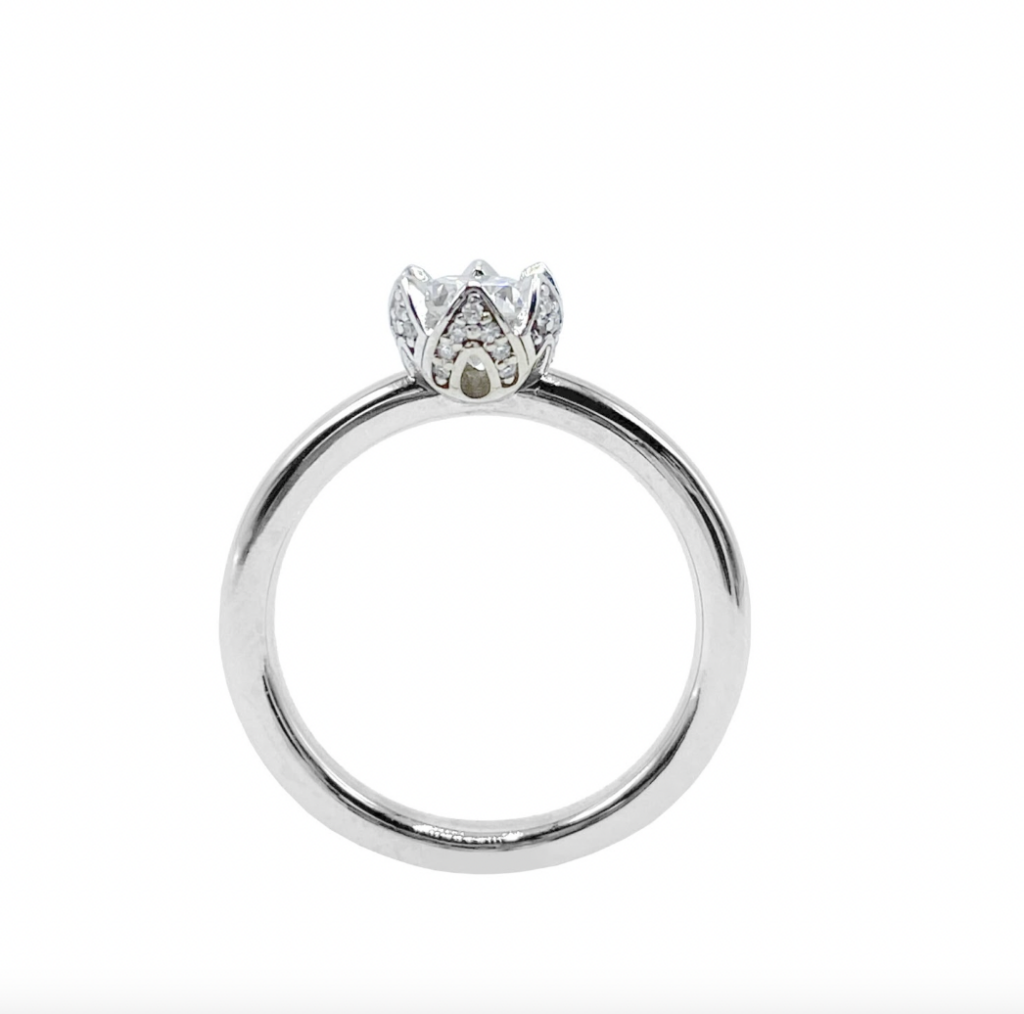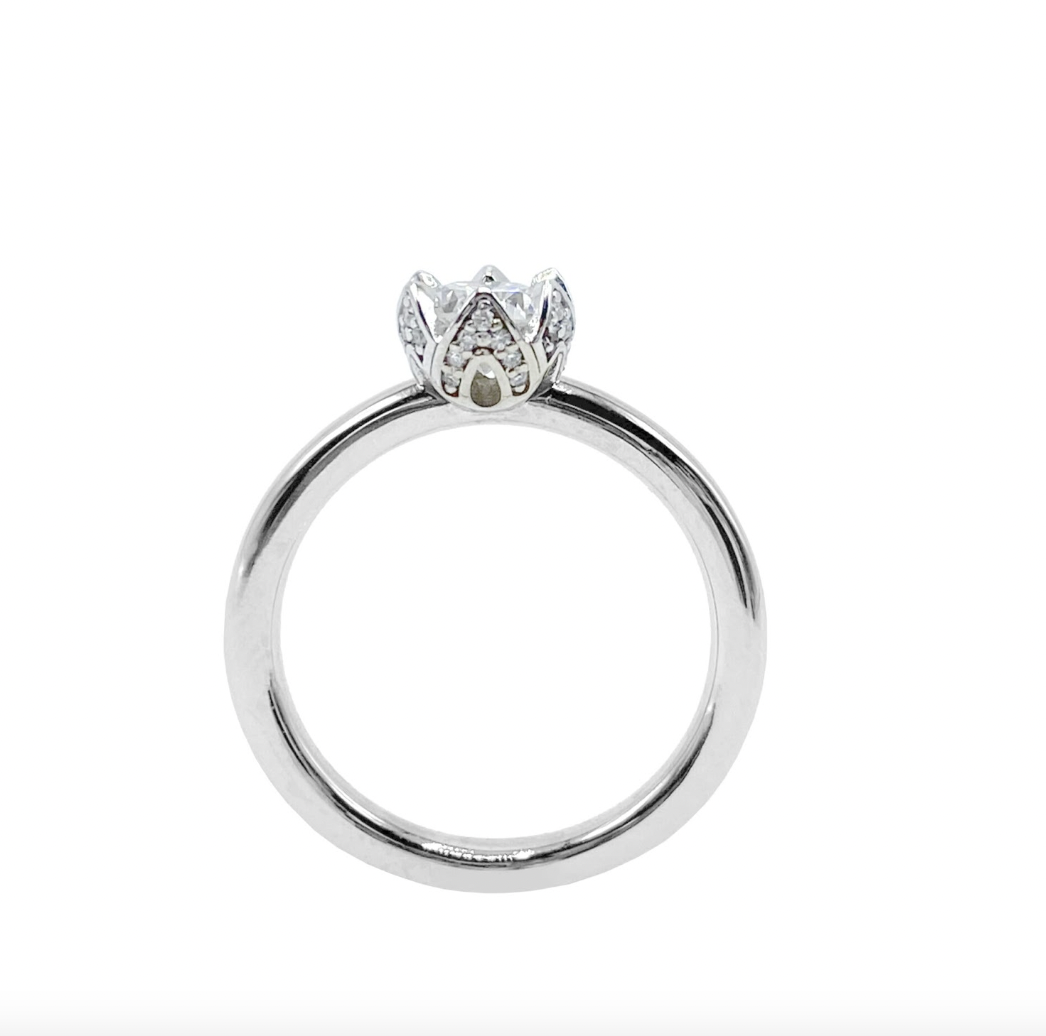 Description:
A .68 ct center round diamond, GIA certified E-Color Clarity-VS1
30 accent diamonds weighing .12ct
Set in 14k white gold
Size: 7
Conclusion
There are so many unique engagement rings for women at Bling Advisor! With a wide variety of colors, cuts, and designs, we're sure you'll find the perfect ring to symbolize your love. No matter your style, we have the perfect ring for you.
Each of these stunning rings can be resized to perfectly fit your finger. They can also be engraved with a special message. To get ideas for engraving messages, read our earlier blog post. If you have any questions, please talk to one of our advisors by calling (888)-908-9304 or sending us an email at [email protected].
If you prefer to create your own custom ring from scratch or from a picture, Bling Advisor can do that too! Creating your own custom ring is easy and fun! Check out this blog post about custom jewelry, read about our custom packages, or contact us, and we'll help you through the process every step of the way. We can't wait to help you create the perfect ring for your unique love story!