Setting to Make Diamond Look Bigger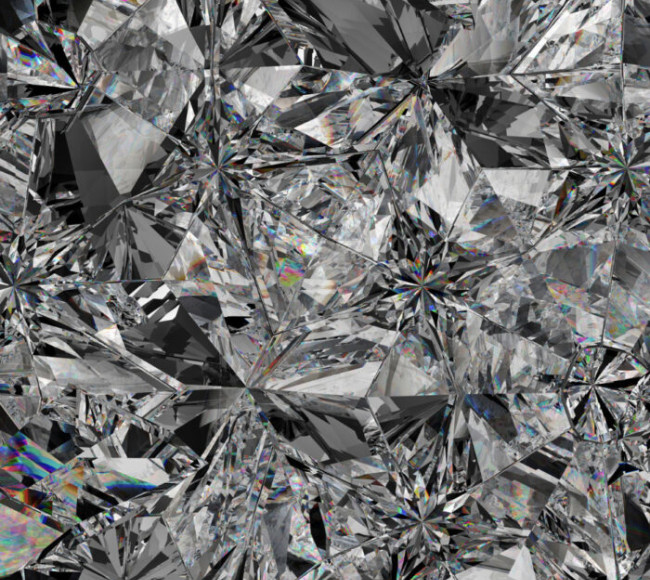 How to Make a Diamond Look Bigger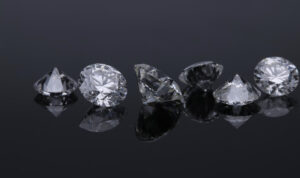 It's completely natural to want your diamond engagement ring to look beautiful and attract attention. The best way to show off a diamond ring is by making the diamond look as big as possible. There are many things you can do to make your center diamond stand out and shine. Follow these 15 tips to make your diamond look bigger!
What Setting to Make Diamond Look Bigger?
Your setting can greatly affect how big your diamond will look. Choosing a setting that optimizes the look of your diamond can give you the sparkle you want without the added cost of going up in carat size. What setting makes a diamond look bigger?
Slender Prongs Make a Diamond Look Bigger
Settings with slender prongs can create the illusion of a bigger diamond. Discreet prongs will cover less of the diamond's surface area, leaving it more visible!
Less is More (When it Comes to Prongs)
In addition to sleek prongs, settings with fewer prongs can maximize your diamond's size. Prongs can draw the eye away from your center stone, so choose a setting with fewer prongs. Most round cut diamonds are set with four, five, or six prongs, but you can occasionally find an engagement ring with a three-prong setting with a martini cut diamond.
Pick a Bright White Metal Band and Setting
Bright white platinum bands reflect the shine of a diamond and can create an illusion of a bigger center stone.
Delicate Bands Accentuate Your Diamond
The size of the band in comparison to the diamond can really make the stone pop. Delicate bands or pinched shanks that taper near the center will leave all of the emphasis on the diamond.
Add Intricate Details
Adding intricate details, like hand engraving, braiding, milgrain, or beading, can make your ring more visually appealing. Details can also add shimmer to your ring and bring the focus to your center stone.
Choose a Pave Setting
Pave settings feature small diamond accents "paving" the band to create more focus on the sparkle of the ring instead of the metal of the band. The illusion of more sparkle can help your center stone shine brighter.
Try a Halo Setting
Halo settings feature a center stone surrounded by a "halo" of smaller stones. You can purchase a halo engagement ring with a higher total carat weight at less cost than if you were to purchase a ring with one stone of the same weight.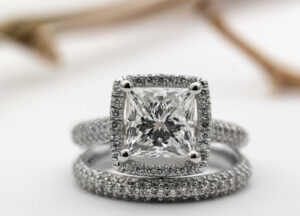 Which Diamond Looks Biggest?
In addition to the setting, the style and cut of a diamond will make a big difference in how large it appears to be. Try these tips when picking out your diamond to make it appear larger.
Focus on Cut
Even more than carat weight, clarity, or color, cut will determine a diamond's sparkle and brilliance. Diamonds with a better cut will appear larger because of the way light reflects off the stone.
Round Diamonds Look Bigger
When it comes to shape, round diamonds will look larger than other cuts at the same carat weight. Because round cut diamonds are not as deep set as other shapes, these stones will have a good amount of surface area and sparkle for their size.
Want a Different Shape? Try an Elongated Diamond
Oval, marquise, and emerald shapes will also take up more space on a ring finger, optimizing the look of a diamond. This means that these three elongated diamond shapes will also give you a bigger look than other cuts at the same carat weight.
Look Into Three Stone Rings
Three stone rings with smaller side stones will make your center stone look even larger. Smaller side stones will also accentuate the main stone without competing for its attention.
Try a Lab Created Diamond or Simulant
Lab created diamonds are real diamonds that you can find at a more affordable price than mined diamonds. You can find a larger carat weight or better cut diamond within budget by looking into lab created diamonds.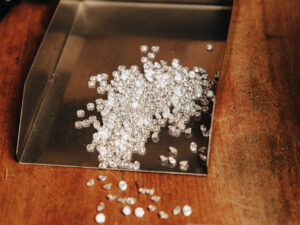 Avoid Cushion Cut Diamonds
Just as round and elongated cuts give the illusion of a bigger diamond, other cuts can make the diamond appear smaller. Because cushion cut diamonds are deep set, a lot of the carat weight isn't visible, making the diamond appear smaller.
Other Tips
Keeping your ring clean and free of anything that clouds the sparkle will ensure that your diamond looks its best. A dirty diamond will appear dull and smaller than a clean diamond. It's recommended to have your ring cleaned every six months by a professional. You can also clean your ring at home when it needs a touch-up by using jewelry cleaner and a soft polishing cloth. This will keep your ring free from oil or makeup that could dull your diamond's shine.
Consider a Custom Piece
Another option for making your diamond look its best is considering a custom engagement ring. You will be able to take all of our tips to make your diamond truly stand out by designing a ring from scratch. If you want professional advice on creating an engagement ring with a larger-than-life diamond within your budget, reach out to our jewelry advisors today.