The Different Styles of Engagement Rings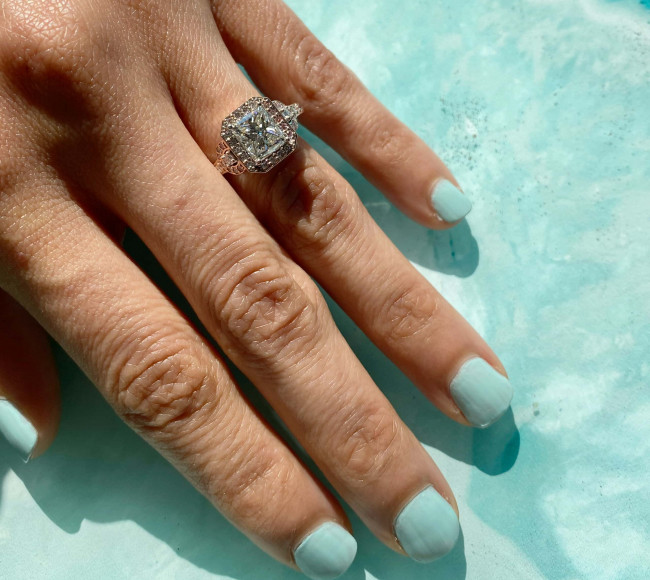 For most people, the engagement ring is an important symbol of love and commitment. While there are no set rules on what the ring should look like or how it should be worn, traditions surrounding the engagement ring and its engraving are worth the time to learn.
Engagement rings come in all shapes, sizes, and settings to create an infinity of personal styles! This article review the different styles of engagement rings available on the fine jewelry market!
There are many factors to consider when shopping for an engagement ring, including the stone's kind and shape, the engagement ring settings, and the type of metal used.
The Different Shapes of Engagement Rings
The choice of engagement ring style is very personal and depends on your preferences. First, let's learn more about the different gemstone and diamond shapes available for your engagement ring.
ROUND-CUT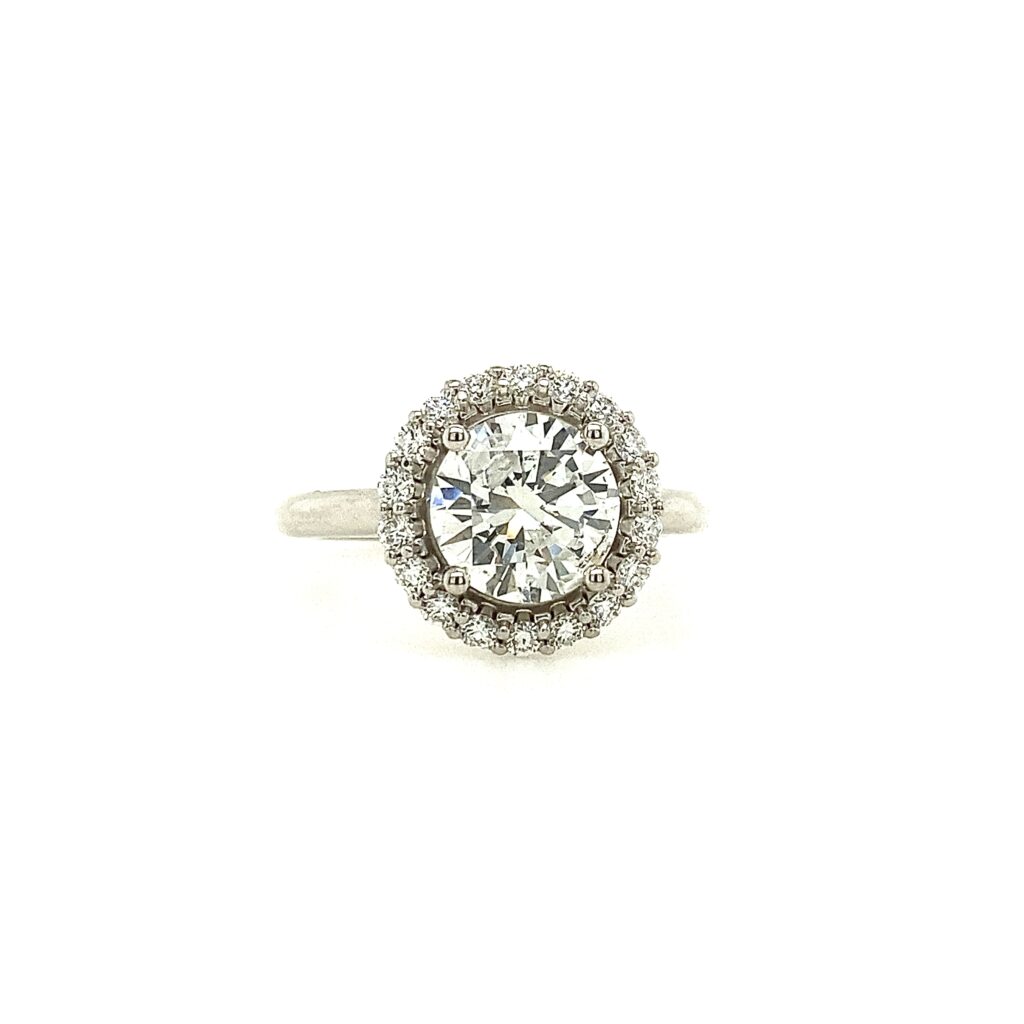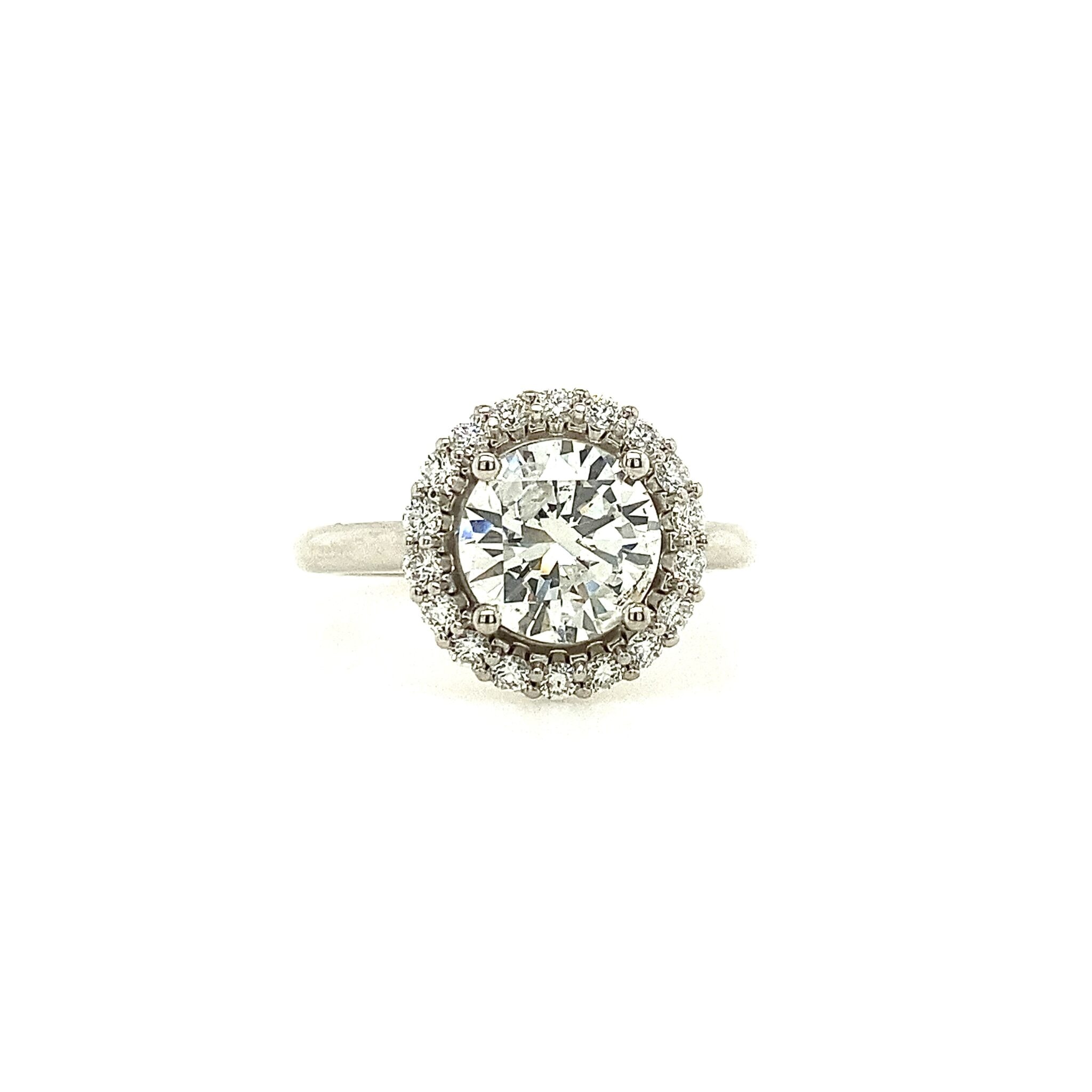 Classic engagement rings are a round diamond cut, and that means that the center stone, commonly a round center diamond, has been shaped to have rounded edges on all sides. It remains by far the most popular engagement ring style.
It is an elegant option for brides seeking timelessness. The round cut has many variations that can also include side stones.
OVAL-CUT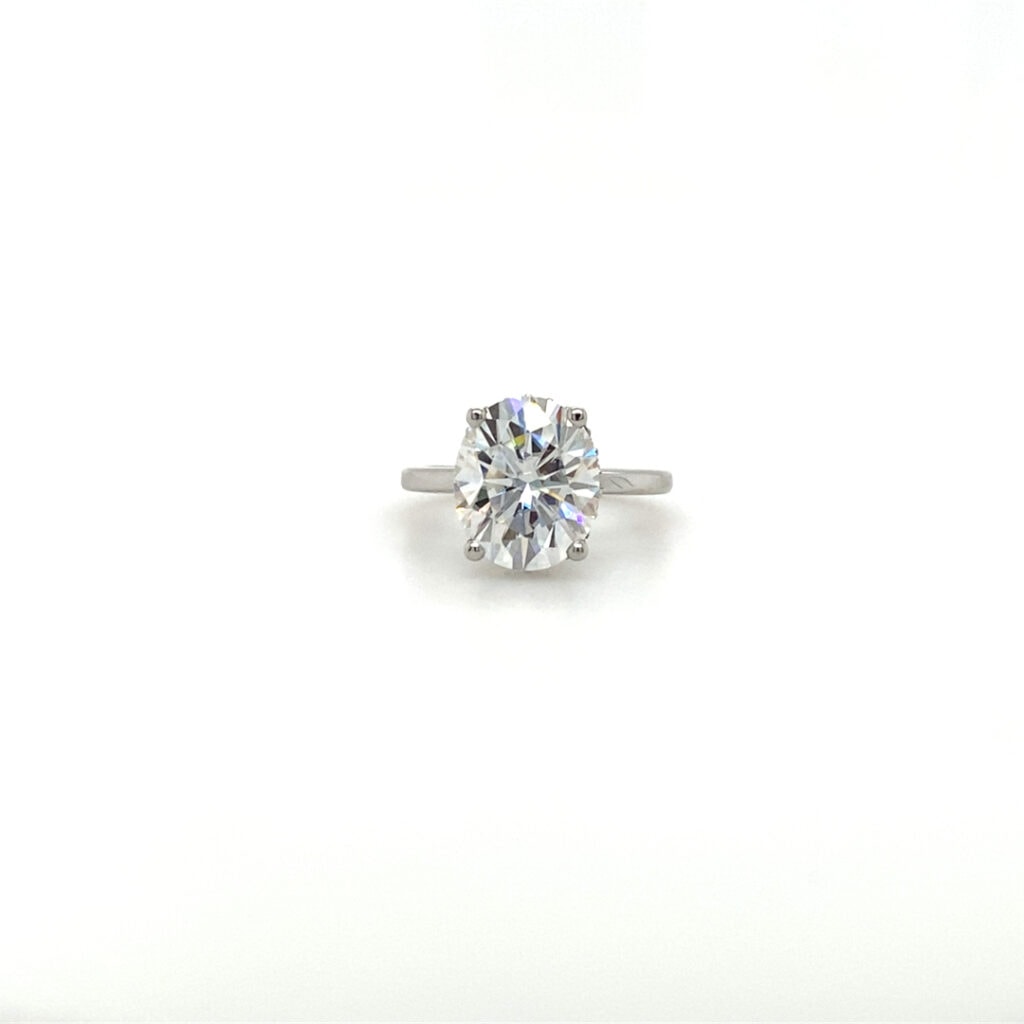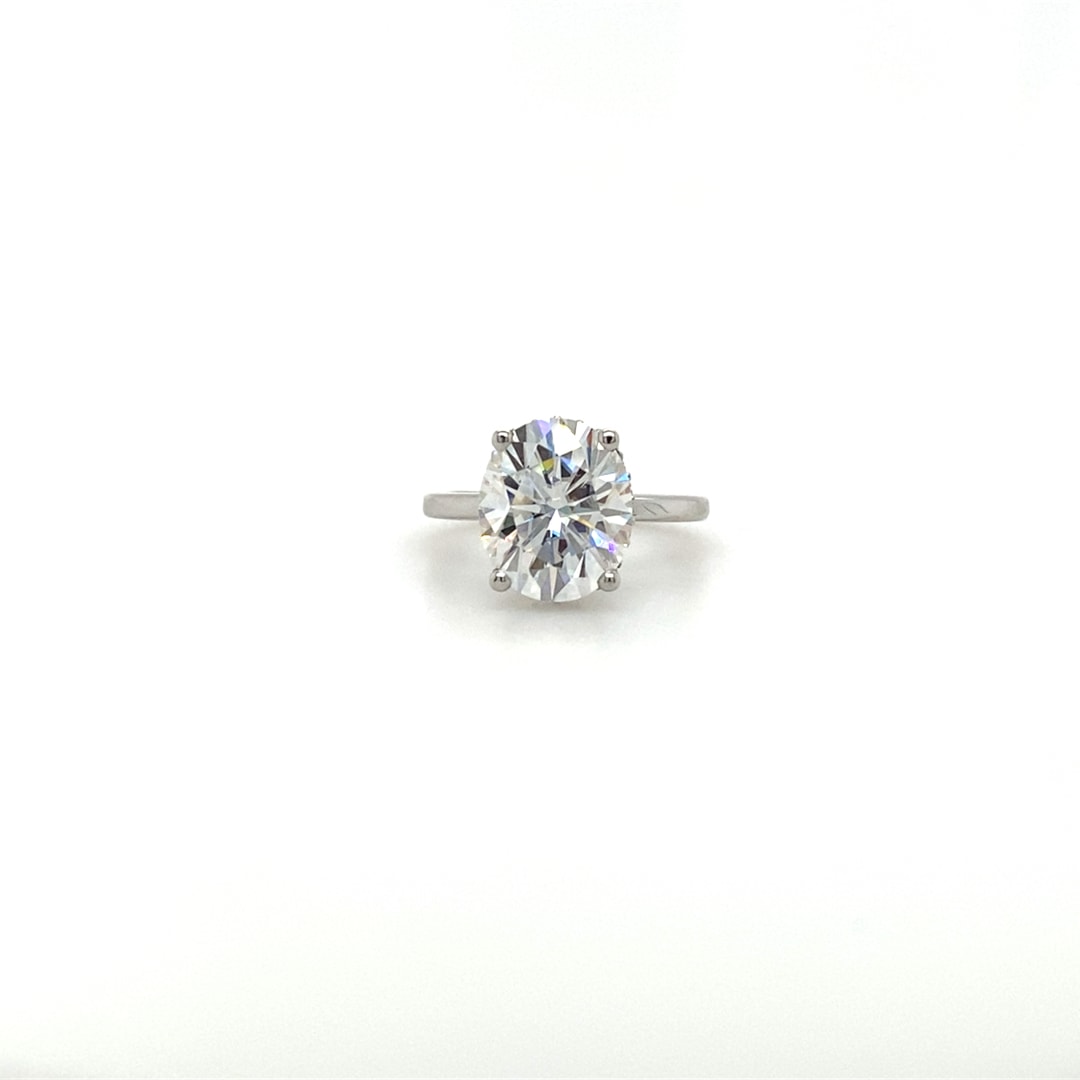 The oval shape is the second most popular choice and draws a softer and more romantic appeal than the round shape. It pairs well with vintage-themed weddings, and it is one of the most favored engagement ring styles in Europe. The oval cut is appropriate for brides seeking a soft, romantic style.
PRINCESS-CUT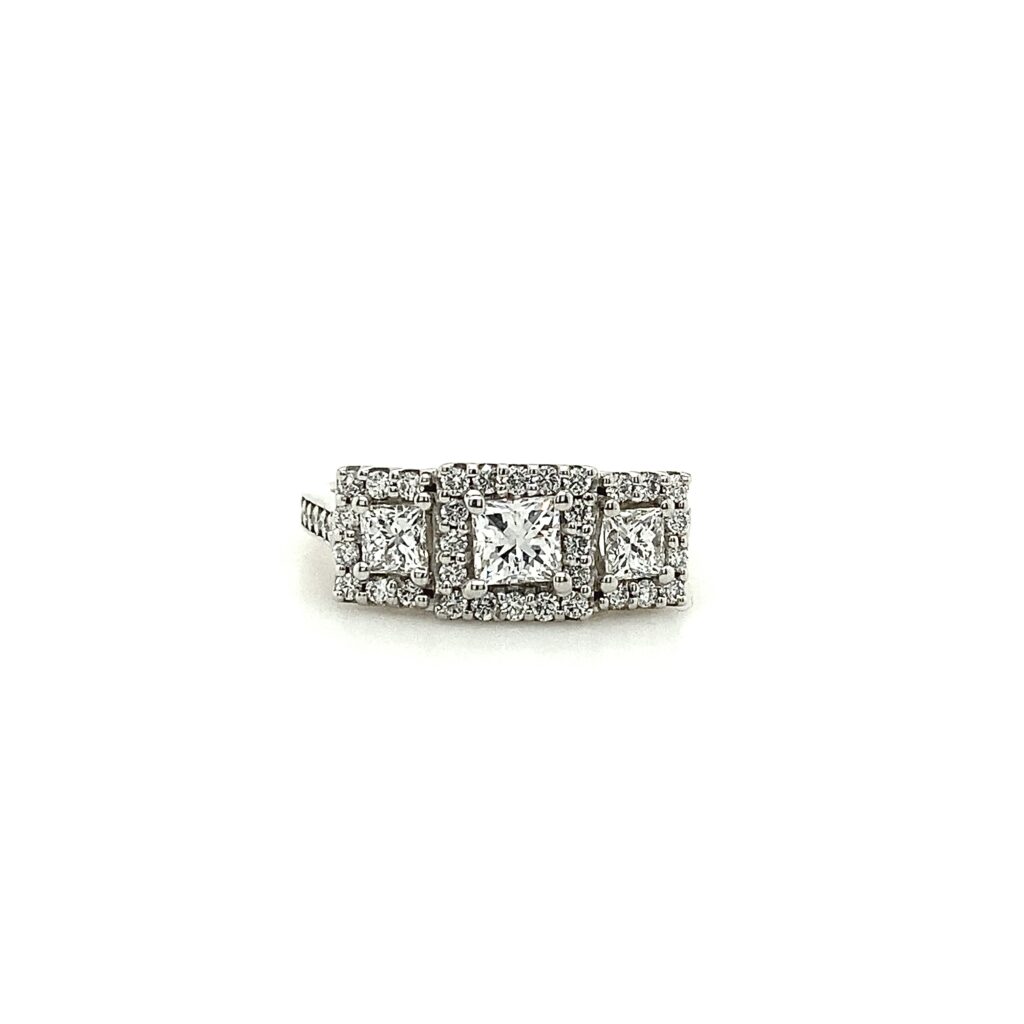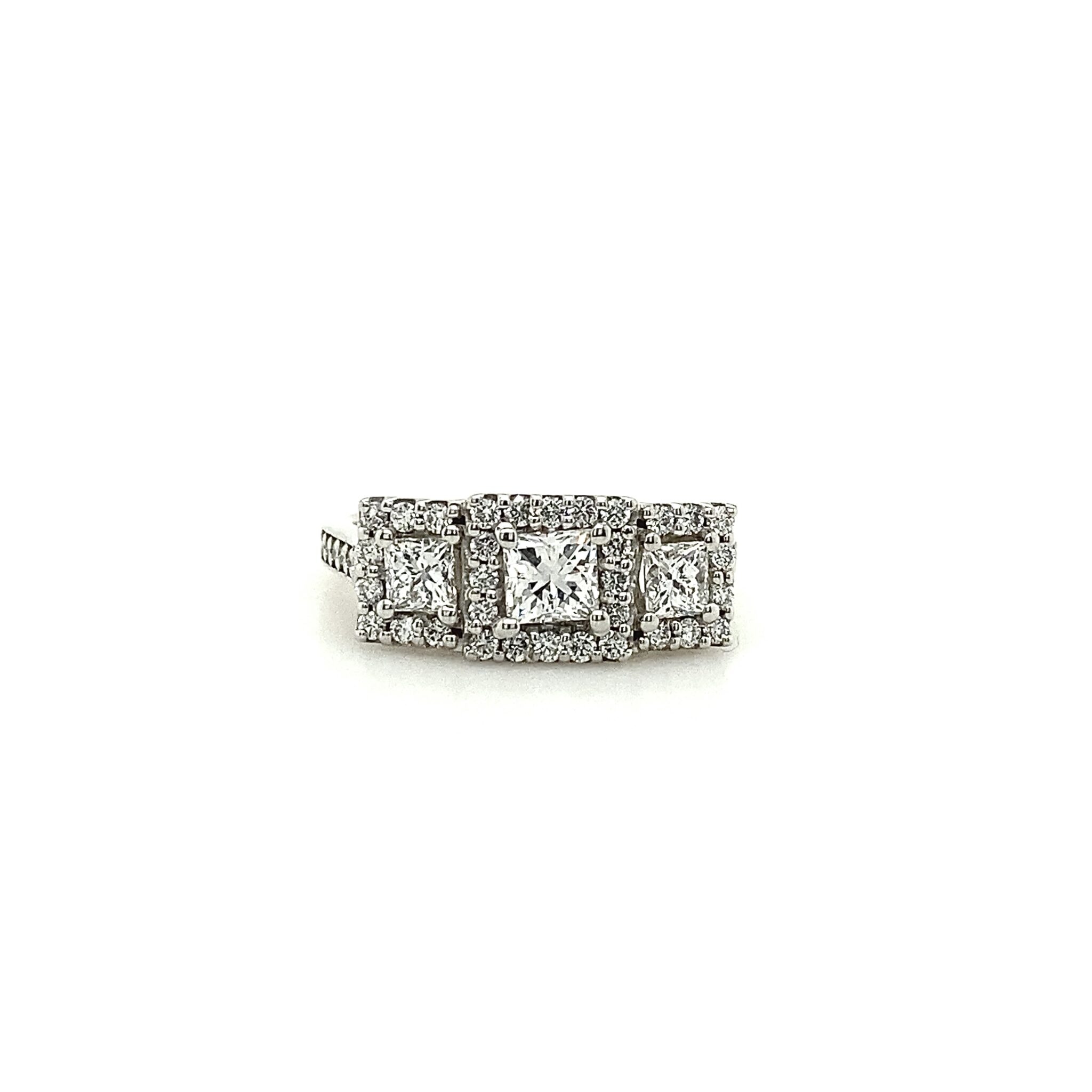 The princess, sometimes known as a square cut, is a bold and robust shape with an edge, perfect for women seeking something unique yet still classic. In recent years, they have become trendy and can be set either with or without side stones, making for an elegant design. Princess cut diamonds are famous for their unique shape and setting, making side stones more visible!
EMERALD-CUT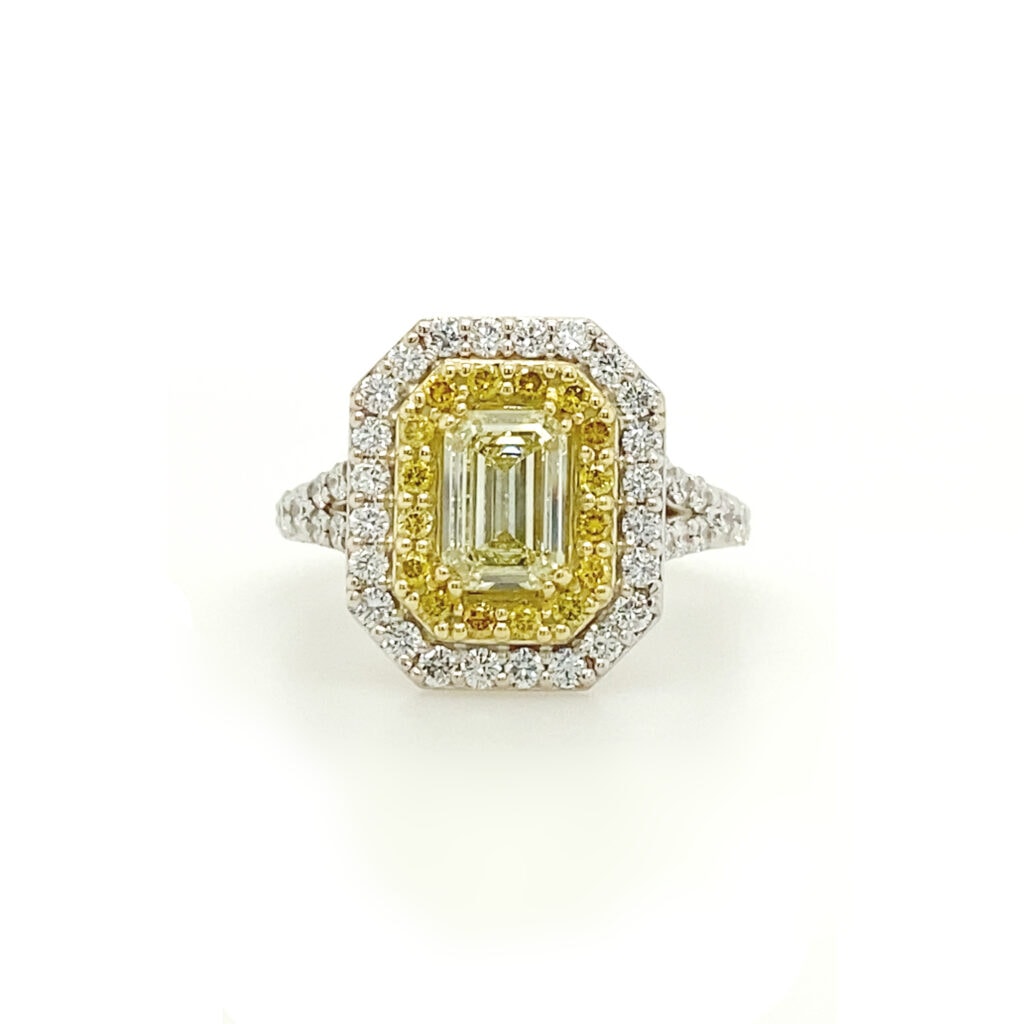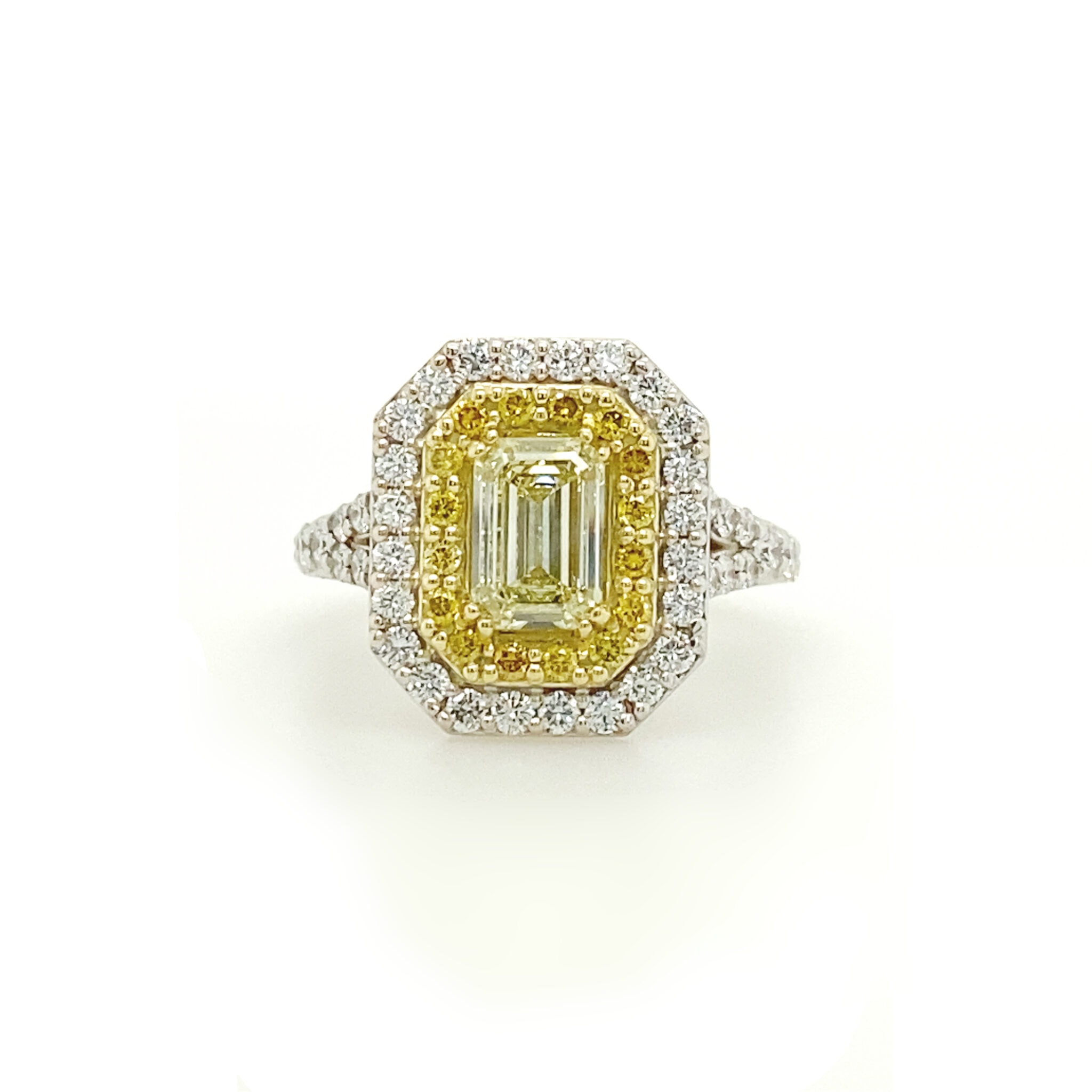 Emerald-cut diamonds are perfect for someone who wants something different than the average diamond. They have chiseled step cuts and straight linear facets, making them stand out in any setting! The corners on these incredible gems may be cropped to prevent fractures when under pressure.
Check out this stunning emerald diamond engagement ring!
BAGUETTE-CUT
The 'Baguette' cut is a rectangular-shaped stone with tapered ends. Baguette diamonds are generally set with side stones and go great with vintage-themed weddings. This style features straight or rounded corners that are meant to look like a "baguette."
PEAR-CUT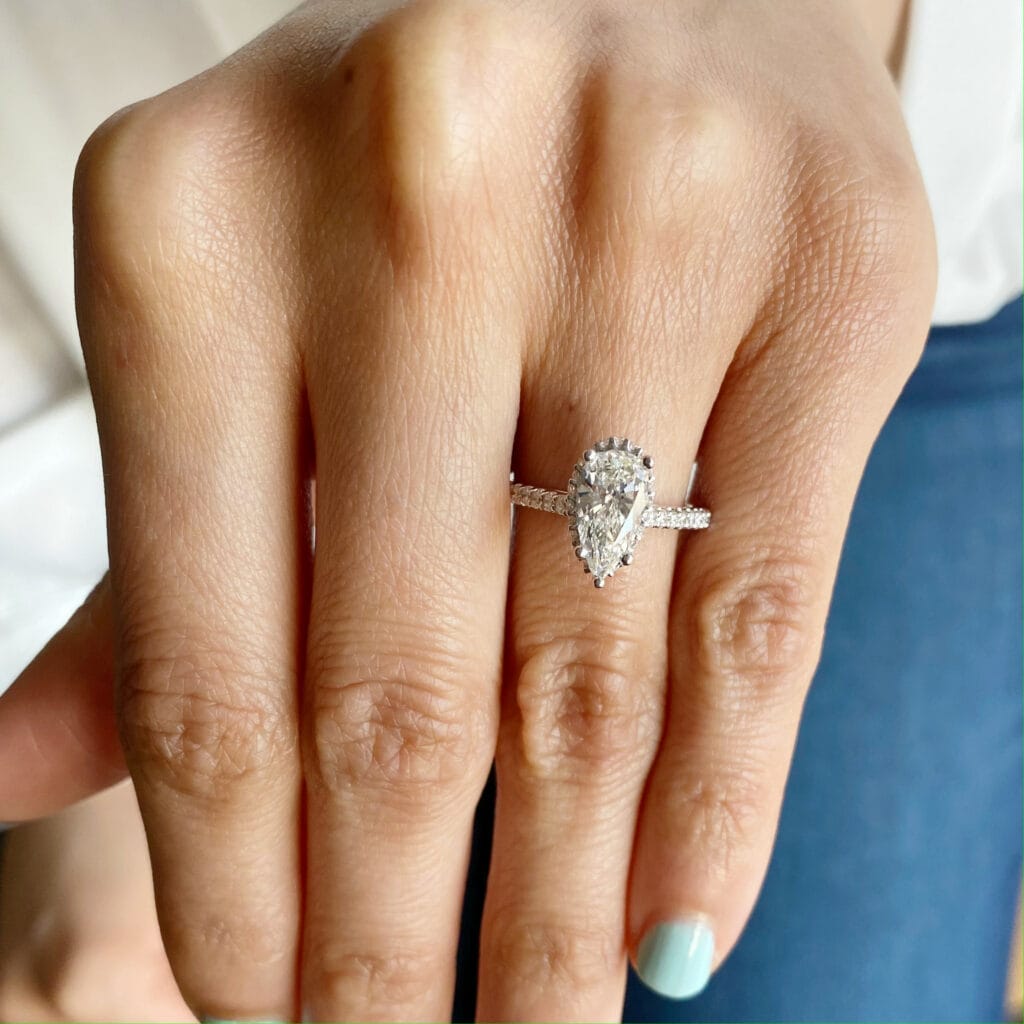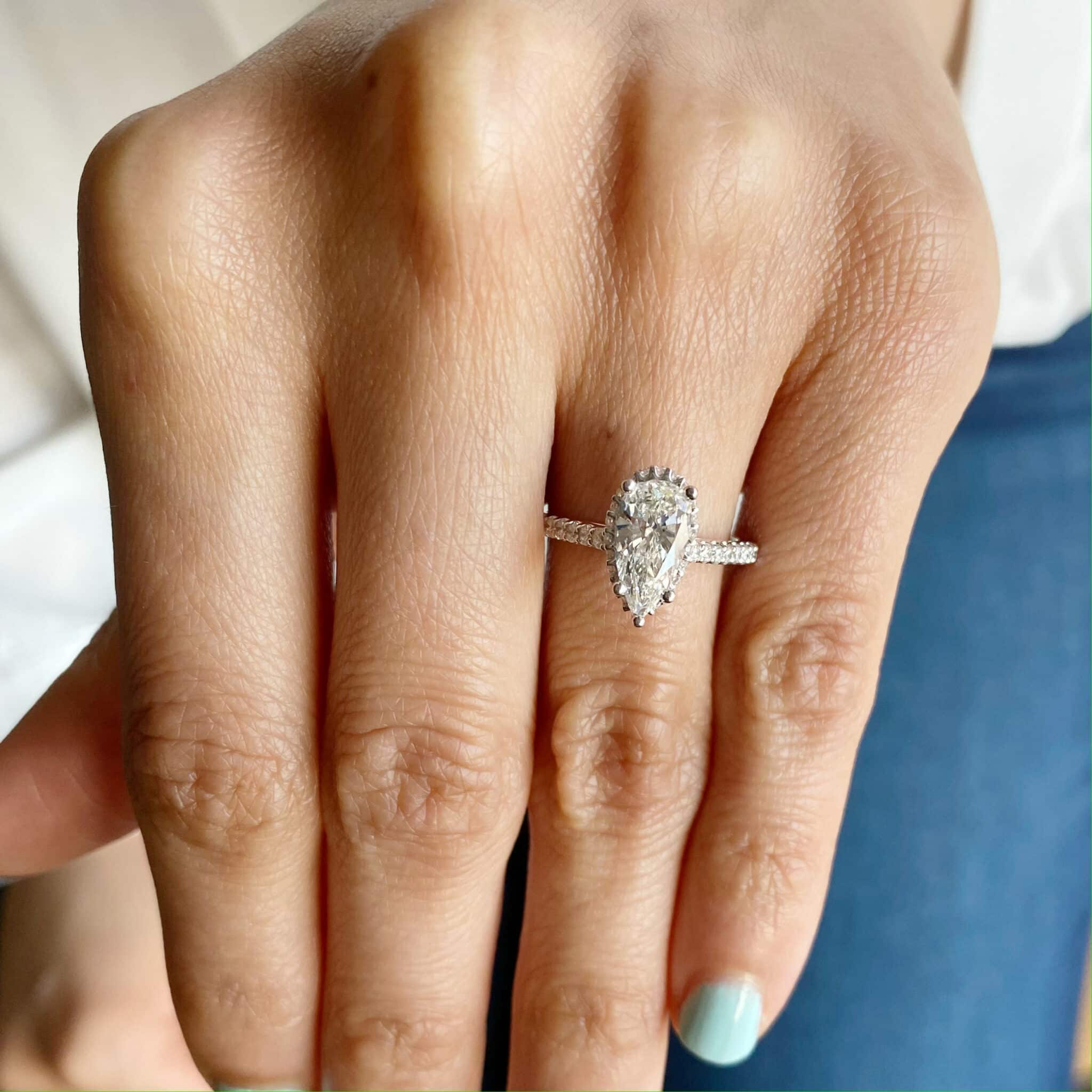 Pear shape engagement rings are easy to recognize for their unique teardrop style. Pear cut diamonds are perfect for brides seeking something classic and elegant.
The pear-shaped diamond engagement ring is not as popular as the round or oval, but it's a choice that can easily blend into any style of ring that you're looking for. Check this unique pear diamond engagement ring!
MARQUISE-CUT
The marquise cut can create a unique flower-like design, which symbolizes love and romance. This unique shape is also known to create a more slender profile.
Marquise-shaped diamonds are best worn with side stones and can also be paired with other shapes.
HEART-CUT
The heart cut is a symbolic choice for love, making it popular among brides who want to infuse their passion into the ring. It is also a romantic style worn with or without side stones and pairs well with vintage-themed weddings.
ASSCHER-CUT
It looks similar to an Emerald cut but features significant square facets and a high crown that produces brilliance. This diamond shape has been around for over two centuries because of its unique beauty.
RADIANT-CUT
The radiant cut diamond is the first square cut (the second being Princess) to have a complete brilliant pattern applied to both crown and pavilion, creating a vibrant electric sparkle.
CUSHION-CUT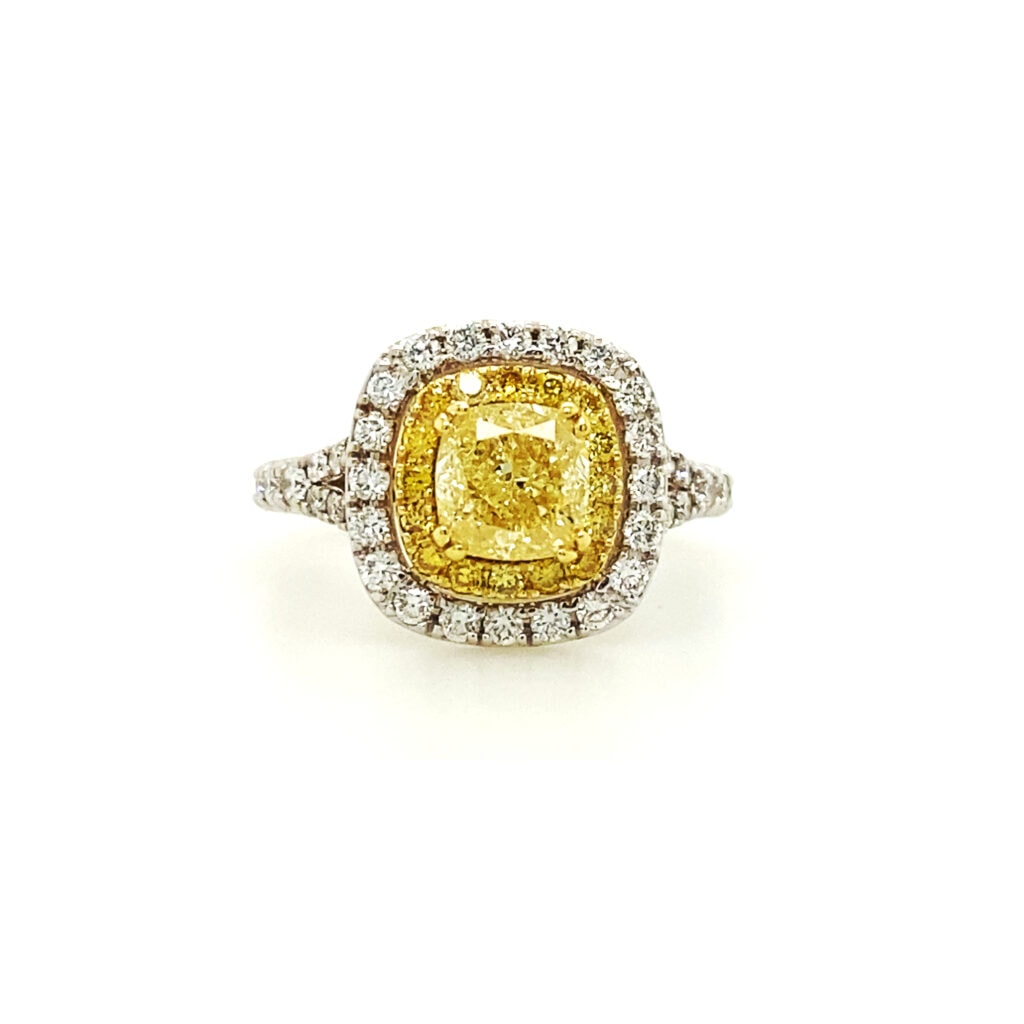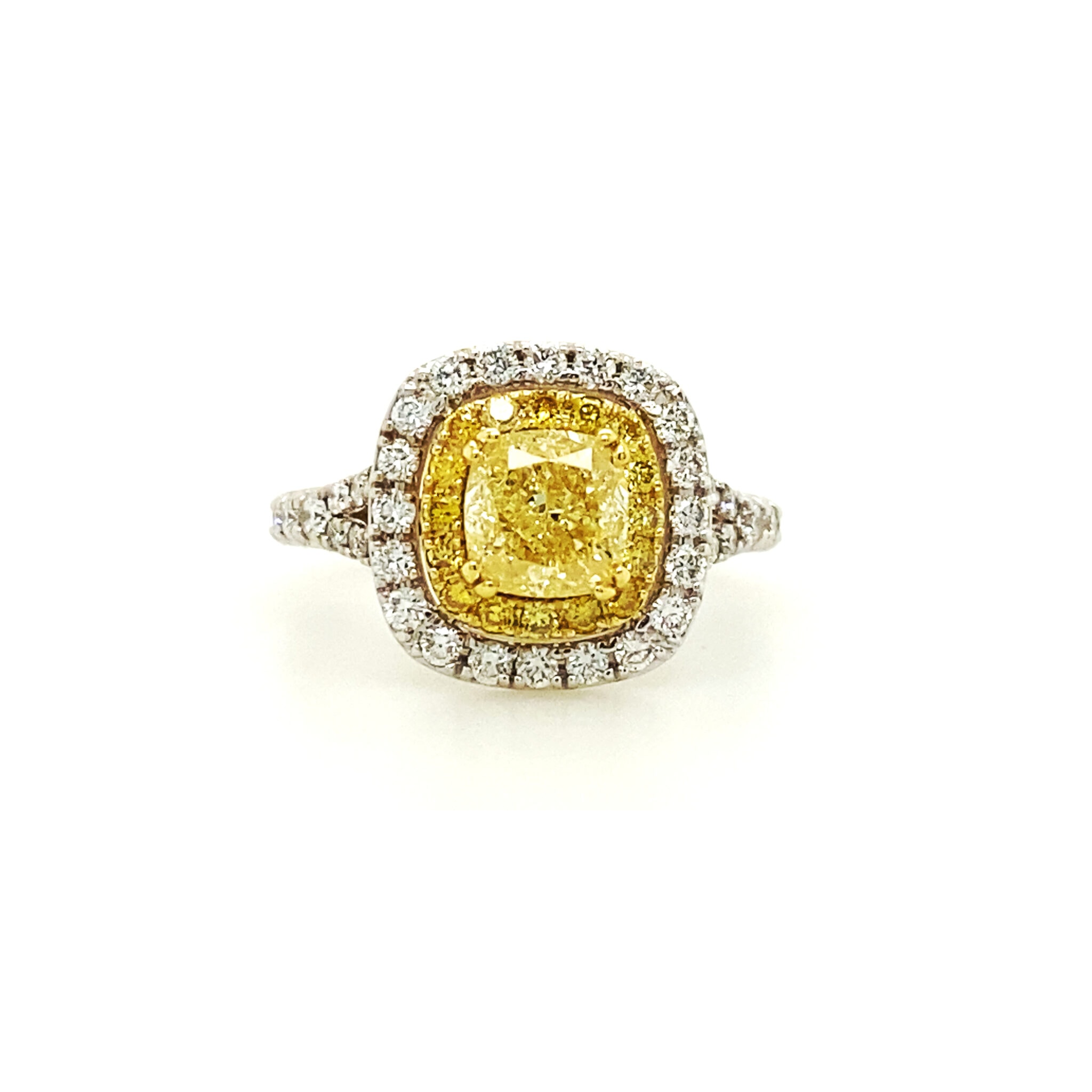 Thanks to its soft square shape and rounded edges, the cushion-cut is another popular choice. The cushion-cut has a vintage feel and is making a comeback. It is excellent for those who seek elegance and uniqueness. It's the perfect choice for the bride who wants to stand out from the crowd.
TRILLIANT-CUT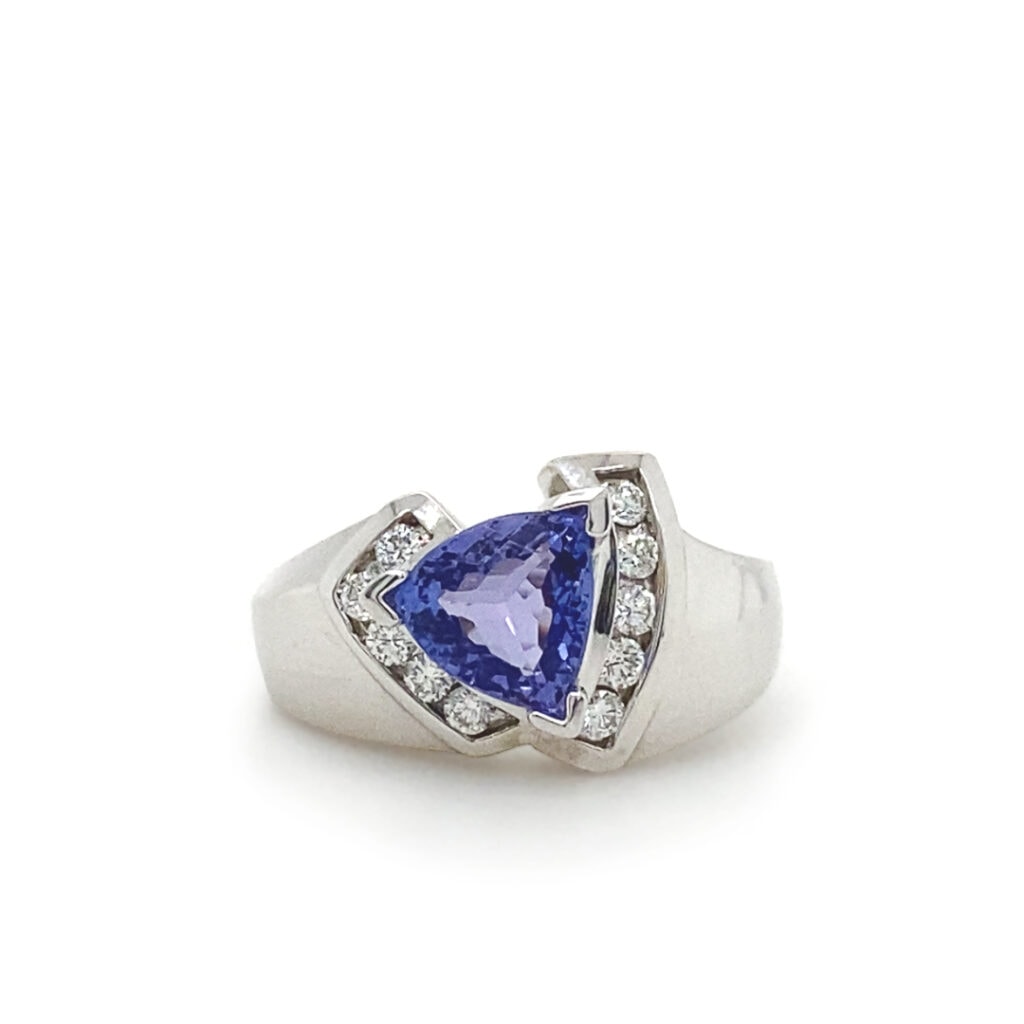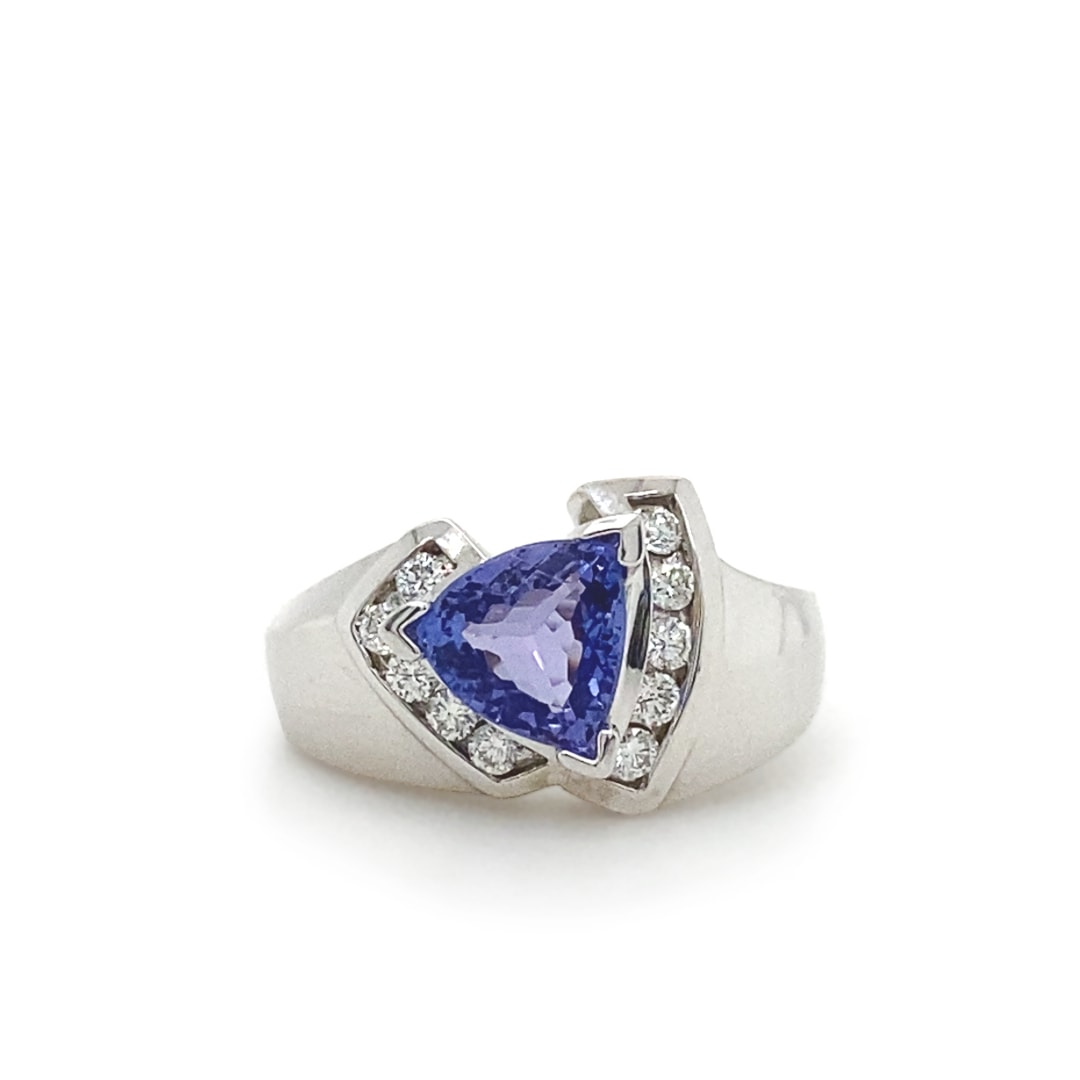 The trilliant-cut is the newest popular engagement ring style, with its triangular shape. This style is often seen as an excellent choice for couples looking to make a bold statement with their ring.
The Different Engagement Rings Settings
Engagement rings have become the object of adoration through tradition and culture. But what would an engagement ring be without a great setting? It is one of the most critical factors contributing to a ring's beauty and value.
An engagement ring setting refers to the whole set of the ring's gems and how they are mounted together. A ring consists of the "head" and the "shank." The top of a ring, which includes the gemstones, is called the "head," while the part encircling the finger is called the "shank."
Here are some of the different popular engagement ring settings:
THE SOLITAIRE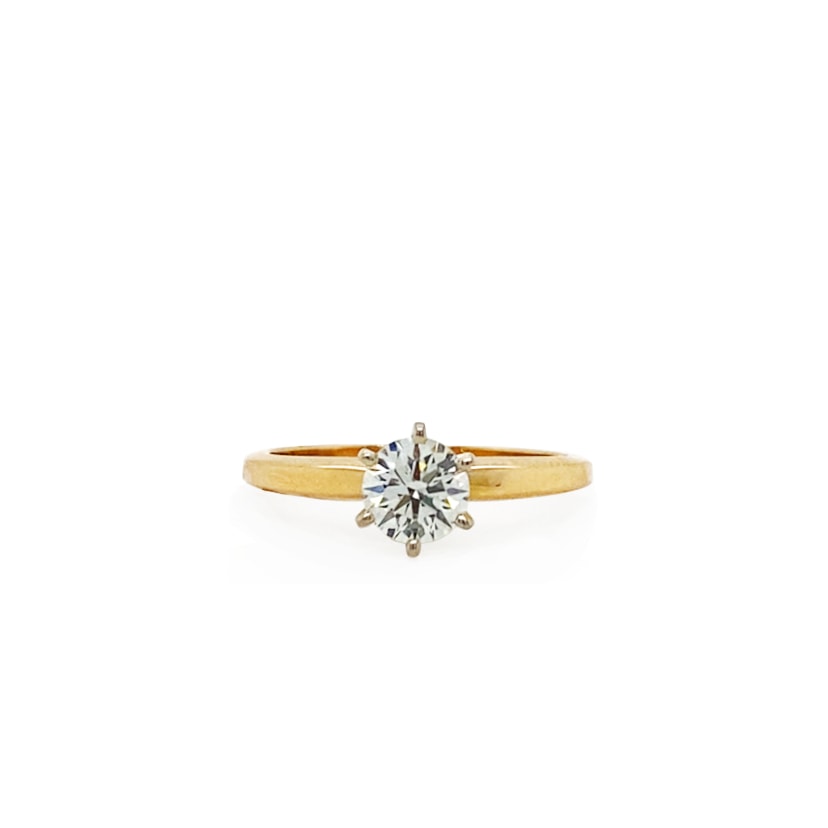 The solitaire settings remain the most popular style for classic engagement rings. Its name, Solitaire, comes from the French word "solitaire," which means alone. Engagement diamonds used to be worn by themselves without anything else, and the one diamond was the main piece of jewelry.
The traditional solitaire ring consists of one center stone placed in the center of a ring.
It's the finest and traditional engagement ring style. This classic solitaire setting symbolizes everlasting love and commitment, with the idea that you will spend your life with your partner intertwined in the ring. If you want a classic and straightforward ring yet elegant, the solitaire ring would be an excellent choice.
HALO SETTINGS (single or double)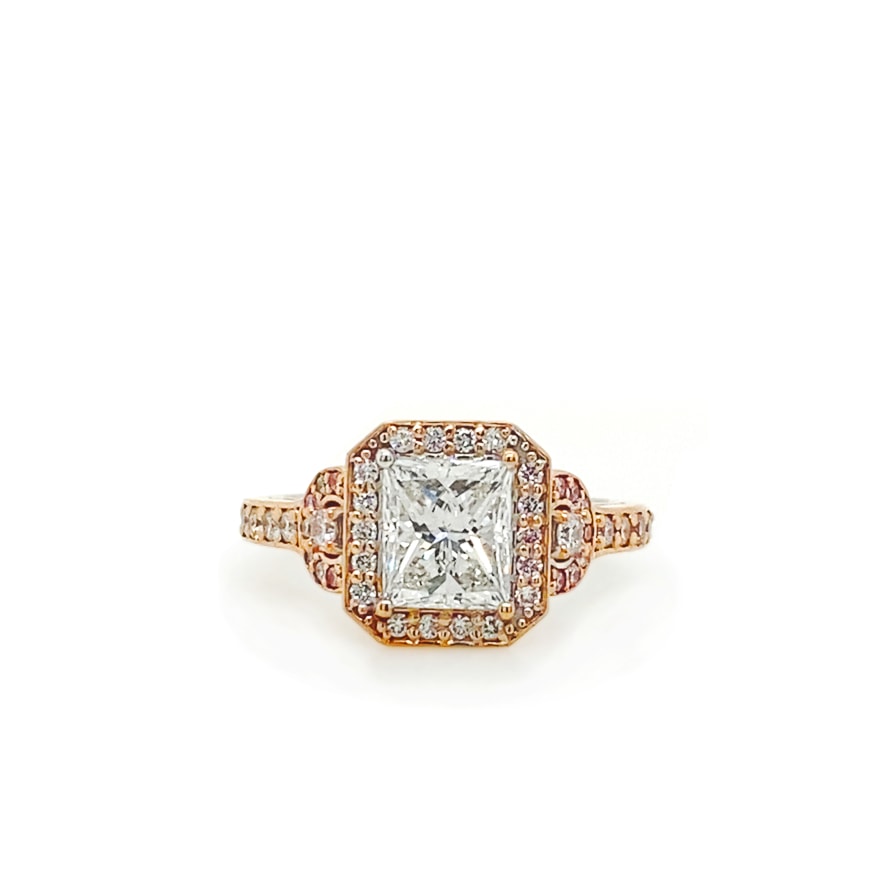 A halo setting has one center stone surrounded by stones that increase their appearance and gleam to improve the overall sparkle and make the center diamond appear more prominent. A single halo engagement ring setting has one row of smaller stones surrounding the center diamond, while a double halo has two rows.
Halo diamonds look great on any cut center stone. The halo stones absorb light, causing it to look even more bright and sparkly.
The halo setting is a great way to show off a beautiful white diamond or help a much more modest piece look bigger.
BEZEL SETTING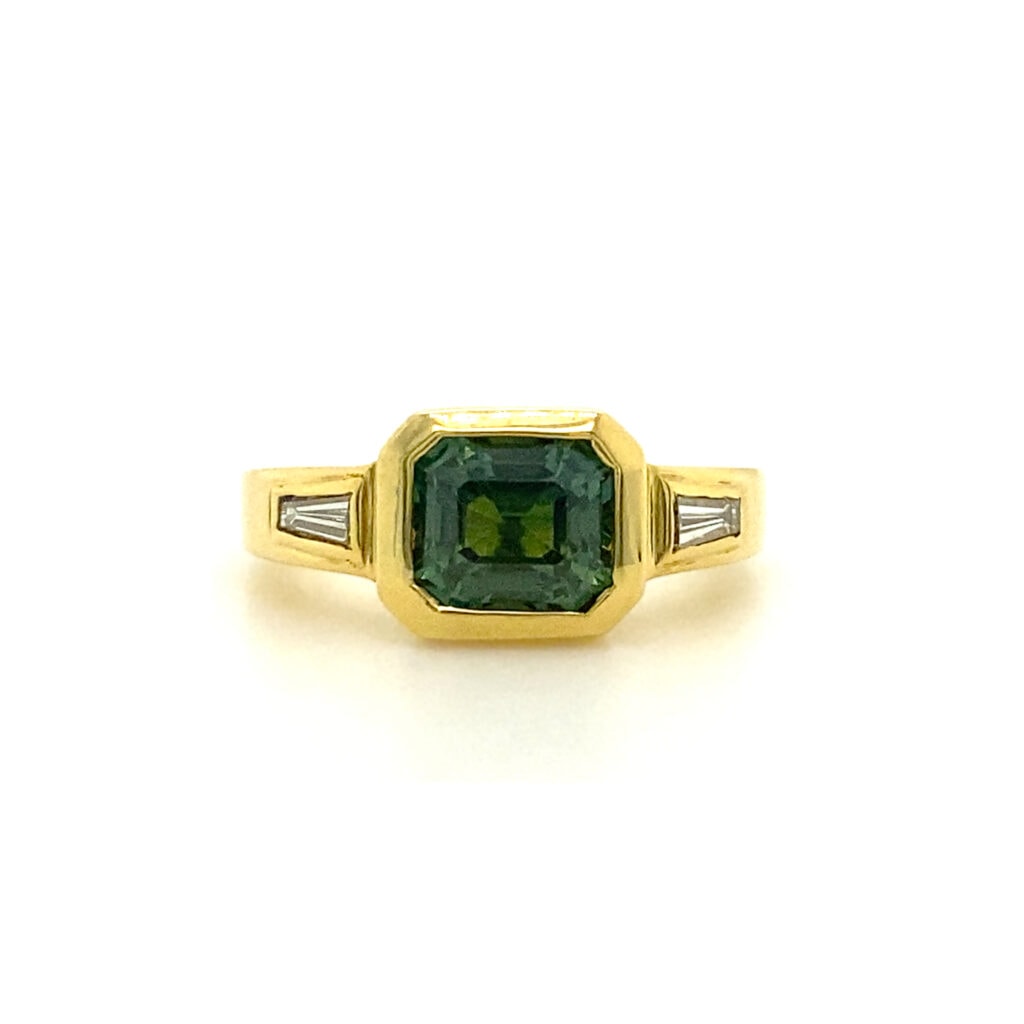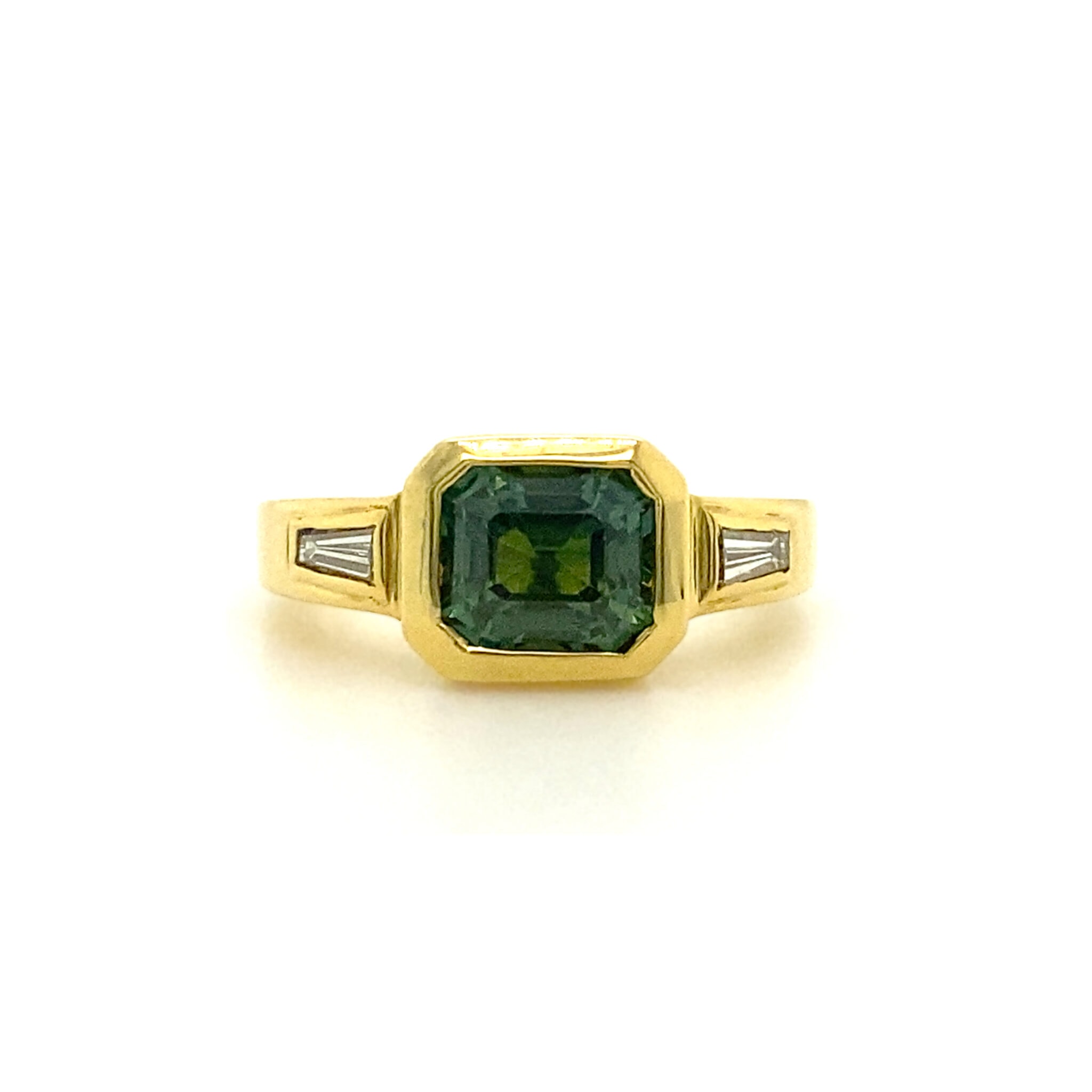 In a bezel setting, the jewel is secured to the pillar from a metal border rather than raised by prongs. The bezel setting ensures stability and adhesion between the diamond and the ring.
Though more pricey than the rings with the prongs, bezel engagement rings require less maintenance.
THREE STONES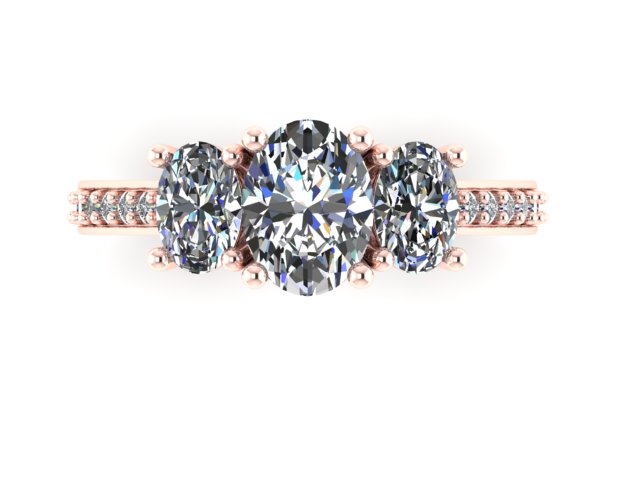 This popular ring style has many variations and is also known as the trilogy ring or past, present, and future ring.
The idea behind this style is that three stones in different sizes are part of the ring setting. The center stone represents the past, the larger stone at the bottom symbolizes the present, and the smaller stone on top represents the future.
Three-stone engagement rings are an incredibly romantic choice.
CHANNEL-SETTING
The channel-setting is a classic style popular in the early 20th century. This sophisticated and classic engagement ring style has small diamonds set in a channel between two bands or precious metal. The metal strips keep the diamonds securely in their place.
Channel settings feature clean lines and look; there are no prongs or distracting features.
The channel-setting fell out of fashion over time until recently, and it has made its comeback as one of the top engagement ring styles.
INFINITY
The infinity style is gaining popularity with younger generations. This ring has only one never-ending band that wraps all around the center stone, so it appears to have no beginning or end.
It represents everlasting love and commitment with no beginning and no end.
ETERNITY BAND
The ring's band makes an indestructible diamond chain that is always linked together. Eternity bands are typically prong-set but can be set in various ways. Separate eternity rings are given on particular wedding anniversaries or the birth of a first child. The eternity band is an excellent metaphor for eternal love.
FLUSH SETTING
Usually, the diamond is mounted within the band to protect against surface intrusion with this ring setting. The ring is highly secure as the diamond is hammered into place. This is also ideal for the person who has an active lifestyle and loves an understated style.
Flush setting rings are the ideal choice for someone who is minimalist and elegant. The style is popular with men, so it may well be the perfect choice for a man's ring.
SWIRL
The swirl setting is one of the newest engagement ring styles. This setting looks like two hands touching the center stone. A ring of this type has an attractive movement that is not commonly encountered throughout other engagement rings and will make you stand out from the crowd.
This style can work well if you want to add some sparkle up top rather than on the simple band. This style also makes the center diamond appear larger by pulling the eye up to it.
It is also often described as symbolic of two halves becoming whole on a swirl ring.
CLUSTER
A cluster ring is a group of diamonds set together, typically on either side of a center stone. The number and size of the accent diamonds will vary depending on the style you choose.
Cluster rings are an excellent choice for women who want a versatile ring that can be reset with different center stones.
Clusters provide exceptional beauty without overspending on your budget. In addition, you are given flexibility – choose either a classic and asymmetric square cluster or one with modern geometric elements for an attractive look. It's an excellent and affordable option for an engagement ring as well.
SIDE STONE
In the side stone setting, a ring is formed with a central diamond held between two smaller diamonds or other precious gemstones. This adds a little extra shine and sparkle.
A side stone of this type can be set with either diamonds or other gemstones like sapphires, depending on preference. The asymmetrical design is an excellent idea for any occasion.
VINTAGE-INSPIRED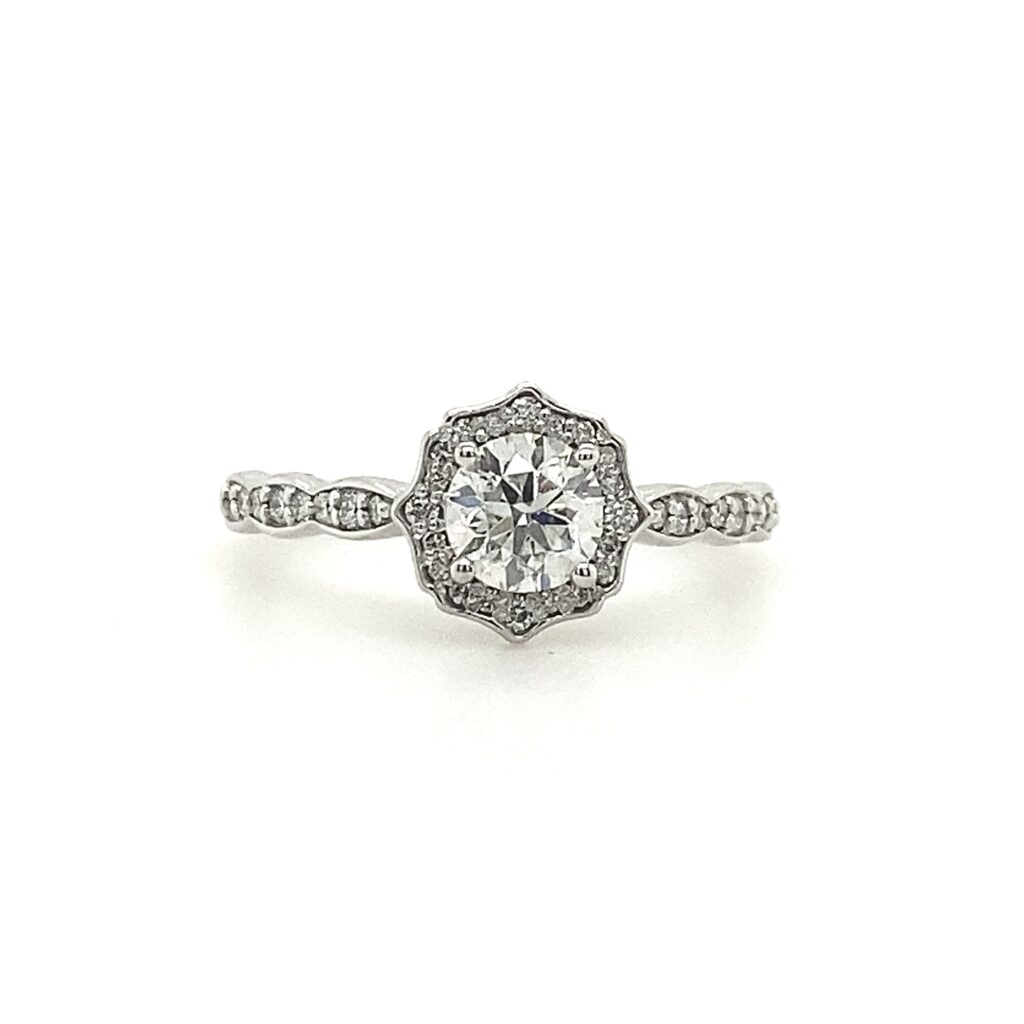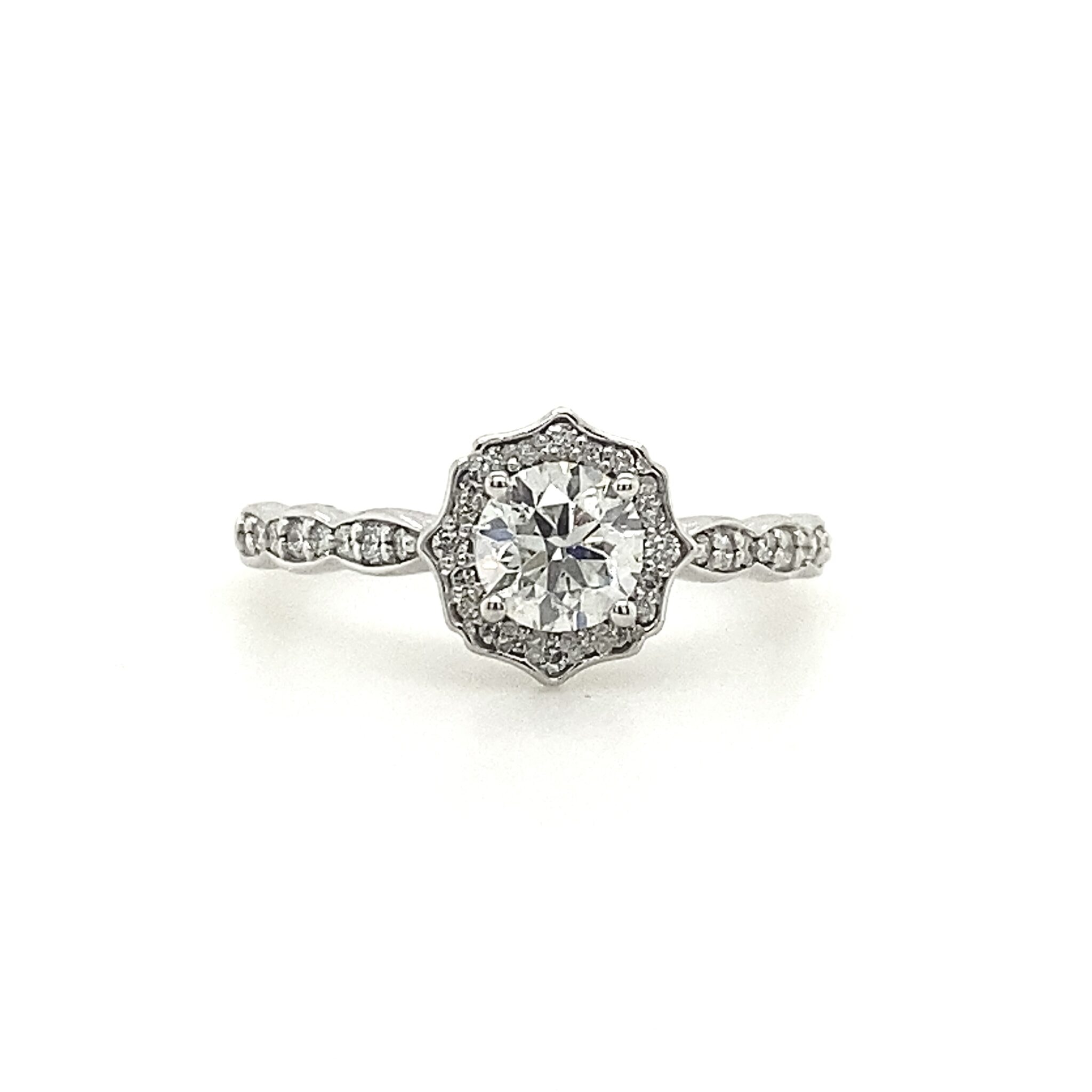 The vintage-style engagement rings have a distinctive style with a lower profile. Vintage styles feature one or many smaller stones on the shank. The stones are set closer together, which makes it look dainty, detailed and creates a unique antique look.
It's one of the most popular styles in jewelry history because it can be worn with either vintage or contemporary styles.
BAROQUE STYLE
Micro-pavé and pavé elements are combined with larger diamonds, clusters, and halos to create a dramatic finish.
The baroque engagement ring is ideal for those who seek a unique and maximalist style.
CATHEDRAL SETTING
The cathedral setting has been popular since the 19th century thanks to its traditional and elegant style. Its name is derived from how the metal shank and shoulders twist out and support the diamond. These curves appear like cathedral walls that resemble domes.
They can be topped with a pavé setting and diamond accents for more sparkle. In either case, the cathedral style's unique structure and architecture make it the ultimate classic engagement ring.
PRONG SET
A typical and traditional ring setting is the prong set. A prong is a small metal claw, flat or rounded, holding the diamond securely. Most setting prongs have four or six prongs that reveal more of each diamond. A benefit of this design is that there is a minimum presence of metals so that more of the diamond can be seen and more light passes into the diamond, increasing the brilliance.
Free your creativity and design unique designs like this prong-setting lotus engagement ring.
THE DIFFERENT PAVÉ SETTINGS
A pavé setting is a trendy choice because it offers a flash of your diamonds from all angles. The setting is set with small diamonds on the underside and the top, which increases the overall look.
You can see a thin metal strip between each stone that holds them together when you look closely. This style guarantees maximum shine and sparkle. The significant difference between various pavé settings is how close or far apart they are.
Pavé rings have a delicate and feminine appearance and can easily complement classic engagement rings.
TENSION SETTING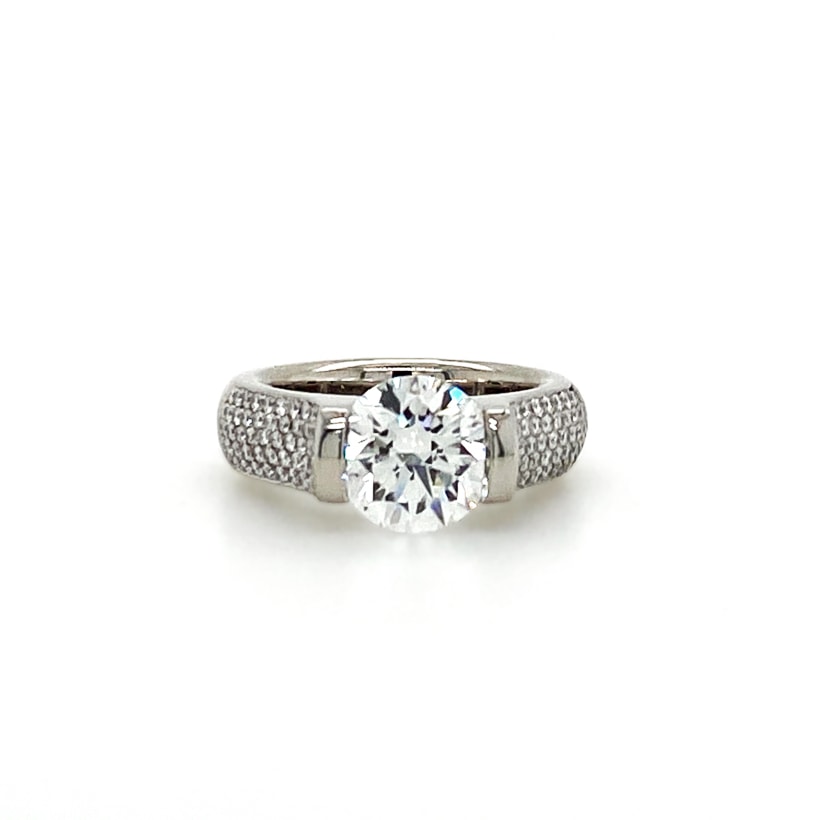 The main point of the tension setting is that it allows you to have a super thin band.
In a tension setting, no prongs are holding the diamond. Instead, diamonds are held by solid tension from two ends of the ring and thus present a clean look which can be helpful if you're looking for something dainty and elegant. It is a trendier choice and will suit most women.
Diamonds or Gemstones
Each engagement ring is unique and should reflect the couple's personality and lifestyle. When it comes to stones, you can choose between diamonds, gemstones, or a mix of both for your perfect ring.
What are their different characteristics?
A timeless diamond engagement ring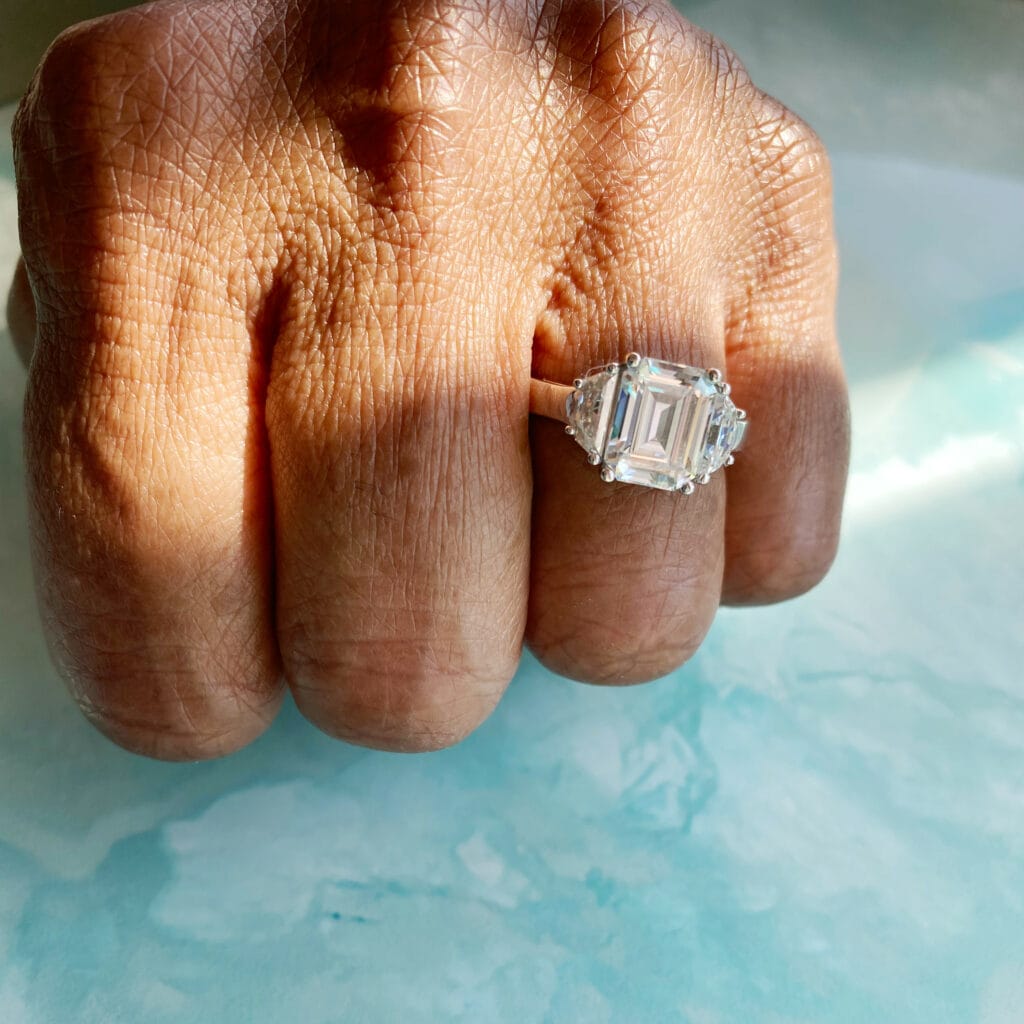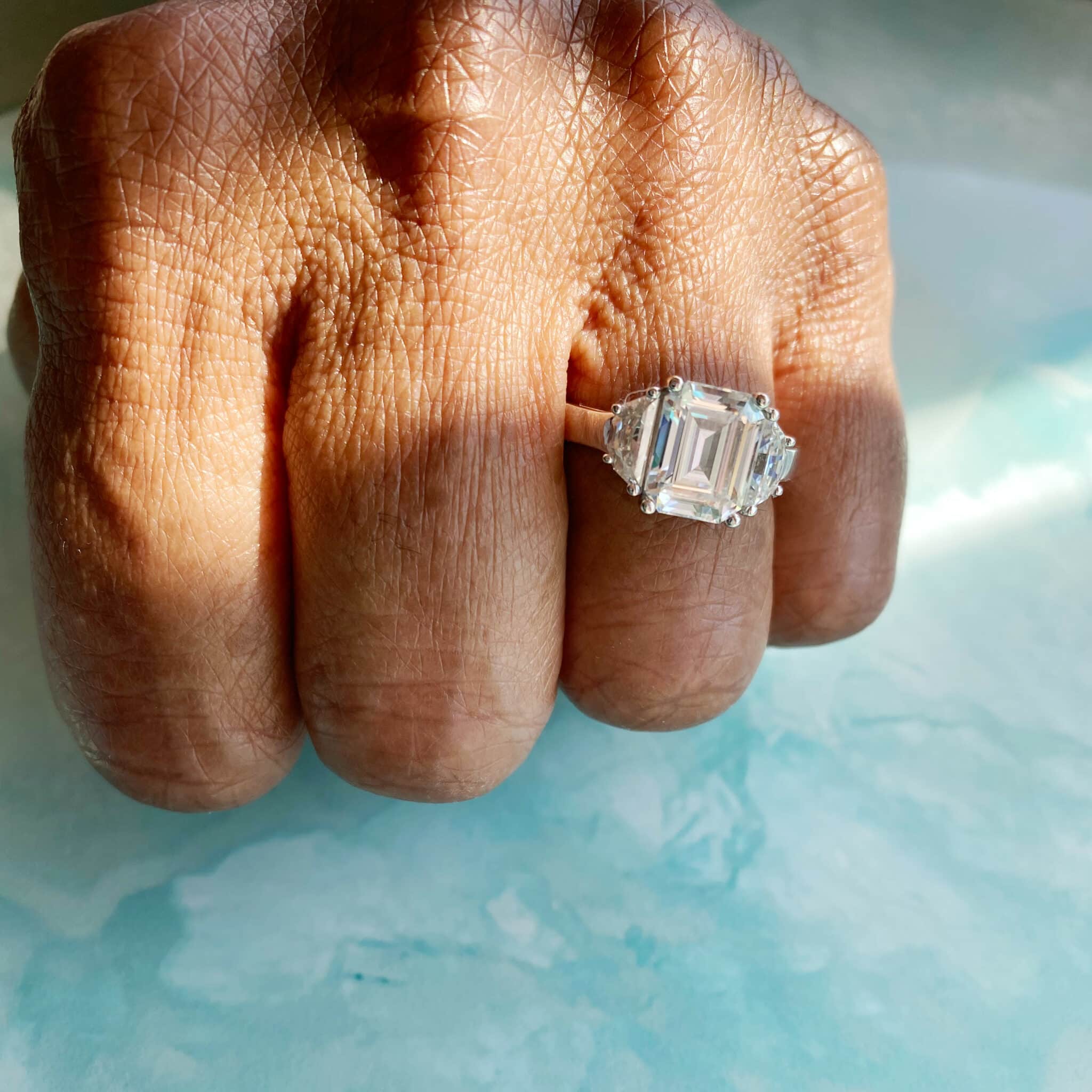 Diamonds are the most popular choice in engagement rings. Whether you select a colored, colorless, or near-colorless grade, you can be assured that your diamond will make a timeless statement.
Diamonds are also the hardest substance on earth, making them scratch-resistant. Indeed, a diamond is much more durable and more rigid than any other gemstone as it requires extreme temperatures to be cut and polished.
Gemstones as an alternative engagement ring style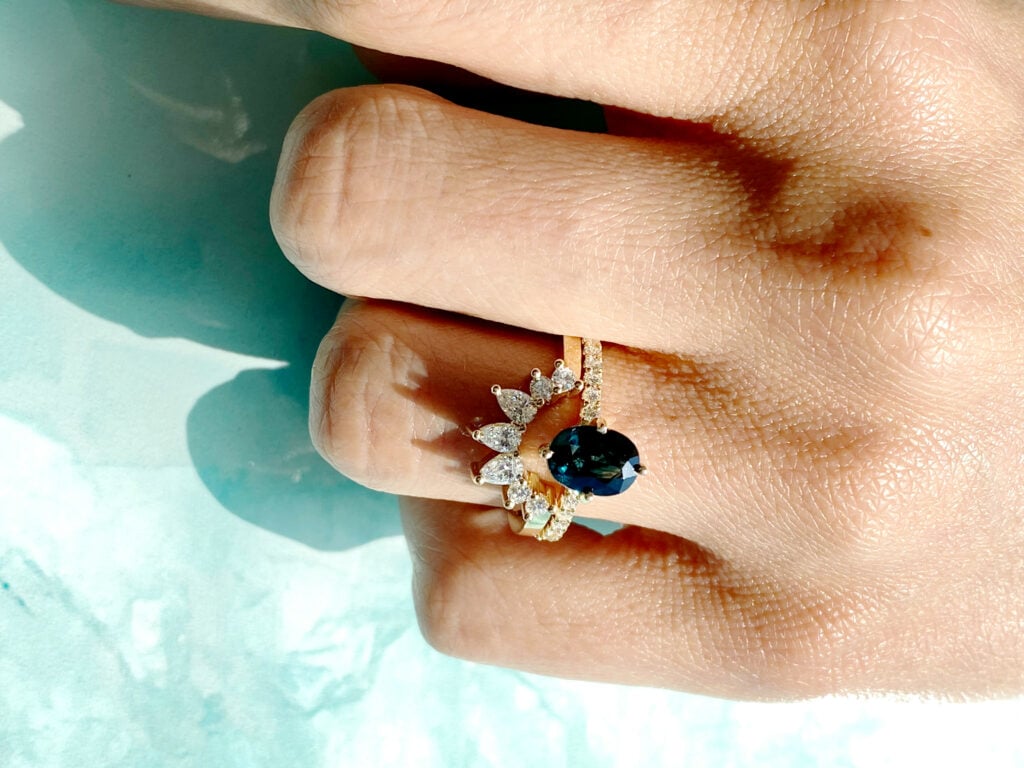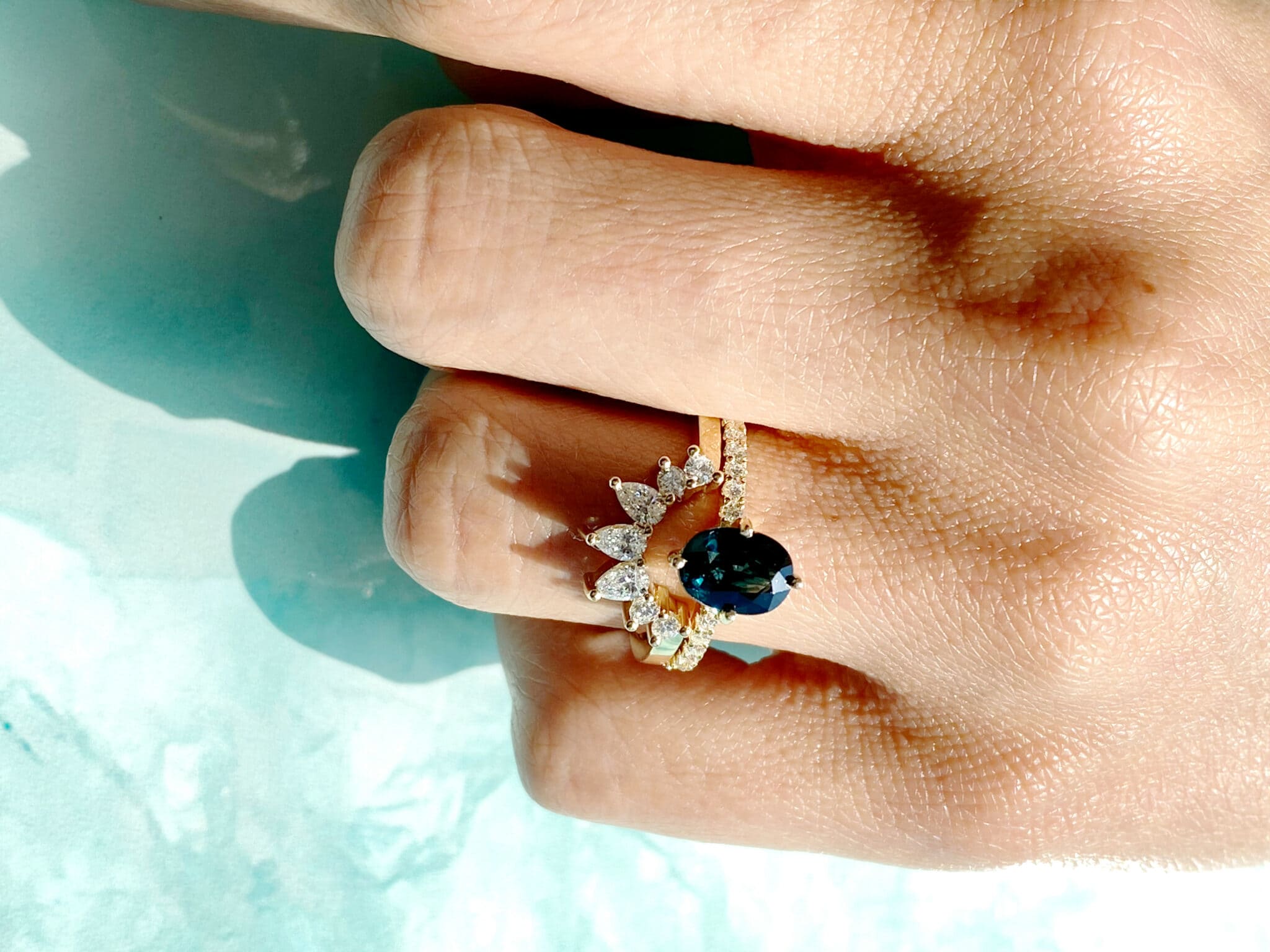 While most engaged couples choose diamonds as their engagement stone, you can also select a gemstone that is meaningful to you.
Many different gemstones are used for an engagement ring setting, including:
diamonds
rubies
moissanite
morganites
garnets
pink tourmaline
alexandrite
tanzanite
pearls
Remember that gemstones are not as hard as diamonds and can be damaged more easily. For example, morganites and pearls are not recommended in an engagement ring due to their softness. Some gemstones are also more affordable than diamonds, such as moissanites, a popular lab-created diamond alternative.
Metal Shop: Which Precious Metal for your Engagement Ring?
Which metal is the right choice for your engagement ring? The main three factors to consider are metal characteristics, personal preference, and price.
Engagement rings can be made of various metals. We recommend using either rose gold, yellow gold, white gold, or platinum for your engagement ring.
Recommended Metals for Engagement Rings:
Platinum (recommended)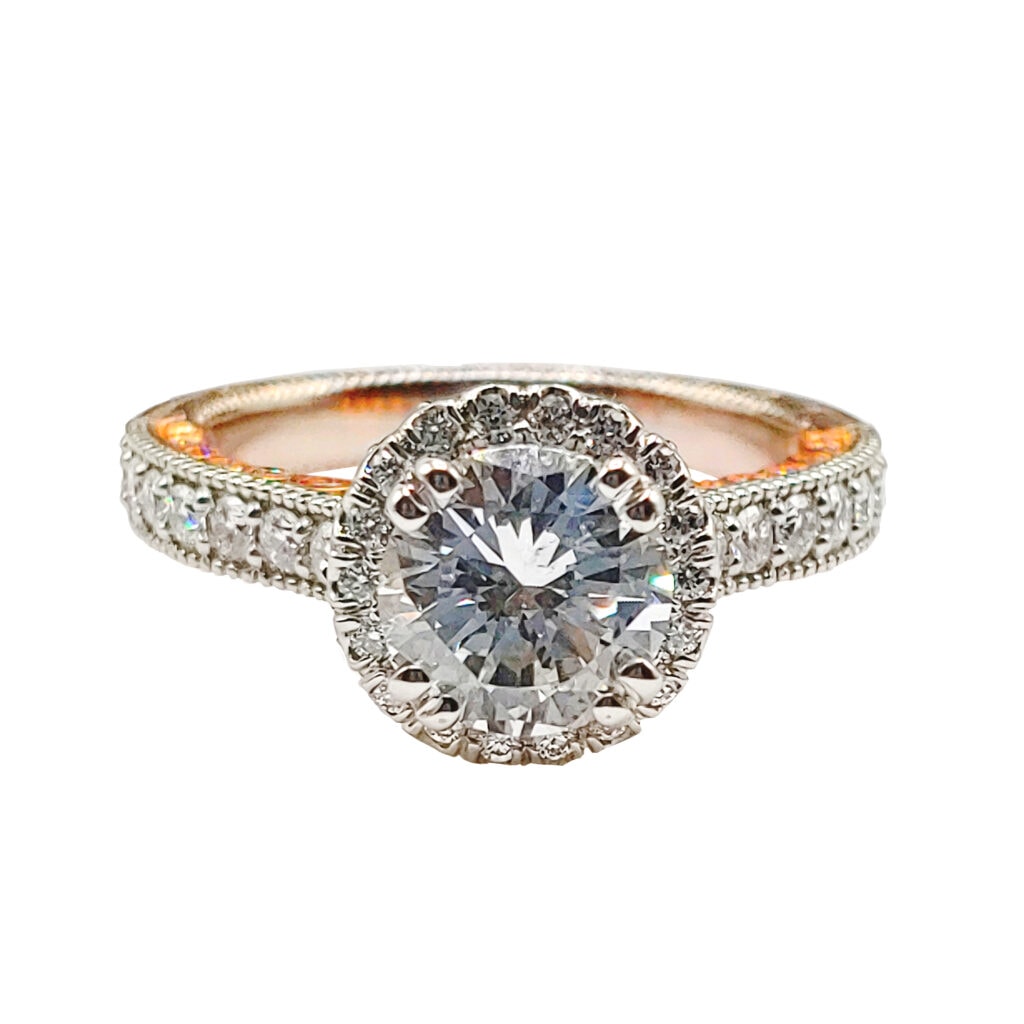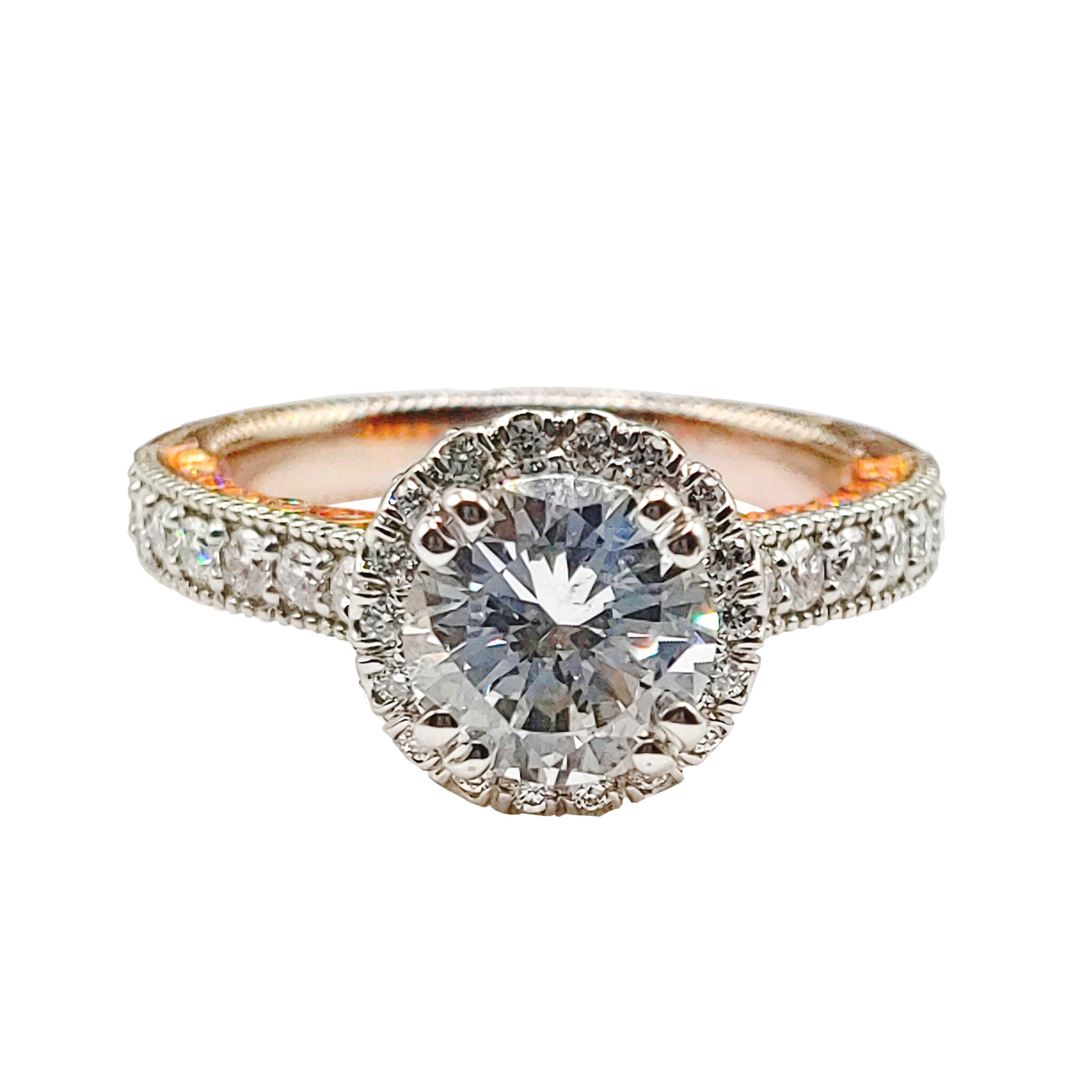 Platinum is the rarest and, therefore, the most expensive precious metal. It is nearly 100% pure, giving it many benefits like durability and hypoallergenic properties.
Platinum is a dense metal and has a much heavier feel than other metals. Platinum also provides an entirely white color and is the preferred metal for high-end wedding rings.
White, Rose, and Yellow Gold (recommended)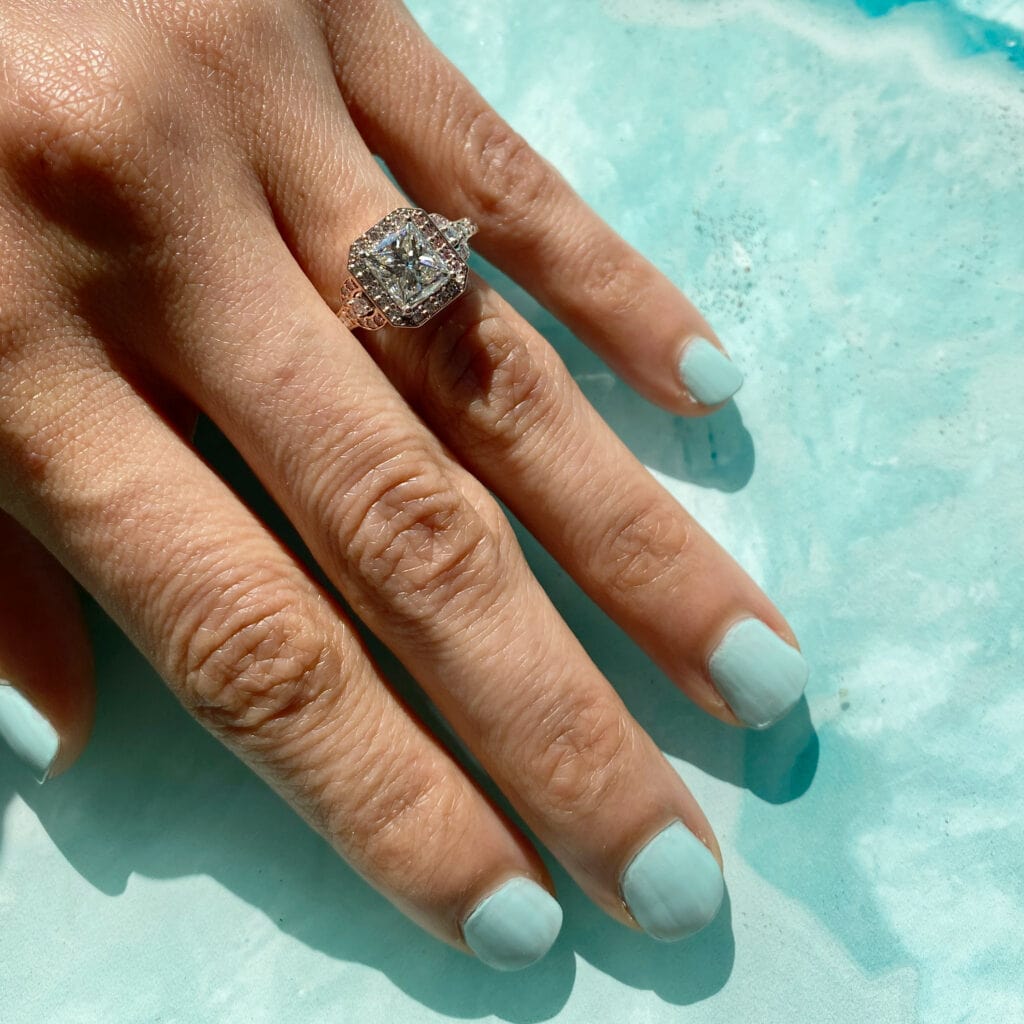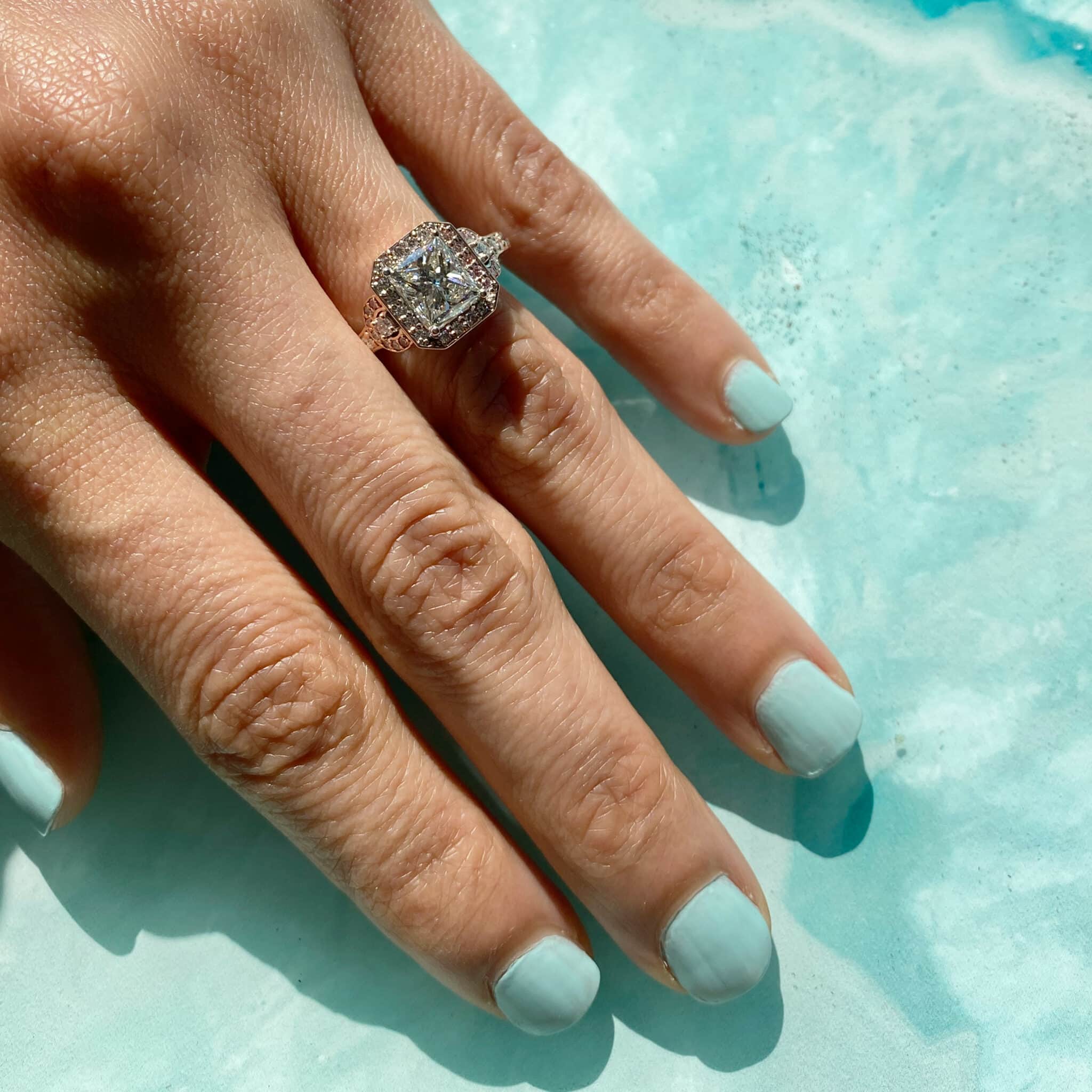 Gold is the most popular option and has a natural yellow color, and it is also durable but is not as strong as platinum. It is very popular in yellow and white tones, whereas rose gold is slowly gaining popularity.
Yellow gold is the most popular choice for engagement rings, and it can provide the wearer with a unique look and is more traditional than white gold. Check this custom diamond engagement ring set in yellow gold, and this custom unicorn ring made of yellow gold!
White gold is made of an alloy that contains nickel and zinc to make it more durable. It can resemble platinum in many ways but never be as strong or white.
Rose gold is a nice alternative as it has a warmer color compared to white gold or yellow gold. It is made from alloying copper and gold, creating a unique ring with a pink tone. Check out this unique rose gold gypsy ring!
Metals not recommended for Engagement Rings:
Silver (not recommended)
Silver is less expensive than gold and platinum for an engagement ring and can be found in pure form. However, it is not as strong or durable, and it is also a less dense metal, making it feel lighter than other metals.
Titanium (not recommended)
Titanium is one of the newest choices for engagement rings, and it is one of the strongest metals and has high scratch resistance. Titanium also has anti-allergic properties, making it ideal for some people.
Tungsten Carbide (not recommended)
Tungsten carbide is another alternative option for your engagement ring. It is the most rigid metal on earth and has a scratch-resistant surface. However, it is more brittle than other metals and can't be engraved.
Cobalt (not recommended)
Cobalt chrome is a hypoallergenic material popular for durability and high scratch resistance. Cobalt has an expensive price tag, which discourages some people.
Monel (not recommended)
Monel is hypoallergenic, corrosion-resistant, and very hard, making it durable and difficult to scratch. The downside of monel is that it can fade over time and get darker. 
You can also engrave your engagement ring. Check this engraved and matching wedding bands.
CONCLUSION
There are so many different engagement rings that it is sometimes overwhelming to find what you are looking for. We hope that this article helped you learn about the different engagement ring styles and settings.
If you're completely unsure about what style is best suited to you or your bride-to-be, seek out a jeweler who can recommend one for you by taking into account how often you'll be wearing it, your style, and your lifestyle.