Engagement Rings for Small Hands: What To Consider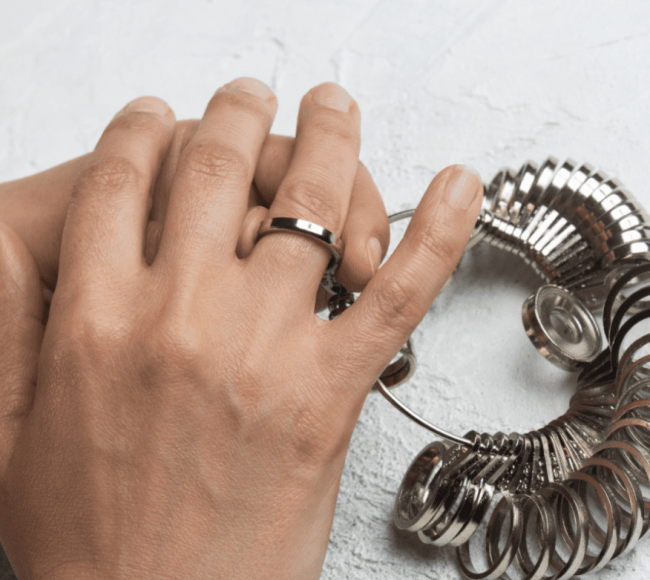 Many things need to be decided to plan your wedding, including the type of engagement ring for your hand! It feels infinite to have so many possibilities available! The most difficult decision to make is choosing the perfect ring! It's essential to look at the hands before purchasing. Remember that every woman has unique characteristics that influence how attractive an engagement ring looks.
Our goal at Bling Advisor is for couples everywhere to enjoy their perfect proposal moment without any stress or worries about finding the right ring, no matter what size hand they have! With our expertise in customizing unique pieces, let us help make sure your engagement is just as special as it should be.
When choosing the ideal engagement ring, many think bigger is better! However, you may consider choosing a smaller ring if you have small hands. Don't worry, though – plenty of beautiful rings will fit your small hands perfectly!
This blog post will discuss the different styles of rings, the different stone sizes, shapes, bands, settings, and the best styles for engagement rings for small hands. We will also give you tips on choosing the best ring for your specific fingers. So whether you're currently looking for an engagement ring for long, short, slender, or large fingers, we have got you covered!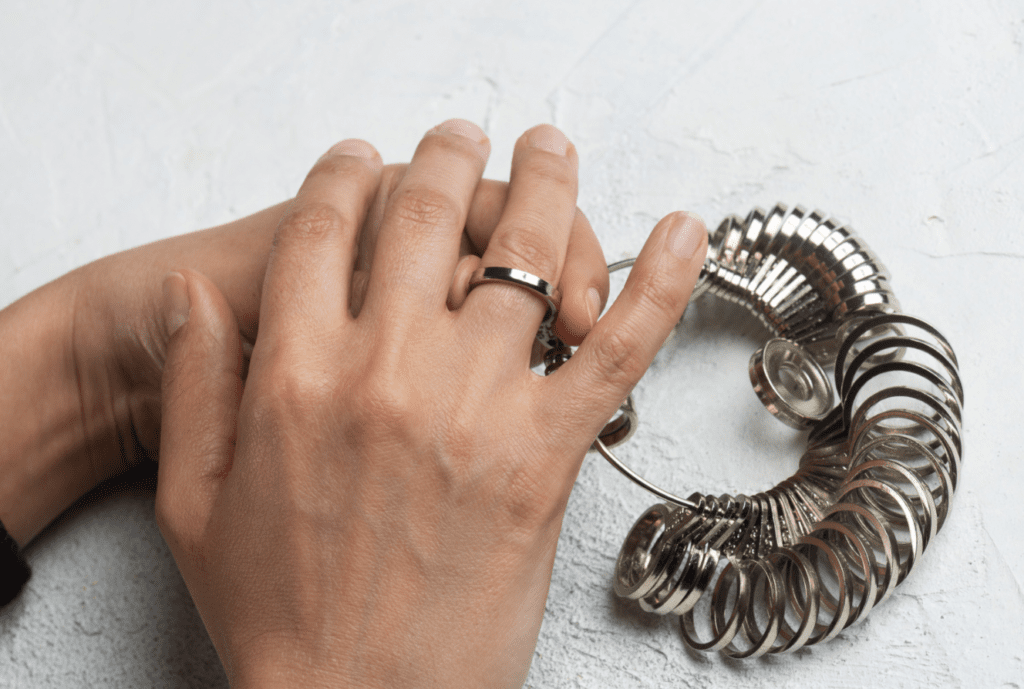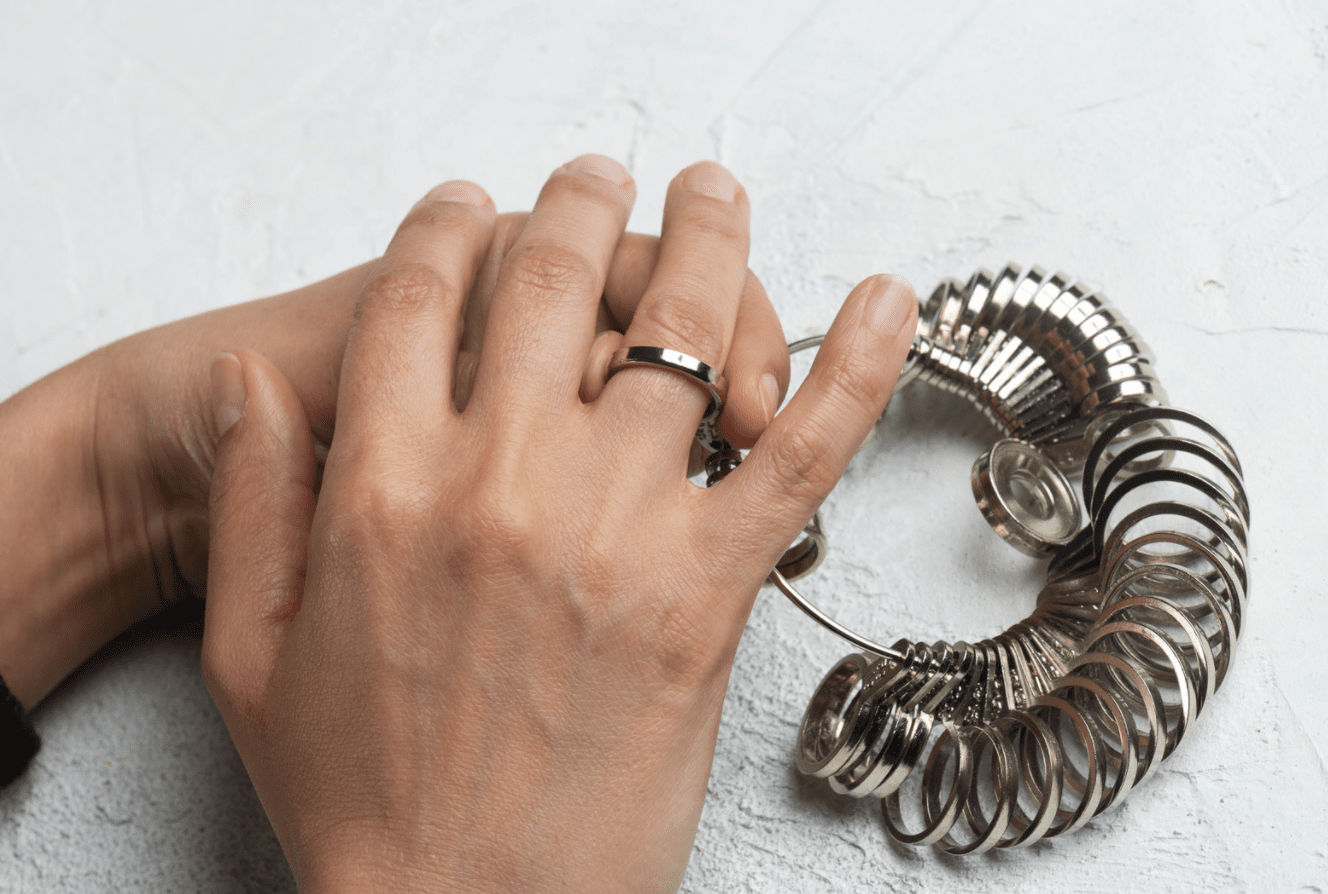 Do Big Rings Look Good on Small Hands?
There is no definitive answer to this question – it depends on the person. Some people feel great with large rings, while others prefer smaller rings that don't overpower their hands. The best way to find out if a ring looks good on your small hands is to try it on!
What You Should Consider To Get the Perfect Ring
When choosing an engagement ring for small hands, you will want to consider the following:
The Style
There are various different styles of engagement rings available, so take some time to browse through all of the options. Ultimately, you should choose a ring you love and feel comfortable wearing every day.
The Setting
The stone's setting can also play a role in how your engagement ring looks on your hand. Try out a few different settings to see which one looks best on you.
The Stone Size
If you have small hands, sometimes it's preferred to choose a smaller diamond or gemstone. Some choose a smaller stone because they feel a larger stone will overwhelm their fingers. However, many love the way a larger stone looks on their hand.
The Cut or Shape of the Stone
There are various cuts or shapes available, so choose one that complements your hand shape and size.
The Band
The band of the ring can be proportionate to your finger size. If you have small hands, you may prefer a thinner band. On the other hand, if you have large hands, you may want to choose a wider band.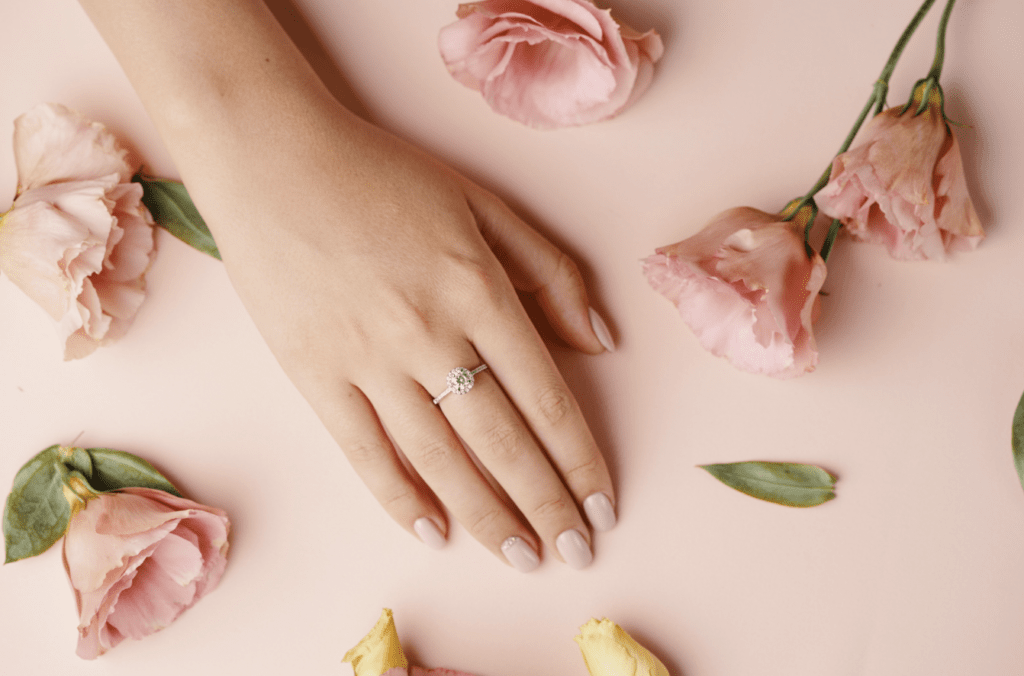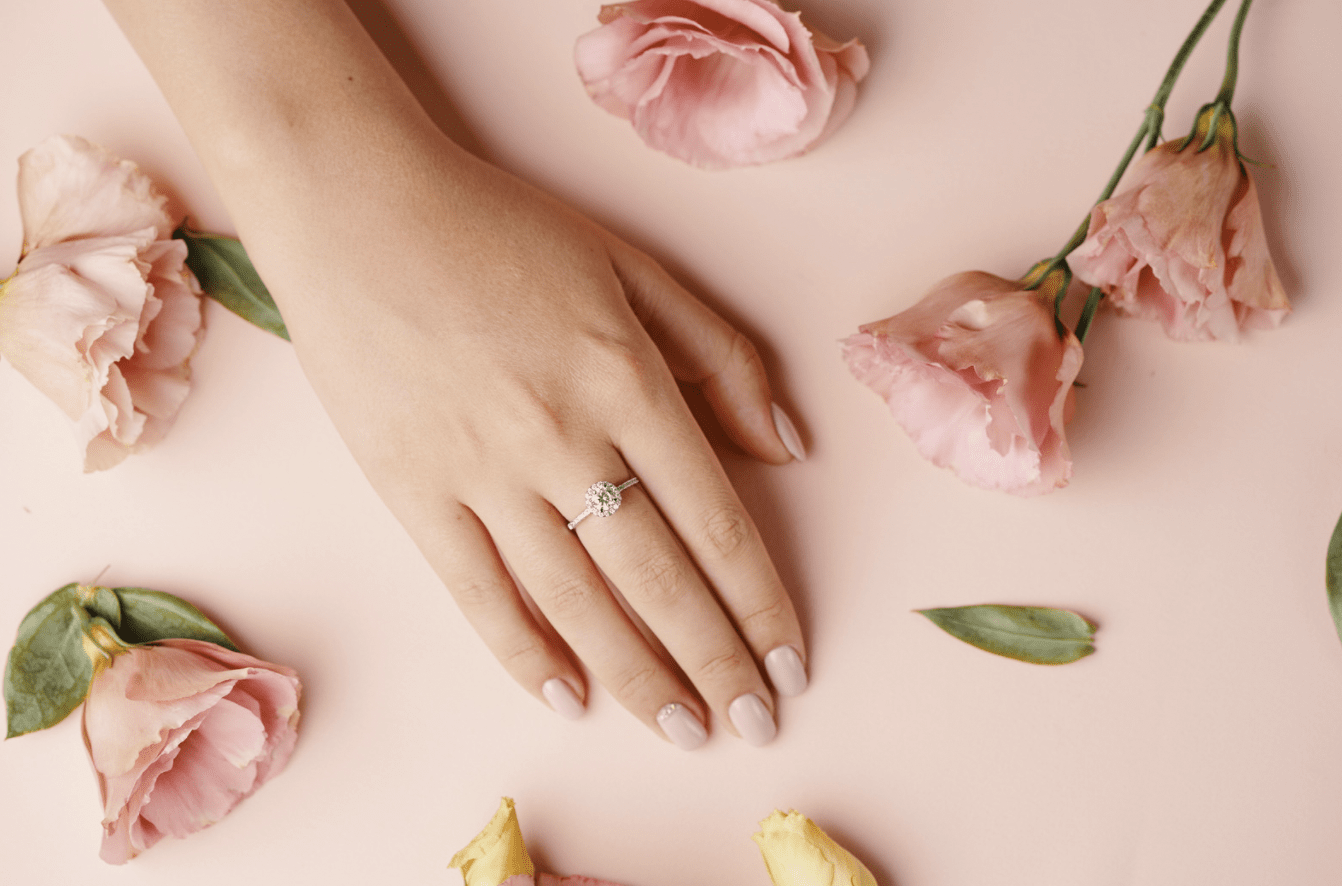 Explore Different Ring Styles
You must figure out what kind of engagement ring you want when selecting one. Are you drawn to simple rings, or do you like something with a little more detail? Do you want a solitaire ring or one with multiple stones?
There are many engagements ring styles you can choose from, including:
Solitaire Rings
A solitaire ring is a traditional design that has only one stone. This is an excellent selection if you're searching for a timeless engagement ring.
Halo Rings
Halo rings feature a central stone surrounded by smaller diamonds or gemstones. This style is perfect if you want something that sparkles, shines and makes your diamond look bigger.
Three-Stone Rings
As the name suggests, three-stone rings feature three stones – typically, the center stone is larger than the two side stones. Three-stone rings are beautiful and unique engagement rings.
Three-stone rings can symbolize the past, present, and future of your relationship path.
Side Stone Rings
Side stone rings have one or more small diamonds or gemstones on the band's side. This style is excellent if you want to add extra sparkle to your ring.
Now that you know the different styles of rings available, you can narrow down your options. Once you have figured out what style of ring you are looking for, you can choose the perfect one for your small hands!
Whatever look you have in mind for her special piece, our team is here to offer personalized assistance through every step of the process. Reach out today and let us help you find an engagement ring for small hands that expresses your love perfectly!
What Are The Different Stone Sizes?
The size of the diamond (or other gemstones) on your engagement ring will depend on your budget and personal preferences. It's essential to choose a size that looks good on your small hands. Some people prefer a large diamond, while others prefer smaller stones that can be set in more elaborate designs.
The Right Stone Size for Small Hands Depending on Your Finger Length
If you have small hands, choosing a ring that will not look overpowering on your finger may be important to you. This may mean avoiding rings with large stones or too much detail. Some may opt for a simpler ring with a smaller stone. The solitaire style is always a good choice for engagement rings for small hands, as is a thin band. There are also a few tricks to make a stone look bigger!
Long Fingers
A ring with a bigger or larger stone may be more comfortable if you have long fingers. This will help balance your hand and make it look more proportional. A round or square-cut diamond is an excellent choice for long fingers, as are bands with detail or smaller stones along the edge.
Short Fingers
On the other hand, if you have short fingers, you may want to choose a ring with a smaller stone. A rectangular or emerald-cut diamond is ideal for short fingers and rings with many intricate details. Bands without much detail can also be tricky to pull off if you have short fingers – try opting for something with swirls or curves instead.
Slender Fingers
If you have slender fingers, you can wear any style of ring that you want! Nevertheless, if you're looking for something more unique, you may like an engagement ring with delicate details. Curved bands also look beautiful on slender fingers.
Large Fingers
If you have large fingers, you may prefer a simple style with thin bands. Some opt against large stones or intricate designs as they feel these will only make their fingers look wider. It's good however, to experiment with different looks such as medium-large bands containing clusters, large round stones, or an elegant cut and length, such as an Emerald cut. You can use shapes that look angular in nature as well as symmetrical. These choices make large fingers appear shorter or thinner.
What Are The Different Cuts of Stones?
Round
Round is the most popular cut, as it typically features a sparkly diamond that shines brightly from every angle.
Princess
Princess cut rings have a more contemporary look and are a good choice if you want something that stands out from the crowd.
Emerald
The emerald cut is a more unique choice, and it can be exquisite when done correctly. It features a rectangular diamond with cropped corners.
Oval
Oval rings are both modern and traditional and can be stunning. The oval-shaped diamond is similar to the round cut, but it is elongated and some feel that it has a more elegant look.
Best Ring Settings for Small Hands
The ring setting is the metal frame that surrounds the diamond or gemstone. There are various settings to choose from, and some of the best ring settings to be considered for small hands are the following.
Bezel
The bezel setting can be a good choice for small hands. Some feel that no prongs can make diamonds look better for their hand size and finger shape. The bezel is a thin metal frame surrounding and securing the diamond in the ring style of your choice.
Tension
The tension setting is a unique choice that uses two pieces of metal to hold the diamond in place. This setting is very modern and minimalist, and it can be a good choice for small hands.
Halo
The halo is a ring of small diamonds surrounding the main one, and it helps to create a dramatic effect. Halo settings are also another good choice, as they can make the diamond appear larger and more sparkly.
Prong
The prong setting is the most traditional type of setting, and it uses four or six metal claws to hold the diamond in place. This setting can be a great option, as it helps to make the diamond look larger.
Pavé
The pave setting features small diamonds or gemstones set into the band of the ring. This setting is often used for engagement rings. The pavé setting is an excellent choice for small hands.
Ring Bands to Consider for Small Hands
There are different ring bands to choose from, and some of the best ones for small hands are as follows.
Plain Gold Band
A plain gold band is a classic choice that will never go out of style. It's also a good choice if you want a simple and understated ring.
Diamond Band
A diamond band is a good choice if you want something sparkly and glamorous. It's also a great way to make your engagement ring look even more special.
Pave Diamond Band
The pave diamond band is similar to the diamond band, but it features small diamonds set into the band. This setting is very sparkly and elegant, and it's an excellent choice for small hands.
Flat Wedding Band
This simple and elegant flat wedding band is the perfect choice for those with small hands. The sleek and modern design is sure to impress while being a comfortable fit. Plus, the flat band makes it easy to stack with other rings for a truly unique look.
Check this custom wedding band!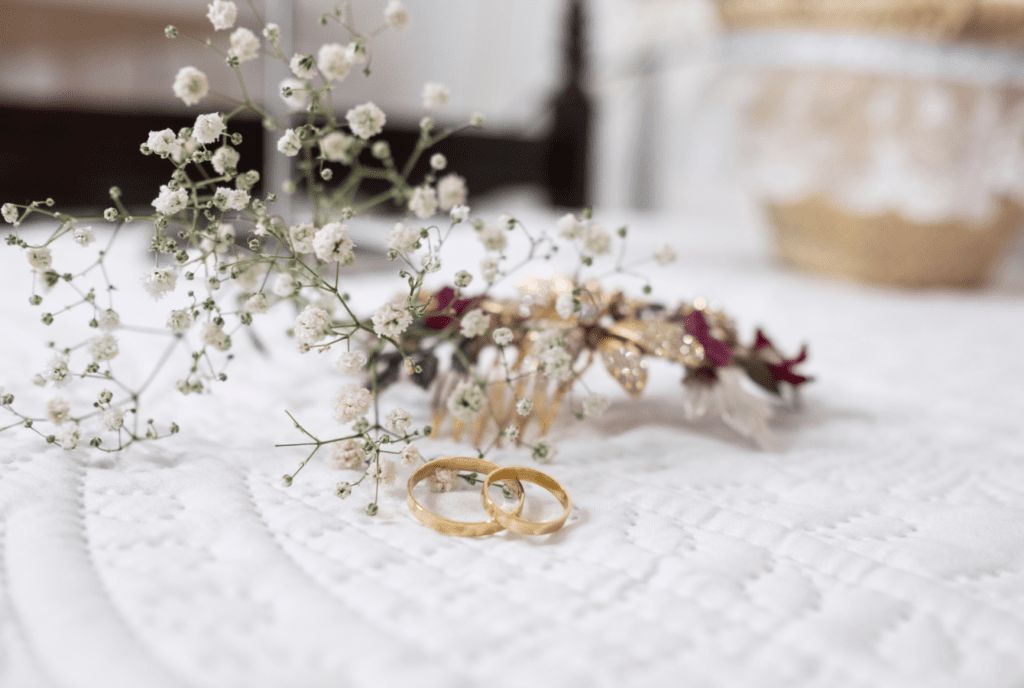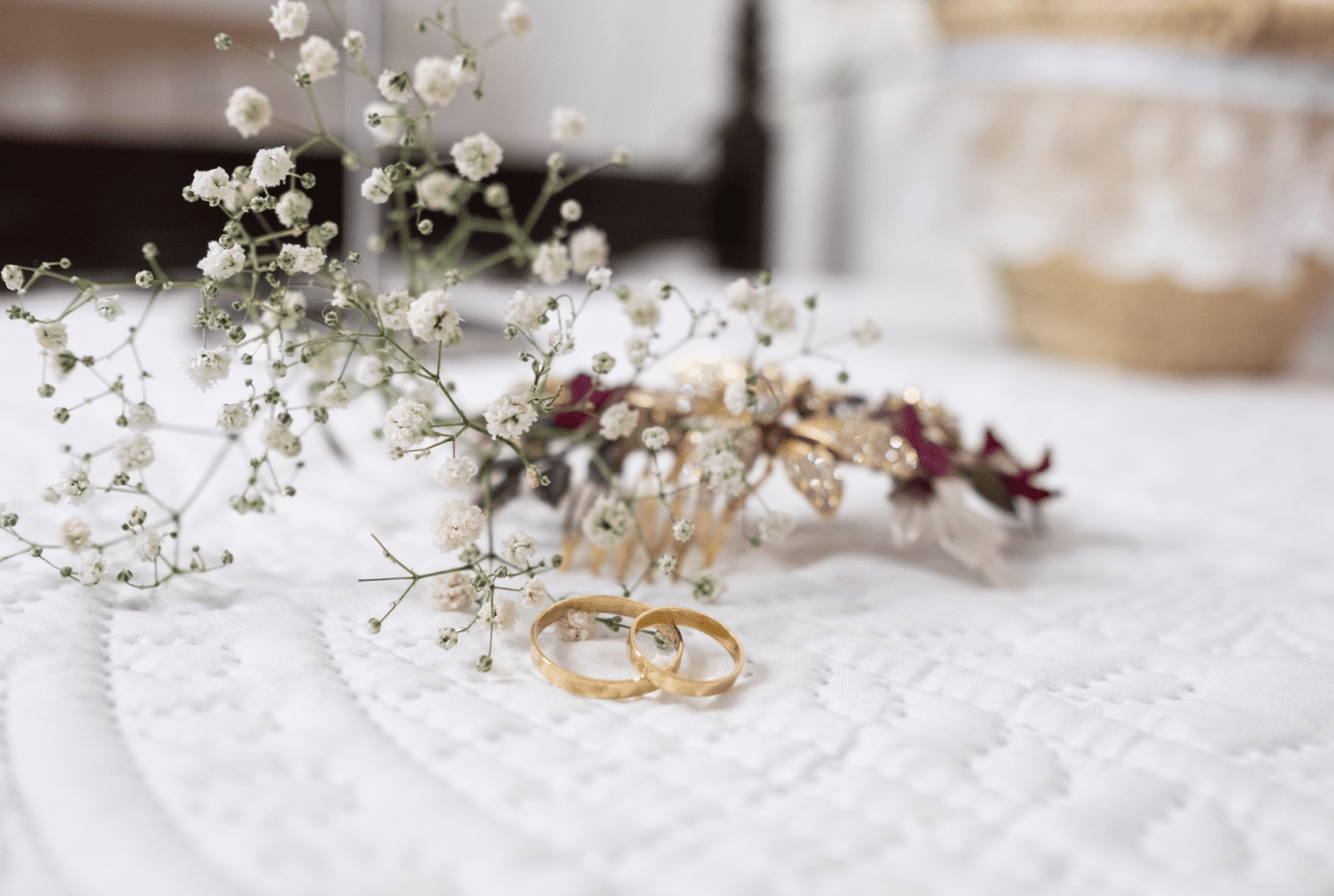 Find the Perfect Engagement Ring for Small Hands
So if you're looking for the perfect engagement ring for a small hand, keep these guidelines in mind, and don't forget to take her preferences into account. Remember that you can find beautiful rings that fit comfortably and look great on your fiance's finger at Bling Advisor!
We have a wide selection of rings to choose from, and all of them are made with high-quality materials and craftsmanship. If you have any questions or need help finding a specific ring, don't hesitate to reach out to us! We can also create something custom that fits all your specifications. We want to ensure that you have the best possible experience when shopping for an engagement ring.