The Average Wedding Ring Cost Guideline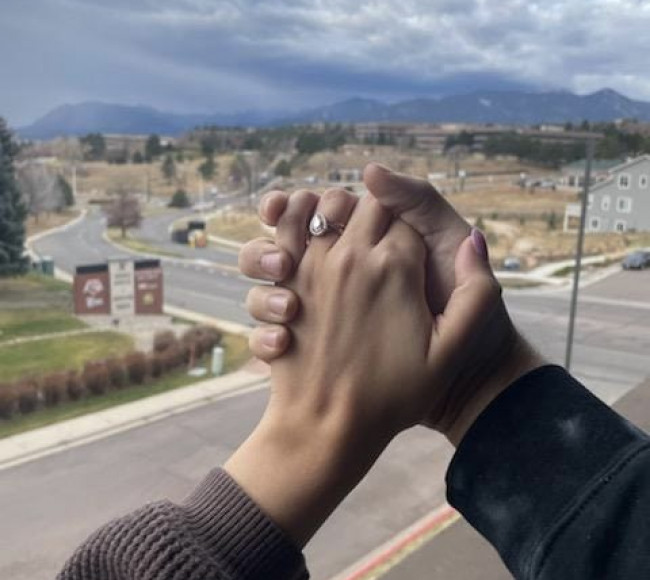 An engagement ring symbolizes love, something cherished and valued by the person receiving it. It's a lifetime investment, not just a purchase. Engagement ring prices range from a couple of hundred dollars to millions of dollars.
However, how much you decide to spend on an engagement ring remains a very personal choice. This guide is designed to help you make an informed decision by providing the national average wedding ring cost and reviewing the factors of influence. 
Engagement Ring Budget for a Unique and Beautiful Ring
The wedding budget, including the engagement ring cost, varies greatly depending on your financial situation and expectations.
To better understand what Americans are willing to pay for an engagement ring, we should look at some relevant statistics.
How much money do Americans spend on an engagement ring on average?
According to Brides' American Wedding Study, which conducts annual surveys, couples spent on average $3,756 in 2020 on the engagement ring and the wedding band, which is less than the $7,829 couples spent on average in 2018 and $6150 in 2016.
Another survey conducted by The Knot Wedding and Bridal Jewelry showed that the engagement ring's overall national average engagement ring cost in 2020 was more likely around $5,500.
Here are some other key numbers regarding the average spend for a perfect ring during 2020.
20% of couples spend less than $2,000.
30% of couples spend between $2,000-$5,000.
10% of the couples spend over $10,000.
About half of Americans spend less than the average cost for engagement rings.
Men are willing to spend an average of $2,000-3000 more than women on engagement rings.
Young adults between the ages of 18-24 years old spend around $1,600 on their engagement ring, while older adults between the ages of 55-64 spend around $3,400.
85% of rings are diamond engagement rings.
Note that the average cost of an engagement ring varies significantly from one US state to another.
Old "Salary Rule" Myths
Have you ever heard that you should save money according to your salary to purchase your engagement ring? Many false myths are going around about how much you should spend on an engagement ring and wedding ring.
The two-month salary rule is more than 40 years old, and DeBeers created it to get men hooked on a diamond engagement ring. It specifies that you should spend two months' net income before taxes on an engagement ring.
The three-month salary rule is the same concept with three months net salary instead of two.
The annual salary rule is a bit different in that it suggests you should spend around 1-4% of your annual salary on an engagement ring.
Note that these salary rules are no longer relevant in today's world; your salary is not a comprehensive portrait of your financial situation.
Engagement Ring Price Calculator
Several online calculators will help you decide how much you could spend your engagement ring based on different factors, including:
Your salary and employment situation.
Your existing debts.
Your budget for the ring.
Your lifestyle.
Your preference for a simple or extravagant ring, high-end or affordable ring.
Engagement rings calculators can be helpful to get you started in identifying the budget range you're willing to spend on an engagement ring.
Factors that Affect the Cost of an Engagement Ring and Wedding Ring
Engagement rings cost can vary significantly depending on the following factors:
The choice of the engagement ring stones
Most engagement rings and wedding bands feature diamonds, which are usually the most expensive stones. You can also consider other engagement ring gems that could make a huge difference in the price.
Some of the popular diamond alternatives are:
Colored gemstones: sapphire, ruby, emerald.
Diamond simulants: moissanite
The engagement ring cost also varies depending on if you choose only to have one center stone, many side stones, or a pavé engagement ring setting featuring many tiny stones.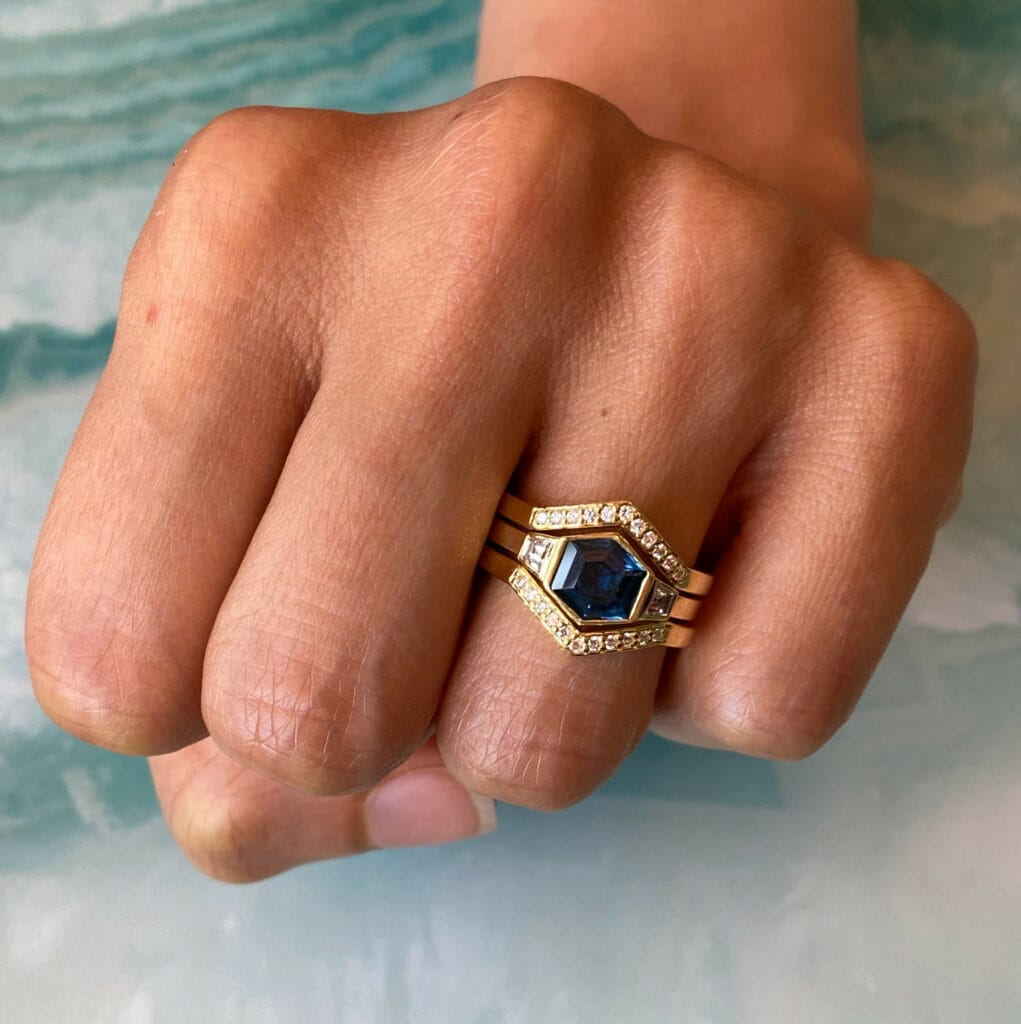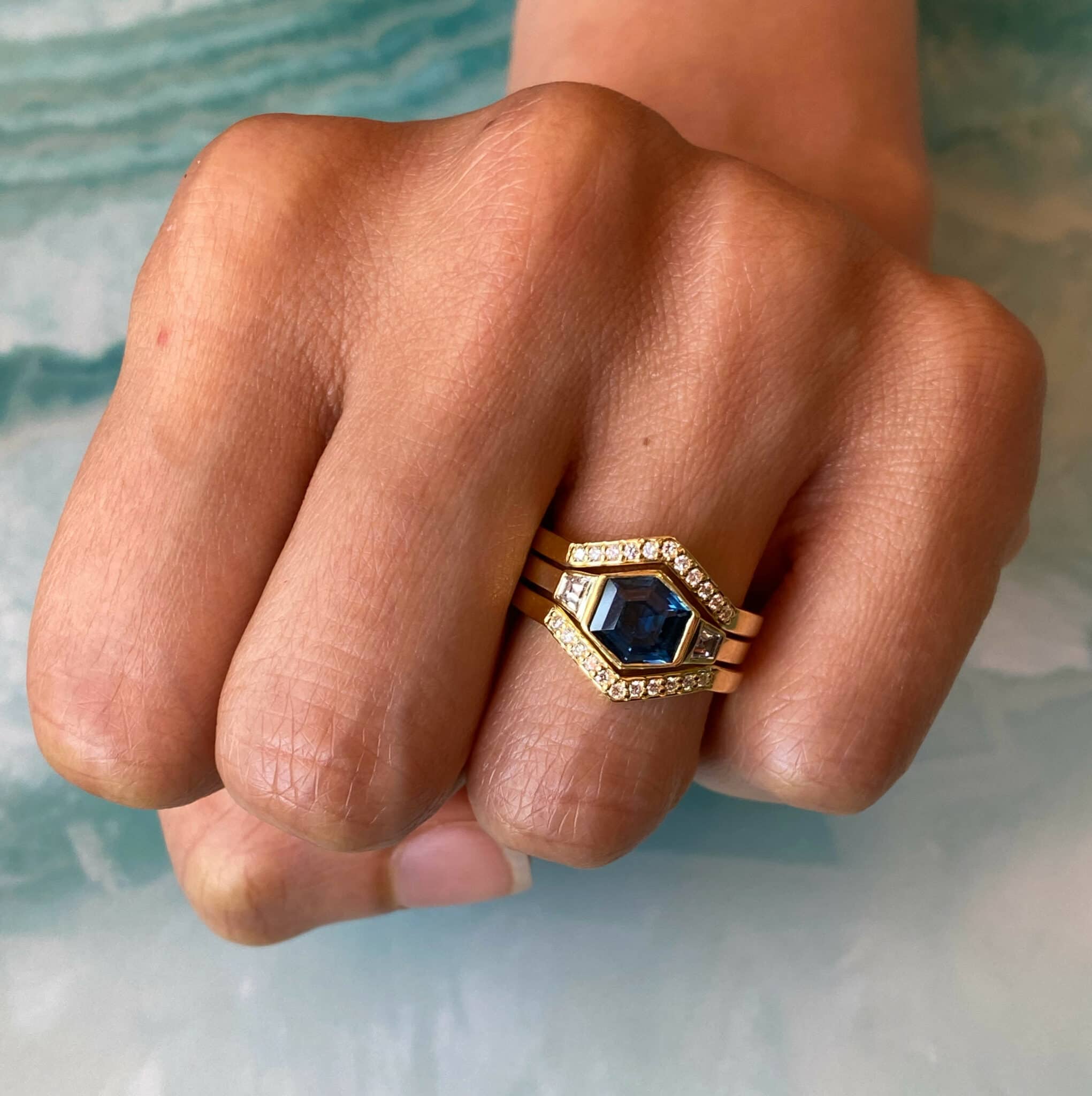 The 4 C's for diamond engagement rings
If you're choosing a diamond engagement ring, learn about the 4 C's, which all highly affect an engagement ring's value.
Color. The color of the diamond can range from D to Z. The more translucent and colorless a diamond is, the more valuable it is. White diamonds are priced higher than diamonds with traces of color like yellow and brown. Some exceptionally rare natural fancy color diamonds can be very expensive.
Cut. The cut of the diamond affects its "fire" and how well it sparkles when lit up. A round brilliant-cut is the most expensive diamond shape, while other cuts, like Oval, Cushion, Emerald, Asscher, and Pear-cut diamonds, tend to be less expensive.
Clarity. The diamond's clarity is affected by the number and nature of its internal characteristics. Diamonds with fewer flaws, called "inclusions," have a greater value than those with more prominent flaws. Clarity is the hardest to determine as inclusions may not be visible to the naked eye making clarity the most subjective of these four C's.
Carat Size and Carat Weight. A diamond's weight is measured by the carat, which equals 0.2 grams. A larger diamond, which is heavier and bigger, will cost more than a smaller one.
Note that if you choose a diamond engagement ring, you should review the diamond's certification. Organizations like The Gemological Institute of America (GIA) or American Gem Society (AGS) can help you learn more about a specific diamond's quality and ratings.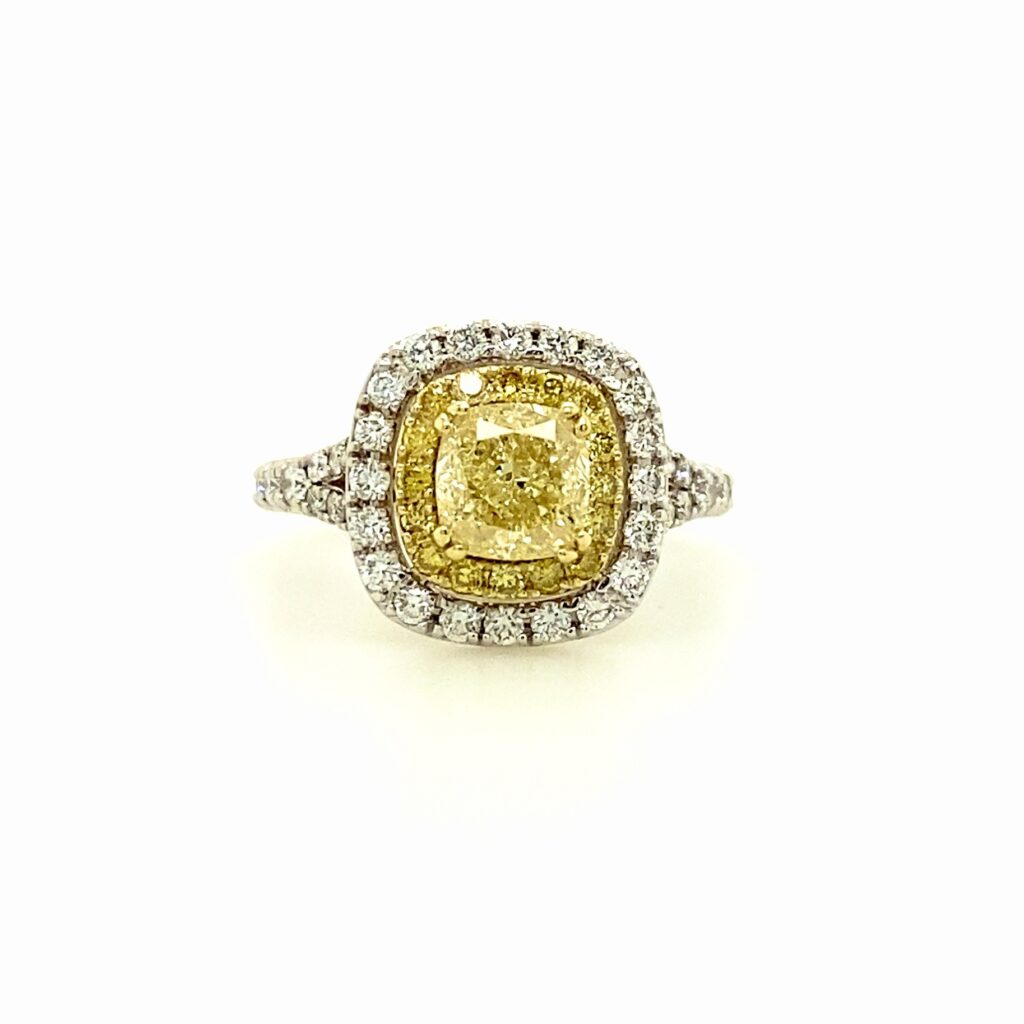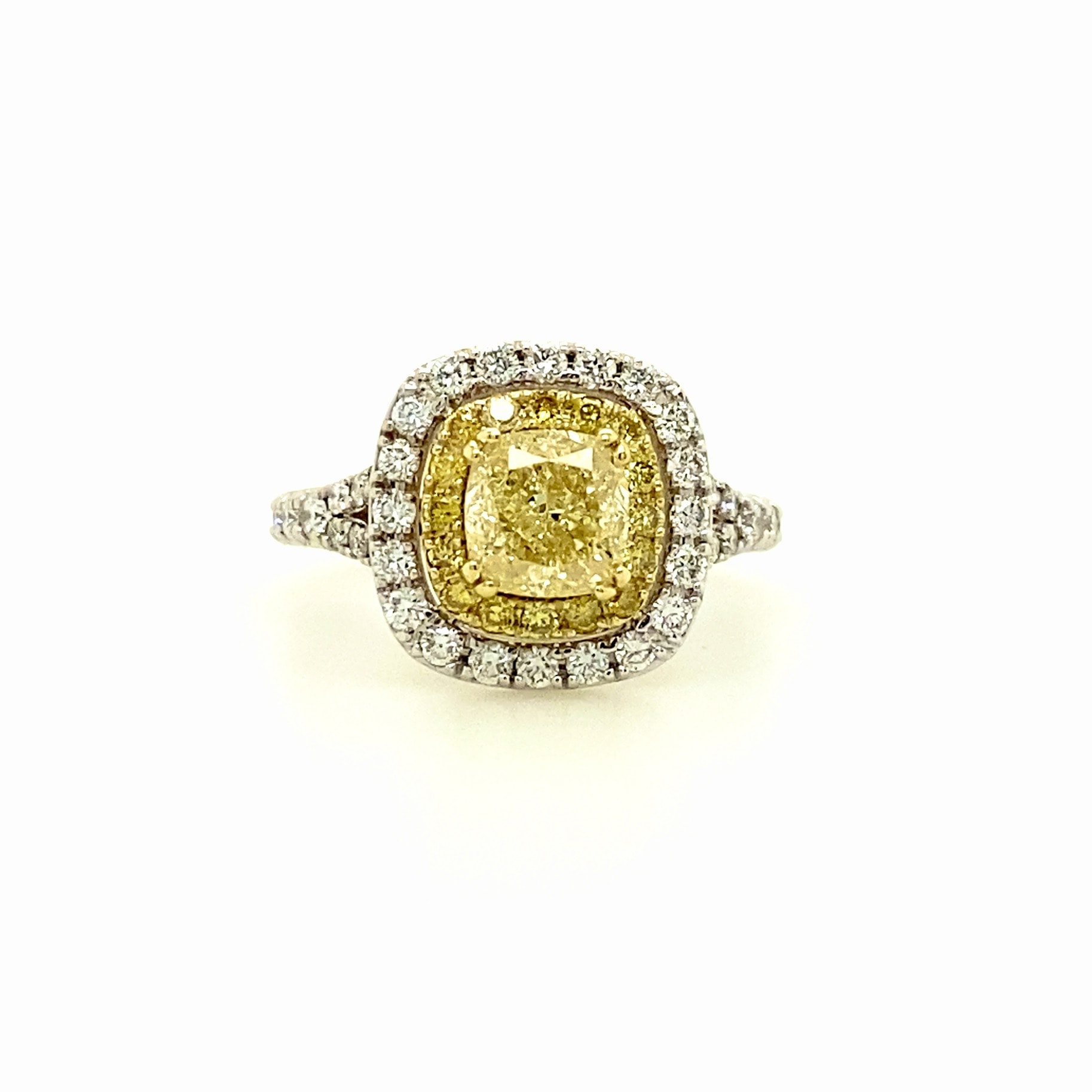 The choice of the metal
Choosing the metal is another crucial component of an engagement ring cost. Some of the metals we recommend for your engagement ring are:
Platinum is the most expensive ring metal yet creates an extremely durable ring that requires little maintenance. It is the recommended metal for high-end jewelry.
Yellow gold, white gold, and rose gold are more affordable but can be scratched relatively easily. White gold is the most durable as it's alloyed with nickel, followed by yellow and rose gold.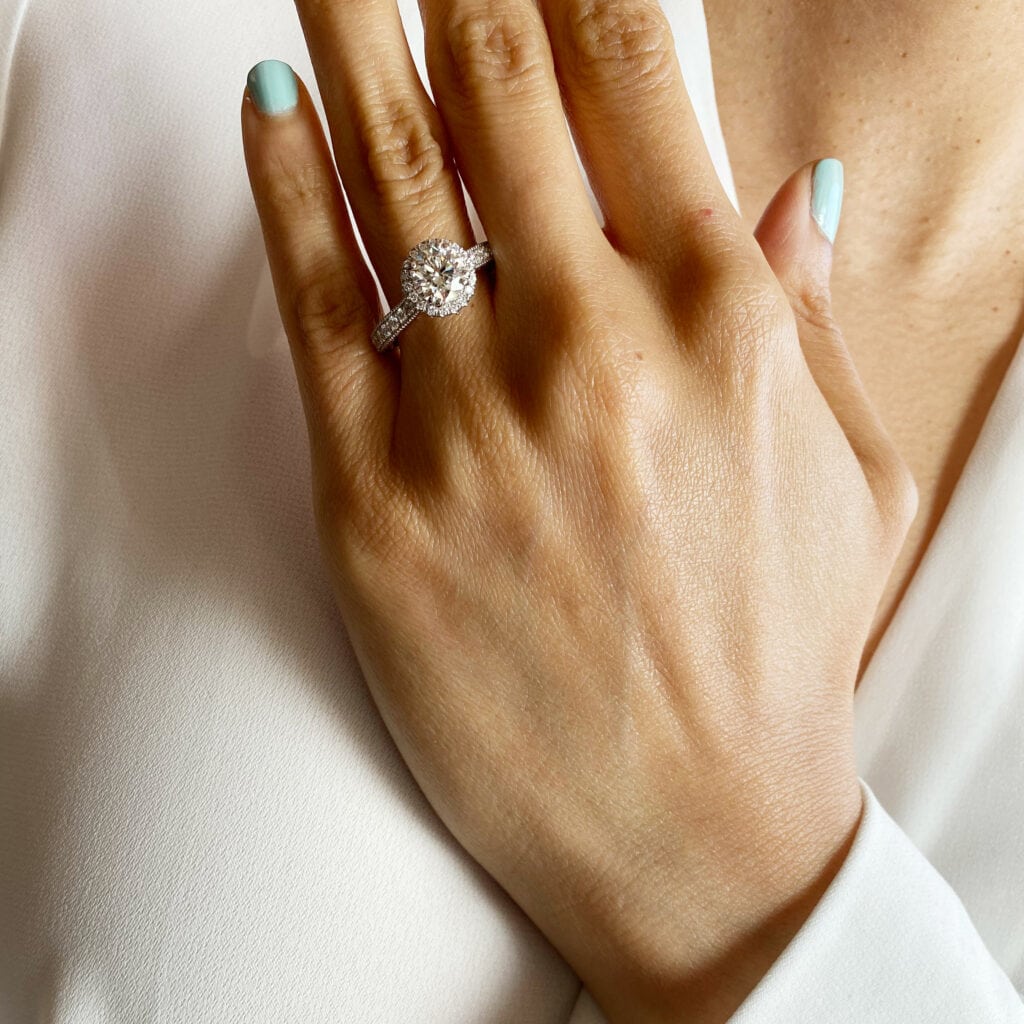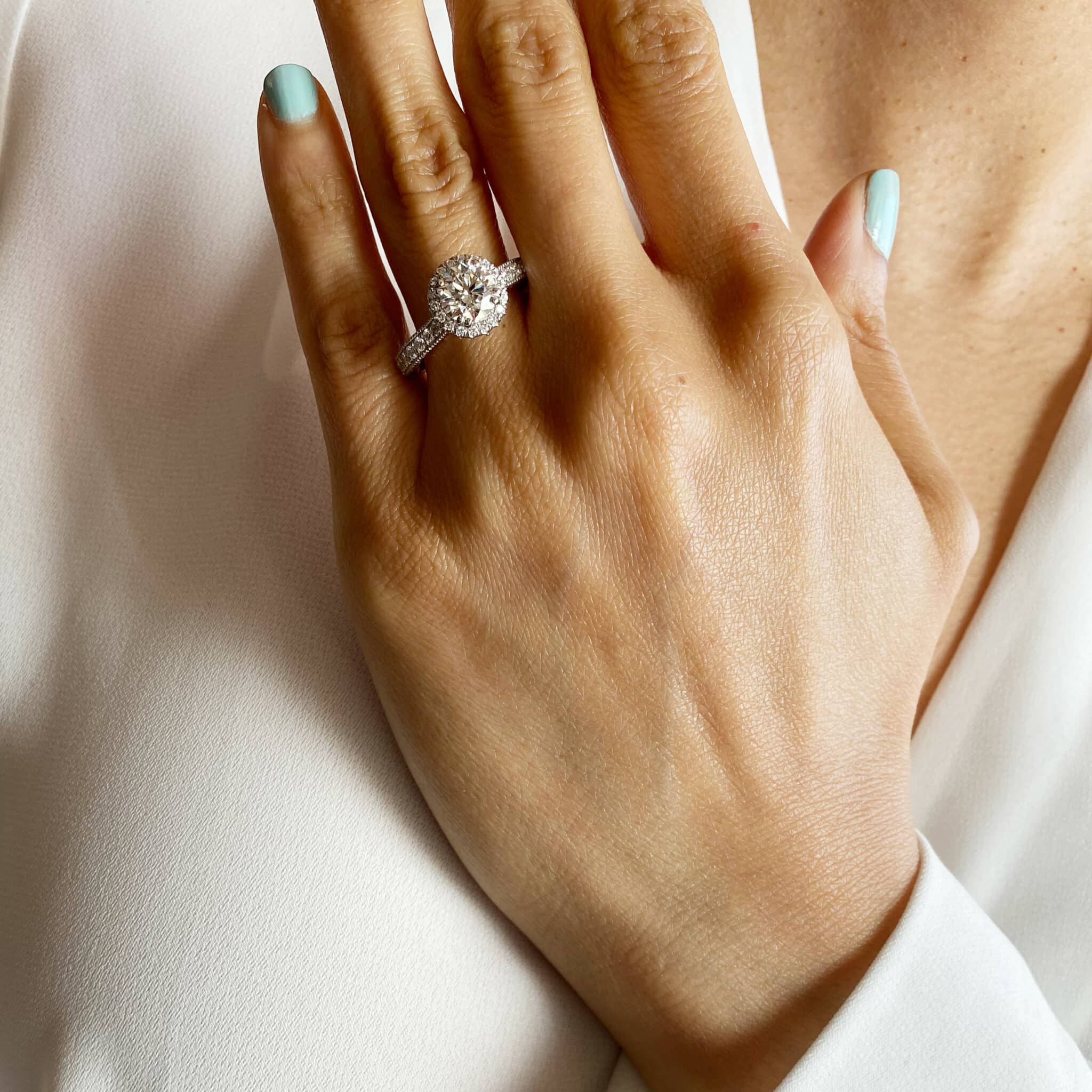 The engagement ring's setting and style
You can choose between many different engagement ring settings that significantly affect the ring's price. A more intricate and detailed setting will cost more than simple rings.
The most expensive settings are pavé-setting, halo setting, tension, invisible and three-stone rings. Less costly engagement ring settings include prong, bezel, and solitaire.
The labor costs in your area
It's also important to consider the labor costs in your area. Indeed, different parts of the US or world have different costs.
Where can you buy engagement rings?
Some people prefer the tradition of going into their independent local jewelry store to make a selection. Others will venture out to shopping malls, outlet stores, box stores, etc. Today there are many excellent online options to choose from and a growing number of people are designing custom engagement rings online.
Try engagement rings and wedding rings in different jewelry stores
You might want to consider going to many jewelry stores and trying out different engagement rings or wedding rings. This way you can compare prices and quality.
Professional jewelers will give you advice and show you a wide array of engagement rings depending on your preferences and the average cost desired.
Independent jewelers, along with high-end jewelers, may offer a wider variety of options and engagement ring styles in all price ranges.
Shopping online for an engagement ring
Buying an engagement ring online is an option worthy of consideration. Many jewelers now have online jewelry shops offering both custom engagement rings as well as ready-to-ship engagement rings and wedding rings.
Here are several advantages to buying an engagement ring online.
Lower overhead costs. Since online jewelry stores do not have to maintain showrooms, brick and mortar costs, and shareholder profits they can pass on those savings to the customer with lower prices.
A wider variety of engagement ring styles and settings. Many small business, online jewelers maintain a low inventory stock to keep prices down but have access to a much wider variety of engagement ring styles and settings than physical stores.
More competitive prices. Online jewelers have to compete with each other for your business, so they often offer more competitive prices than physical stores.
Custom online jewelers offer CAD with 3D renders for approval and an actual size resin model so you can feel secure about your online purchase. Your 3D images that you will receive can be reviewed and changed to your liking. Most projects are changed two or three times before approval. To make sure you love how your custom piece looks on the digital screen, next you will receive a wax model of your piece in the mail. This is an exact replica (minus the stones) of your piece that you can see in real life and hold in your hands to make sure everything is perfect. Once you approve, the final piece will be cast and securely delivered to your front door. Bling Advisor offers the CAD and resin model for free when you spend $3000 or more (a $400-700.00 value).
More information about diamonds and gemstones. Online jewelers, such as Bling Advisor, have access to many seasoned expert consultants to provide information and consultations on diamonds and gemstones for your custom project.
Compare prices easily. When shopping online, you can compare the prices of different rings from different jewelers quickly and easily. You also may want to compare the added perks you can get with your purchase from different online jewelers. With a custom jewelry purchase, Bling Advisor has custom packages that include a lifetime care plan through Jewelers Mutual that covers lifetime maintenance, stone replacement, and repairs. This ensures that your piece will stay looking new and safe for a lifetime.
Ring sizing is easy. If you're not sure of your ring size, many online jewelers will let you send your engagement ring back and resize it at no cost.
Shipping is quick and easy. Most online jewelers will ship your engagement ring insured and in a well-padded package using their own contracted shipping company, which makes the entire process safe and convenient.
No rush. You can take your time in making a decision and compare different rings.
What about a custom jeweler for an engagement ring?
Custom jewelers offer personalized service and attention that shoppers don't get from most stores. Online custom jewelers do not have as many overhead costs as big name brand jewelry stores, so they can often offer higher quality jewelry at more affordable prices. They also have more flexibility in being able to personalize jewelry to the customer's wishes and create unique designs especially for you.
If you have a very specific idea of what you want for your engagement ring, or you're looking for a one-of-a-kind engagement ring, you might want to shop for your engagement ring at a custom jeweler.
For personalized custom jewelry and the extra steps involved be sure and allow extra time to create your custom-designed ring. Depending on the project and the company you choose you'll want to allow 4-8 weeks for your piece to be delivered. Knowing that, you'll want to allow extra lead time for choosing your custom jeweler and we suggest getting three quotes during your planning process.
If you're looking for a creative and personal touch for your custom engagement ring, contact us. We will help you create the perfect ring for the perfect occasion!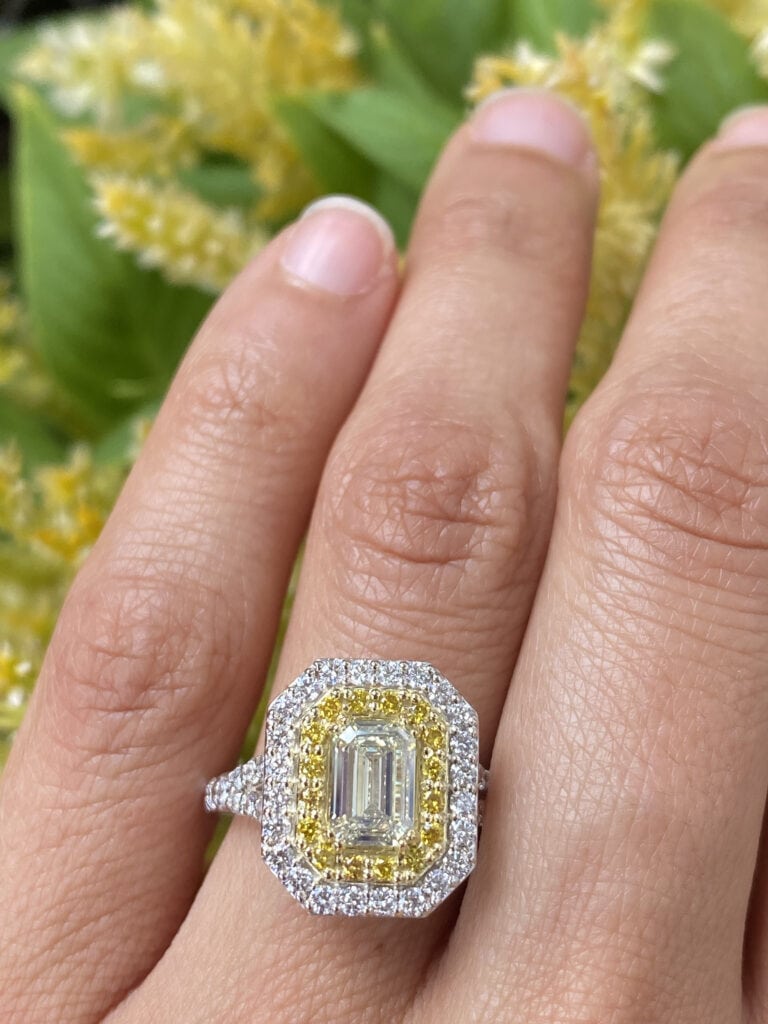 Is it safe to buy a diamond engagement ring online?
Yes, it is safe to buy diamond engagement rings online. The vast majority of reputable jewelers have secure websites that use the latest in encryption technology to protect your personal information. In addition, they typically have a return policy if you're not satisfied with the ring for any reason.
When shopping for an engagement ring online, be sure to check out the jeweler's reputation and read reviews from past customers.
Many online jewelers sell genuine diamonds. Some of them have local branches that can do the grading, sizing, and selling for you. The diamonds you see graded online are 100% real, genuine diamonds.
That said, make sure to check the diamond's certification and contact the jeweler for more information. You can also look at previous customers' reviews and testimonials on the jeweler's website.
Conclusion:
An engagement ring cost varies significantly from one to another. You can choose from a wide range of prices to find one that fits your expectations and budget. Remember to factor in the gem type, metal type, ring setting, and other criteria.
We hope this guideline was helpful and you learned something new!