10 Tips on How To Take Engagement Ring Selfies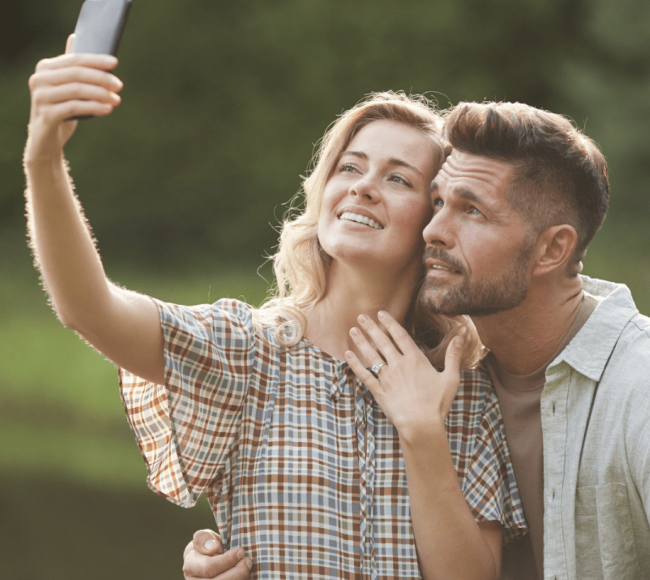 It's the moment you've been waiting for – your proposal! And, of course, a selfie is a fun way to do it. But how can you make sure your engagement ring selfies are the best they can be? We have some tips from the camera, angle, and lighting to help make your hands look their best!
Plus, we'll give you some etiquette advice on when is the best time to post your engagement ring selfie to announce your future wedding. So read on and learn which social media platform will give you the most likes!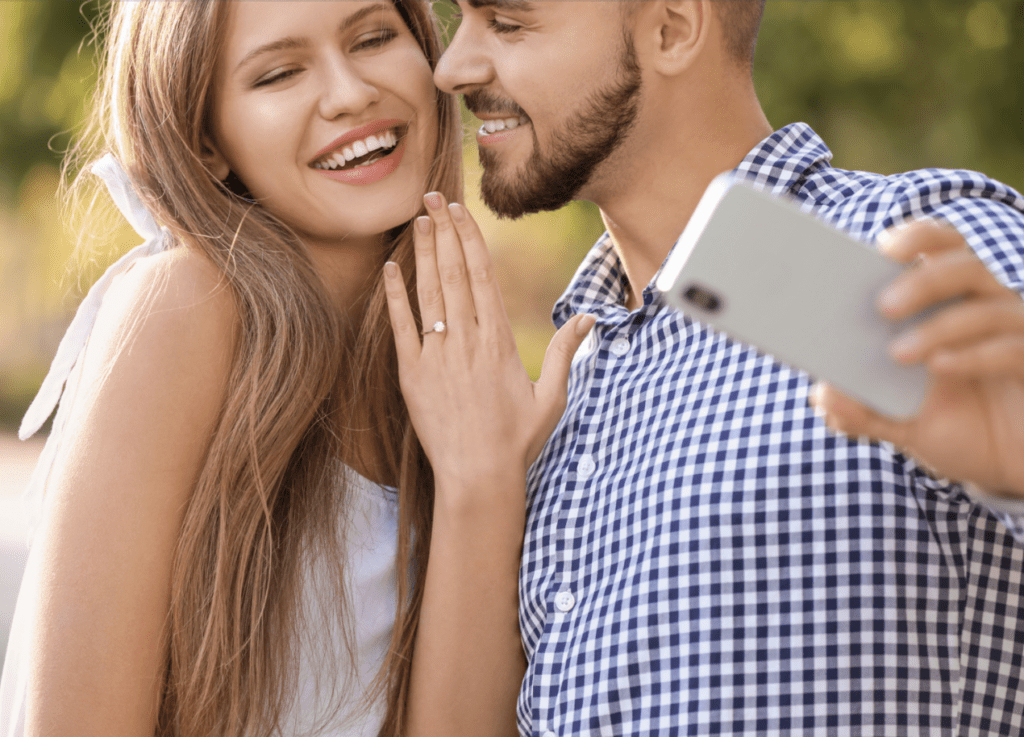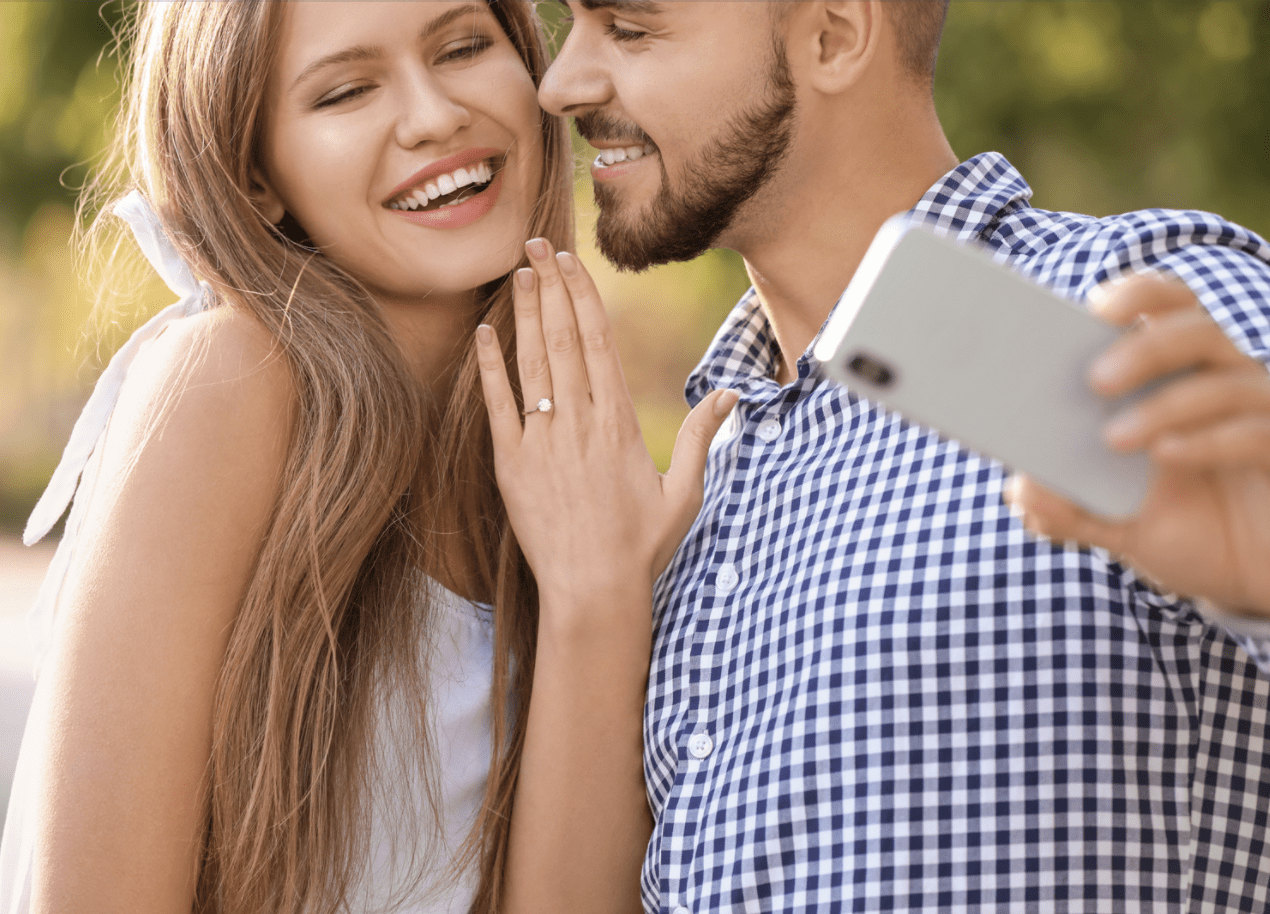 1- Choose a Good Lens
First things first – let's talk about the camera. If you're looking for a way to make your engagement ring selfie be the show's star, we recommend using a DSLR or mirrorless camera with a macro lens. This will give you the best image quality and allow you to get close-up shots of your ring.
2- Try Different Angles
Next, let's talk about angles. The best engagement ring selfies are taken from above, so hold your camera slightly above your hand. This will give the illusion of a more slender hand and make your ring look bigger and brighter.
You can make your engagement ring diamond look bigger!
Depending on the size of the diamond you're using, a certain angle and setup may change its effect. Always take a top-down shot of your ring. When it comes to the cut and the setting used, pictures from the side can seem completely misleading. A large diamond in an engagement ring placed lower on the fingers can appear minuscule if seen from certain camera angles.
Another method to increase the ring's size is to position it further away from the lens. This also helps bring the ring closer to the camera, tricking people's eyes into thinking it is bigger. In contrast, a large watch in the frame could make your engagement ring look smaller. In the same way, remove all other jewelry to get that "bigger" feeling, so the focus is on your ring.
Angles are a wonderful way to add interest to your photos. Have fun and experiment with various angles; however, objects closer to the camera appear larger than those further away. Instead of keeping your fingers straight, relax them and even bend them slightly to give your photo more depth instead of a flat hand.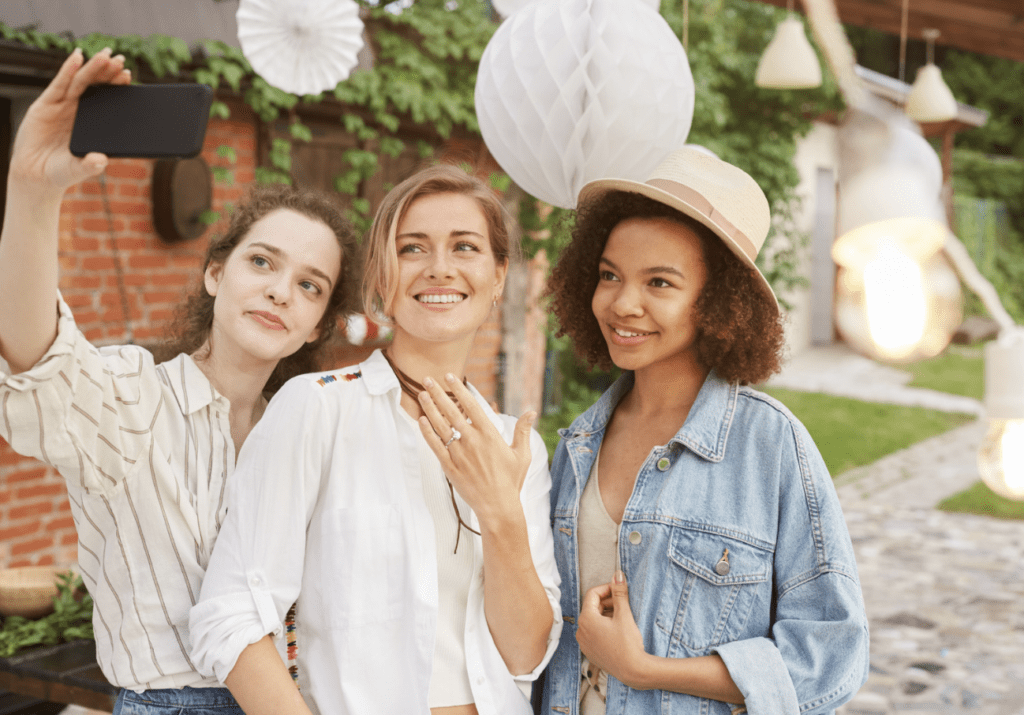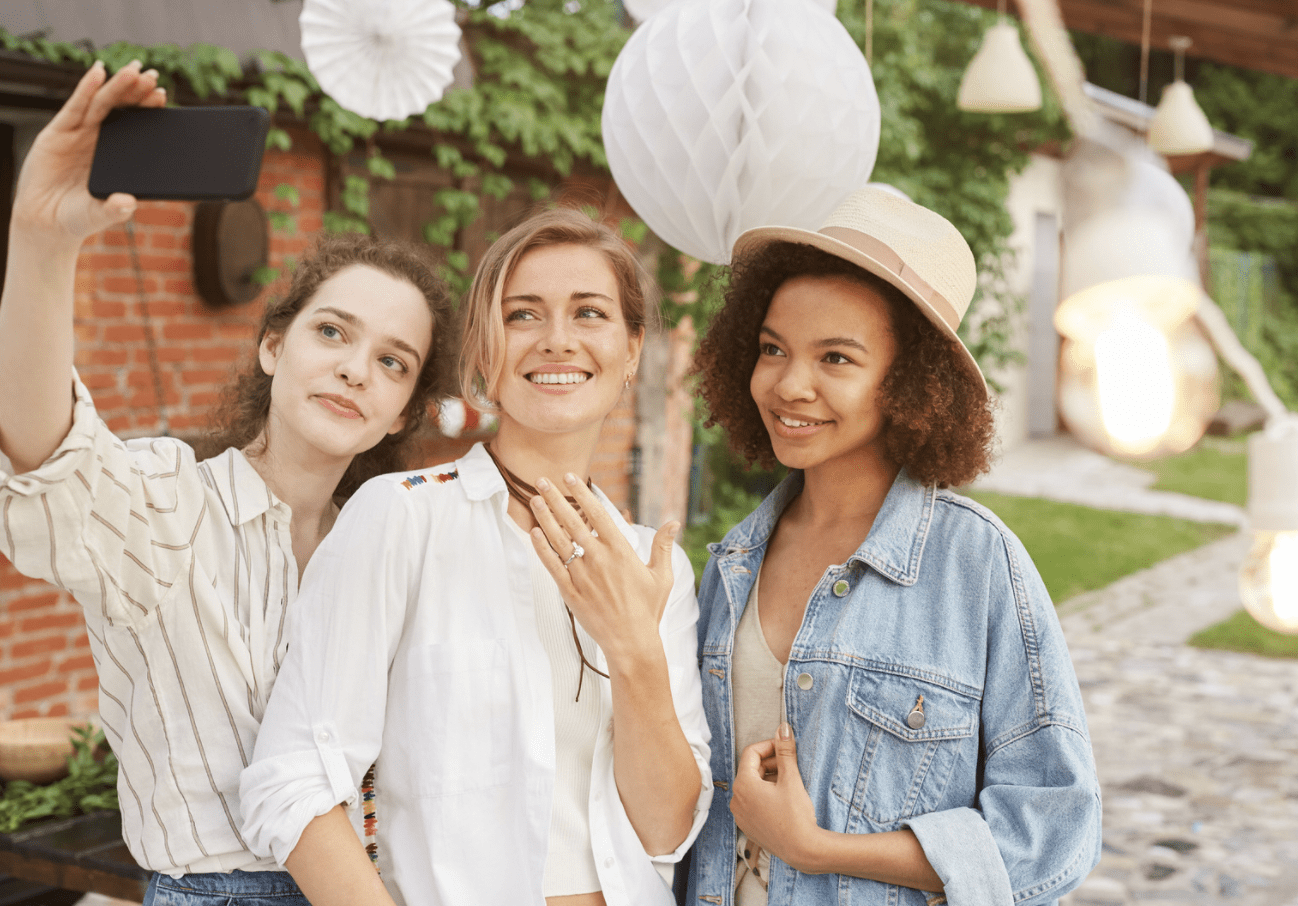 3- Use Good Lighting
Good lighting is key for taking any great photo, and engagement ring selfies are no exception. The best time to take an Engagement Ring Selfie is when the sun is shining – early morning or late afternoon is ideal. This will give you the best natural light and make a sparkly engagement ring.
The best way to make your ring sparkle: the natural light of the sun
Nothing gives your engagement rings more shine than sunshine. Depending on where you live, beaches provide perfect opportunities to let your sparkler shine. The beach offers unique photo options and many other attractions to choose from. The sunlight and the reflection of the sunlight onto the water enhance the center diamonds' shine.
Avoid taking engagement rings photos with dim white-colored lights. A better option is to use reading lights as reading lights give diamonds a soft romantic appearance. If you're taking a selfie inside, try to find a well-lit room near a window. You can also experiment by using a ring light to get that perfect shot.
4- Find a Beautiful and Simple Background
Regarding your engagement ring selfie background, less is more. You want the focus to be on your ring, not the busy background. The engagement ring is the main feature of your ring selfie, but keep in mind that the background will frame it, so pick a backdrop or prop that complements rather than detracts from the overall shot.
When it comes to taking the perfect engagement ring photo, the background is just as important as the ring itself. A busy or cluttered background can distract from the ring, making it appear smaller or less significant. Conversely, a simple background can make the ring appear larger and more eye-catching. Try a solid-color wall or a blank sheet of paper for a classic and elegant look. Get creative with your backdrop by using ornaments, flowers, or leaves for something a little more unique. Or, for a truly personal touch, take your photo at the place where you got engaged. Just be sure that your background is not too busy or complicated, or it will take away from the beauty of your ring.
5- Pay Close Attention to the Focus
When taking a close-up photo of your engagement ring, it's important to make sure the focus is on the ring. When taking engagement ring photos from your phone, the best way to get the right focus is to tap and hold down for a couple of seconds to get the ideal focus and exposure of the ring in your camera app before taking it. This will ensure that your camera focuses on the ring and not anything else in the background.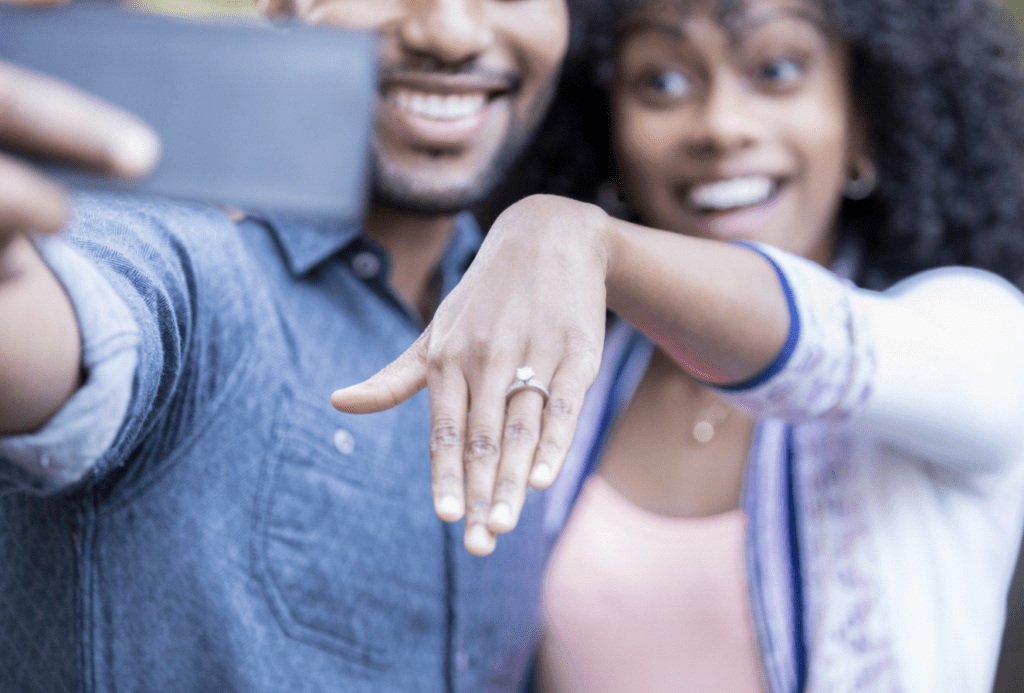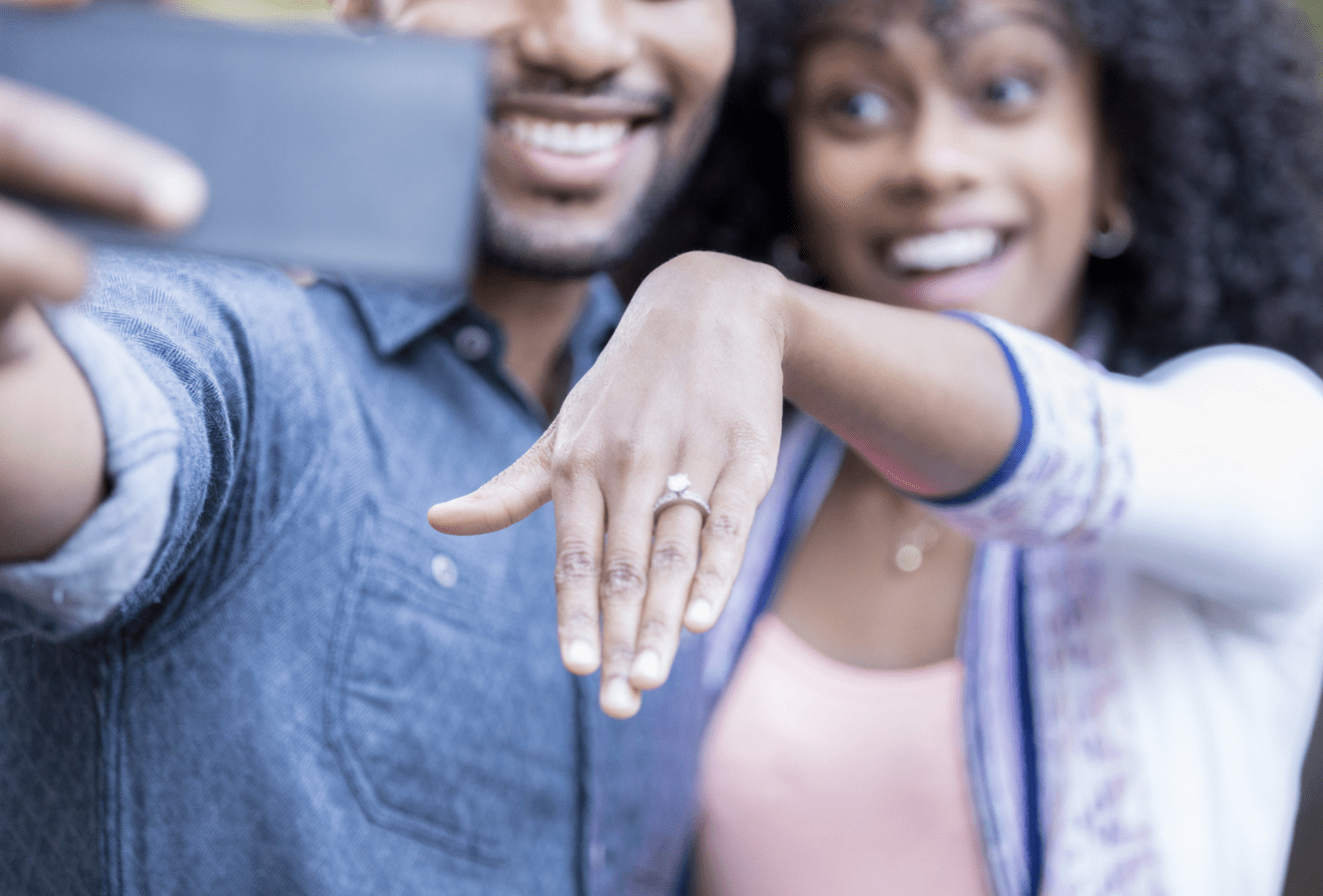 6- Edit Your Engagement Ring Selfie
Once you've taken the perfect engagement ring selfie, it's time to edit! We recommend using a free photo editing app like Lightroom CC or Snapseed to make small adjustments to brightness, contrast, and saturation.
Editing the selfie is the perfect way to make your ring look its best. You can use filters to enhance the photo even further. Also, you can edit the background or even blur it to make your engagement ring stand out. Just be careful not to go overboard – you want your engagement ring selfie to look natural, not like a cartoon!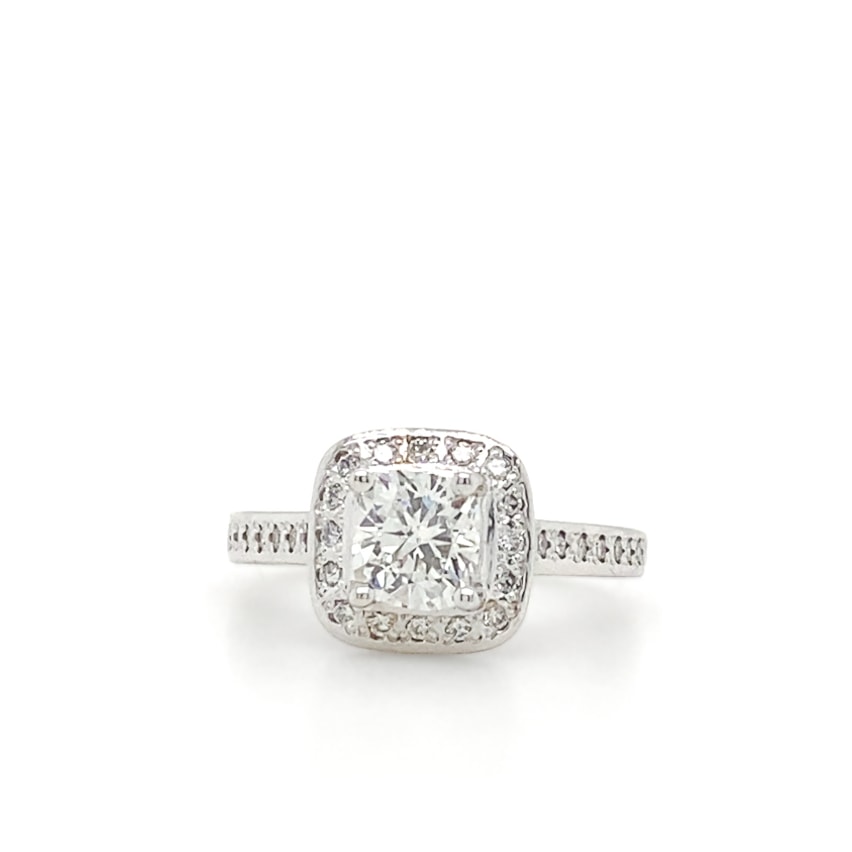 Cushion Cut Diamond Engagement Ring
Center cushion-cut diamond 1.01ct with accent diamonds weighing .36ct and set in 14k white gold. Size 6 1/2; weight 5.6 grams.
7- Etiquette for Engagement Ring Selfies
Now let's talk about the etiquette of an engagement ring selfie.
Best Time to Post
The best time to post your photo is after you've told your closest friends and family about your engagement. You can announce it on social media after having a chance to celebrate privately with your loved ones.
Best Social Media Platforms
When using a social media platform for posting, we recommend using Instagram or Facebook and making a carousel to show the perfect ring selfie to all your friends. TikTok is also a great option, as short videos are perfect for showing off your new ring in all its glory. Tik Toks are quick and easy to make and are extremely popular right now. Be creative- try using fun filters, singing a song, or doing a skit. Just remember to use filters and lighting to make your ring look its best!
Don't Forget To Include Your Partner When Posting
While the engagement ring photo is all about the ring, the relationship is about the two of you. Make sure to include them in your post, whether it's thanking them in the caption or including a photograph of them or you and them together.
Give Credits to Everyone Involved
The greatest form of reviews, according to experts, is word-of-mouth and/or social media recommendations. If your future spouse bought your ring from an online, local, or small jewelry store, tag them on your engagement.
All of this adds up to a memorable experience from which you and your spouse can tell stories for years. Of course, the venue where you got engaged is someone else you may want to tag—especially if they helped organize it. All companies enjoy seeing happy customers.
8- Get Extra Help!
There are plenty of resources online and in stores for more help with taking the best engagement ring selfie. You can find tips, tutorials, and even ask your friends or get professional services to help you take the best photos possible.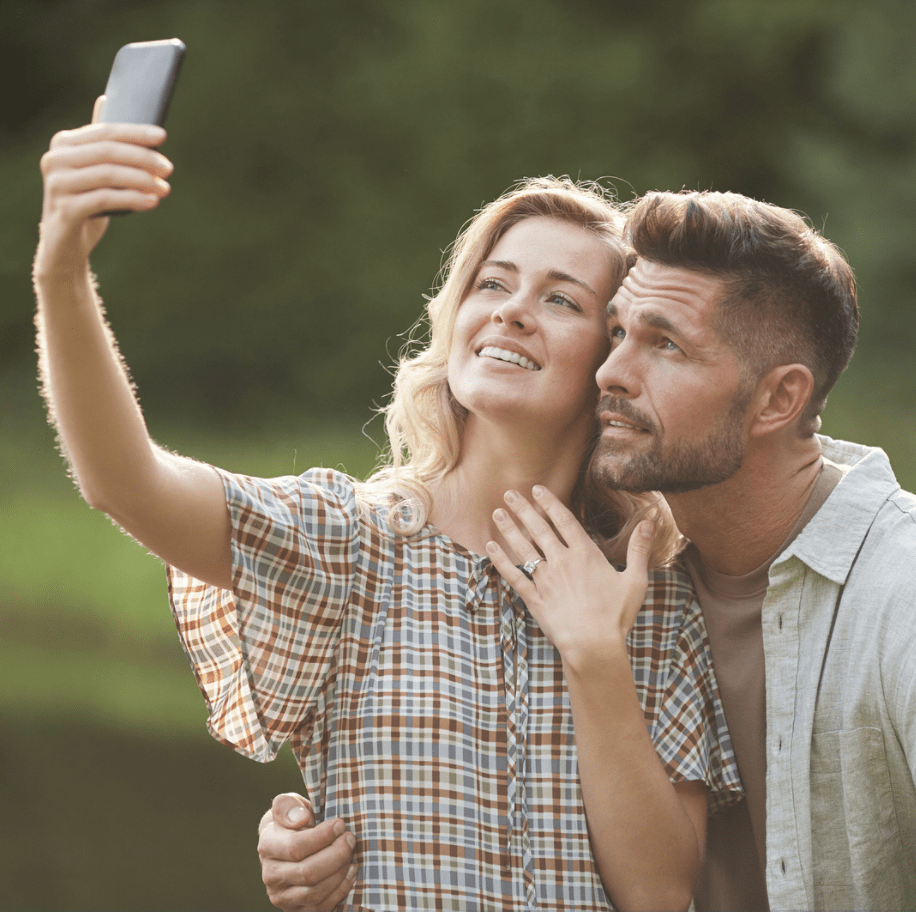 9- Be Unique and Creative
Avoid copying ideas you see online. Instead, get inspired by them and make your engagement ring selfie your own. Be creative and have fun with it! There are no rules when it comes to taking selfies, so let your personality shine through, and keep in mind that natural light will be your best ally.
10- Make Your Hand Look its Best
Get a Manicure for a Neat Look
Going to a nail salon for a professional manicure is a great option to treat yourself before your wedding and get your nails looking their best. They will trim your nails and file them into the shape you desire. Your hands will be neat and presentable for your engagement announcement.
Use Lotion to Prevent Dry Skin
The lotion is your best friend to avoid dry hands. Apply it generously all over your hands, including in between your fingers, to prevent dry skin. Just make sure to take off your engagement ring before applying lotion. This will help your hands to look even more beautiful in photos!
Use Fake Tanner for a Sun-Kissed Glow
If you are looking for a way to make your hands look tanner in photos, apply some fake tanner a few hours before taking your selfie. This tip will give you a sun-kissed look without spending time in the sun. Just make sure to wash your hands thoroughly after applying it!
Wear Simple Accessories
While you should certainly put your engagement ring in the foreground in your selfie, don't be afraid to play around with some complimentary bling. However, avoid wearing bracelets, rings, or other accessories that will compete with your engagement ring for attention. Remember that you want the focus to be on your engagement ring.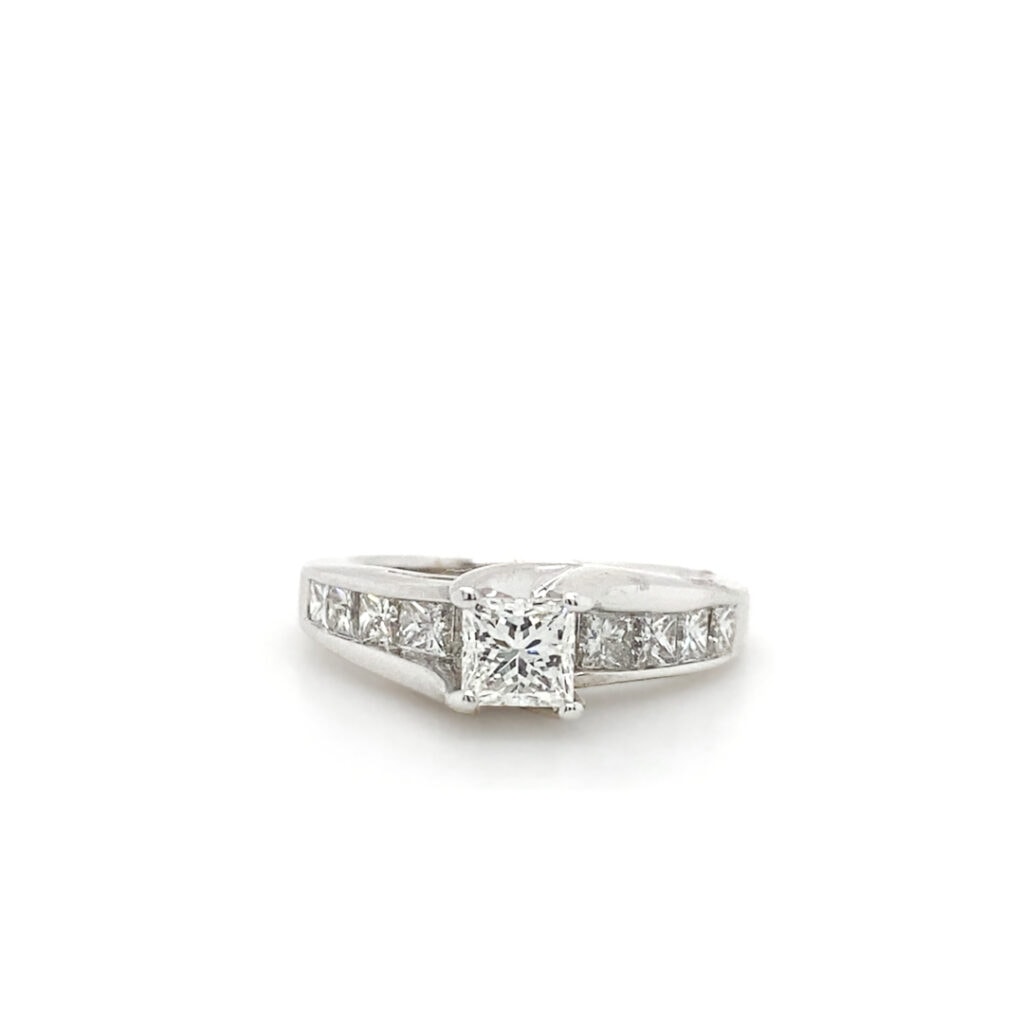 Classic Princess Cut Diamond Engagement Ring
This Classic Princess Cut Diamond Engagement Ring is fit for a princess! With its dazzling center diamond and sparkling accent diamonds, this ring will catch everyone's eye. Perfect for special occasions or everyday wear, this ring will make you feel like a queen. The ring's band is adorned with ten small princess-cut diamonds, adding an extra touch of sparkle and beauty to this already stunning piece. With a weight of 6.6g, this ring is the perfect way to say "I love you" to that special someone in your life.
The Bottom Line
Weddings are events that are all about love, family members, and friends. Taking a ring selfie is the perfect way to announce your big upcoming event and show off your new bling. Remember to be thoughtful about the process and take care of your hands! With these tips, you'll be sure to take the best wedding selfie ever.We hope you found these tips helpful and that you'll be able to take the perfect engagement ring selfie to remember this special time in your life!