How to Guess a Woman's Ring Size?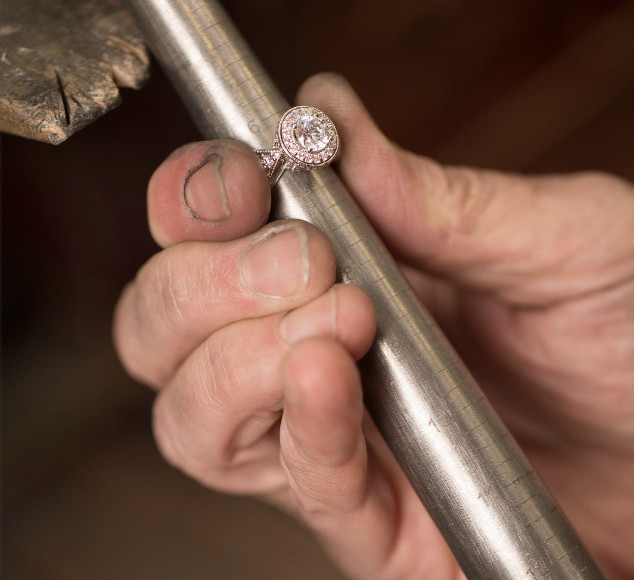 How to Guess a Woman's Ring Size (Without Getting Caught!)
Congratulations! You have found the person you want to spend the rest of your life with, and that's no small feat! Now you're planning the perfect proposal to surprise and sweep her off her feet. One small problem… How to guess a woman's ring size?!
Bling Advisor is here to help; we have a few tips, ideas, and a free download to help you discover her ring size and get you on your way to creating your happily ever after together.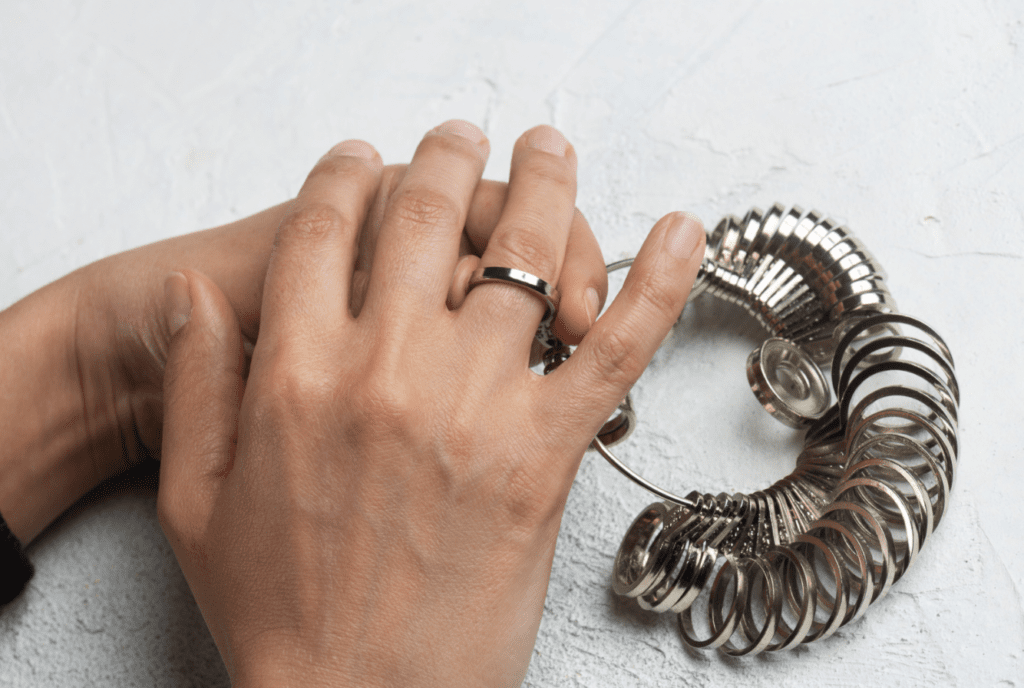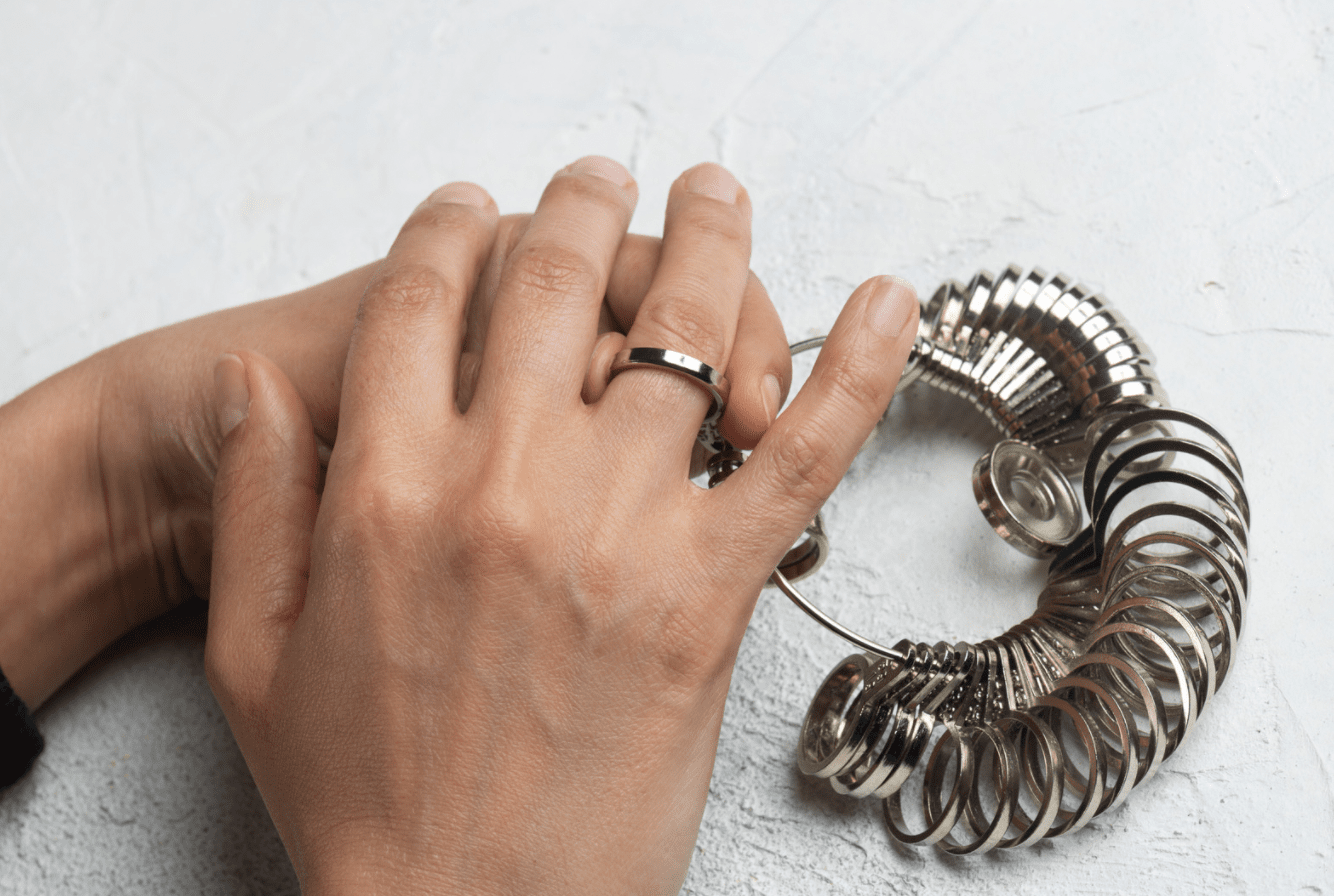 How to Guess a Woman's Ring Size: Ring Sizing Tips
If you are not sure how to guess a woman's ring size, these tips will help ensure you get the correct ring size:
Measure the correct finger on the correct hand. Each finger will usually be a different size, AND the fingers on the right and left hand are generally different sizes.

Ring finger – the finger between the pinky finger and the middle finger.
Left hand – measure the ring finger on the left hand.

Measure the finger at the end of the day because our hands swell throughout the day.
Do not measure the finger when hands are cold or wet.
Measure the biggest part of the finger — usually the knuckle.
Brands and rings larger than 5mm in width may fit more tightly than rings of the same size in a narrower width.
Printable Ring Sizer Guide
Our ring sizer can help you accurately determine how to guess a woman's ring size! There are two options on the Bling Advisor Ring Sizer Guide, which you can download and print.  Before using either option that the guide provides, please do the accuracy test. Your printer could distort the guide's size while printing, which would cause the ring size to be incorrect. If the ACCURACY TEST  at the top of the guide measures two inches, you can have confidence using the guide! Follow the instructions below depending on which option works best for you! 
Option 1: Measure Her Finger
This is the first step to know how to guess a woman's ring size. Cut out the ring sizer strip under Option 1. Cut a slit on the dotted line labeled cut here on Side A. Loop the pointed tip on Side B through the slit you just cut on Side A. Pull the pointed tip so that the paper is close-fitting on the largest part of the ring finger on the left hand. Record the measurement that can be seen by the words YOUR RING SIZE on Side A.
While this option works very well, she will not be as surprised as you may have hoped once she sees a ring sizer. Don't worry. With a little ingenuity, you can still pull this off. If she sleeps very deeply, you may be able to use the ring sizer without her knowing. Otherwise, you may have to get creative. Could you slyly "play" with a non-stretchy piece of string while holding hands and watching television? After putting the string on a few of her fingers, you could place the string on the ring finger of her left hand.
Be sure to mark the length of the string and later place the string on the ring sizer to determine the ring size. Or, with the non-stretchy string, could you playfully suggest checking to see how much bigger your hands are than hers? If she is very petite, joke that her finger is likely smaller than a pencil. Use the string to "prove" or "disprove" your points. Transfer the string measurement to the ring sizer, and VOILA!! You have her ring size!
Option 2: Measure One of Her Rings
Does your love wear a promise ring or any other ring on the ring finger of her left hand? If you can swing it, get your hands on that ring! You will only need it for a moment. On the Bling Advisor Ring Sizing Guide, compare that ring to our chart. Place the ring flat on the paper and compare different sizes until you find the image that matches the inside measurement of the ring.
Tips: After taking one of her rings, place it on a piece of paper. Draw a circle on the inside and outside of the ring several times to have a consistent sketch. Send in your tracing to a professional and they can also help you to determine the size!
Option 3: Enlist an Accomplice
Distancing yourself from the process should lower her suspicions. Our last idea includes an accomplice. Who do you think would like to help you surprise this amazing woman ― a roommate, a relative, or a best friend?
Before selecting the person, consider whether or not the person you select can remain cool, and most importantly, keep a secret! They may already know her ring size (see option 4), or you can brainstorm and choose Option 1 or Option 2.
Try using your accomplice to get the ring size playfully sneakily! Maybe your accomplice could have your girl try on one of their rings to compare the sizing. Your accomplice could say, "Your ring finger is smaller/bigger than mine! What is your size?"
Your accomplice could even suggest going ring shopping "for fun." Have them get their ring finger professionally sized and have the friend report back to you!
Option 4: Ask Someone Who Knows
Might her mom or one of her friends know her ring size already? Find someone who can keep your plans hush hush and help you out! Some ideas might be her best friend, mom, sister, or another close family member!
Option 5: Ask Her!
It isn't ideal, but if you have exhausted your other options and still don't know how to guess a woman's ring size, asking for your girl's ring size is an option. You don't have to spoil the surprise flat-out, though! You could get her ring size from her by engaging in an informal conversation about jewelry or comparing your size to hers. Then, ask "What is your ring size, anyway?" It can be a casual conversation, so it doesn't tip her off!
Whatever you decide to do, your future bride will be blown away by your efforts to create a beautiful surprise proposal. You'll share these memories with friends and family for many years. Consider creating a unique custom-designed ring to make this occasion as special as the love you share. Worried because you do not know where to start and are not an experienced designer? We are here to help you each step of the way!
Reminders:
Measure the CORRECT finger!
Wider bands have a tighter fit than thinner rings do.
The most common ring size for women is between 6 and 6.5
The most common ring size for men is 10.
For custom rings, we highly recommend visiting a local jeweler as custom pieces are final sale and may not be able to be resized in the future depending on the style of the ring.
To err on the size of caution, round up a size, not down!
See our Engagement Rings, or create a custom engagement ring with our professional jewelry designers today!