Is Custom Designing Jewelry for Me?
Custom Designing Jewelry
When choosing a gift for ourselves or others, most of us appreciate options! Who hasn't seen a piece of clothing in a store and thought it would be fabulous if only it was a bit longer or a different color? We live in a society where options are expected. However, as consumers, we may not consider that we also have many options when selecting a jewelry purchase. People take three main paths when searching for the perfect jewelry piece: buying a ready-to-ship piece, using a ring builder, or finding an artisan who can create a custom piece. Are you wondering just how the custom jewelry process works? The Bling Advisor Team is here to answer to explain custom-designed jewelry!
How much does custom jewelry cost?
You may love the thought of a unique, customized piece, but you don't believe it could be within your budget. Yes, customizing can be costly— but so can purchasing an item that is ready to ship. The cost depends largely on your choices. There are gorgeous gems and metals you can select that are less expensive but NOT less spectacular! You can customize without breaking the bank! Let us know your budget, and we will work within that and still deliver your gorgeous creation.
Production Time for Customized Jewelry
You may wonder how long it would take to design a customized piece. This is an important consideration because, while your design cannot be ready overnight, it will not take eons of time. Normally 4-8 weeks is a reasonable timeframe to plan on. If your time frame is urgent, you should discuss this with the artisan you will be working with and with us; we will let you know what is possible.
Benefits of Customized Jewelry
Custom-designed jewelry appeals to many people and offers many distinct benefits. If you value individuality and be unique, you will likely love knowing that the piece you helped customize is one-of-a-kind! You will have the freedom to adjust or combine styles, metals, and stones. Do you have a treasured family stone that you would like to use? We will happily incorporate these stones into your creation. Do you want to incorporate elements of vintage and modern styles into your piece? With custom jewelry, you have the freedom to combine any style elements you like!
Why might you want to work closely with an artisan to customize a piece of jewelry? There are numerous reasons. Here are only a couple:
You will be part of the creative process and have access to a wonderful source of information and experience. Maybe you are concerned that the gems for your jewelry have been mined or created in an ethical, humane, and ecologically safe way. Feel free to ask the artisan with whom you're working. While you will give us necessary insights into what you or your loved one wants in a piece of jewelry, the artisan will ask questions that will raise your piece of jewelry to the next level. You will be able to design custom matching rings and bands. There are details of jewelry designing that most people would never consider. What if the person you're designing this piece for does very physical daily work? There are options to design jewelry so that it doesn't get easily damaged during daily wear. What if your significant other doesn't wear much jewelry, but you want to design a ring they will love and be comfortable wearing? The artisan will have ideas to address this. By combining your knowledge with theirs, you will design a piece of jewelry that you will treasure for generations.
Our clients love the personalized experience we provide at Bling Advisor. We work closely with each customer, making sure your needs are met and your ideas come to life.
What some customers have loved:
"I couldn't have chosen a better jeweler to work with…Bling Advisor made the design process so easy…I was provided with many updates along the way. The team sent me photos for approval before proceeding with each step and happily made any changes I requested. It is hard to find a company that offers a personalized experience, and that is exactly what Bling Advisor offers their customers…I have had jewelry made before, and this was by far the best experience."
Communication
Experience
Quality
Streamlined Process
Is Experience Needed?
You may wonder if you could actually customize jewelry. Yes, absolutely! Our process makes custom jewelry available to everyone—with or without experience. We can accommodate your custom requests for your project because we work with the best jewelers and industry professionals. Chat with us about what you are hoping to create, and we will help to make your dream jewelry piece a reality! Are you interested in creating a simple custom piece? We can help! Are you looking to create an intricate custom piece? We can help! We take pride in every single project; no design is too big or too small for us! We also accept all types of inspiration, whether it's photos of your dream design or a sketch on a napkin! While all types of people can design custom jewelry using our system, it is especially great for visual people who can envision their jewelry from the 3D render and resin model. If you have a hard time visualizing your finished project and need to see the real thing before falling in love, please see our Ring Builder and Customizable Catalog!
How the Process Works:
Building a piece of custom jewelry is like picking out the perfect home. When shopping for a home, you may appreciate the design elements from a variety of houses. If you want to incorporate all of those elements, you can build your own home to your exact liking. Many times, we find people appreciate design elements from many pieces of jewelry and want to incorporate all of these elements into one custom piece. The Bling Advisor platform makes this possible…and easy!
When you build a custom home, you start with a floor plan and a blueprint. You can then bring your ideas to life using 3D technology. For example, this technology helps you to see your design elements in a rendering of your home—the flooring, the cabinets, etc. You've probably seen this technology used on your favorite HGTV shows. This technology helps you envision your dream home! Then the building process starts; and when the house is completed, it looks even better than the model!
The custom jewelry process is like that! You submit your ideas to your custom jeweler/artisan.
Then, the artisan creates a "blueprint" of your custom jewelry piece with all of the embellishments you desire.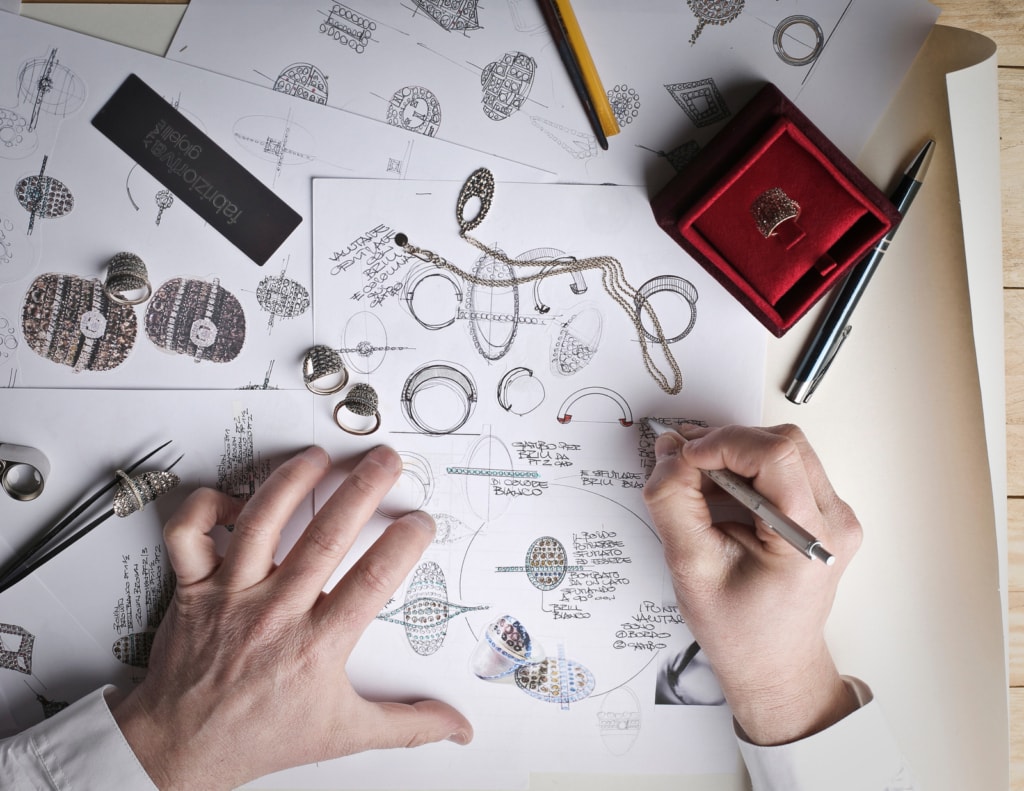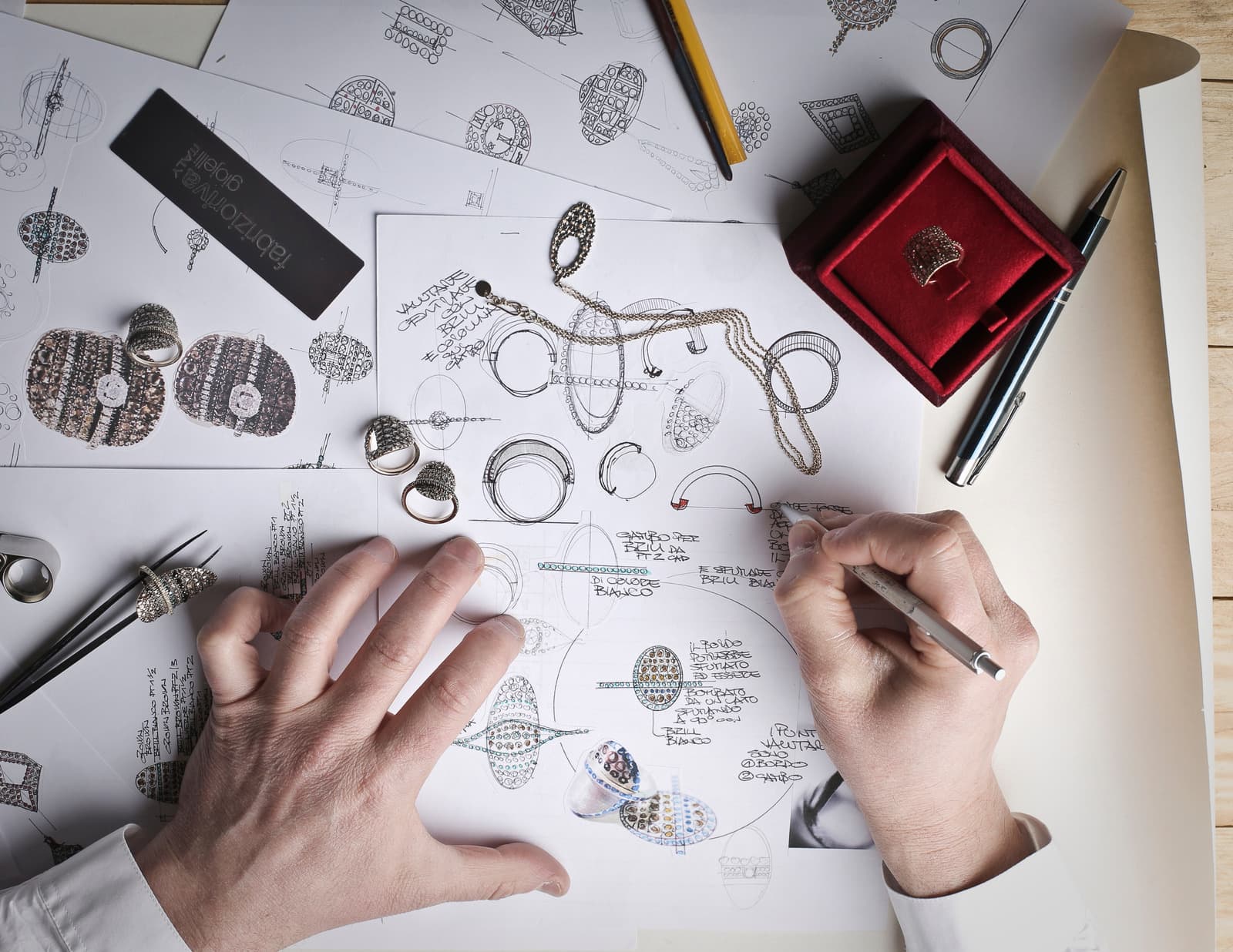 You receive 3D renders that bring your custom piece to life.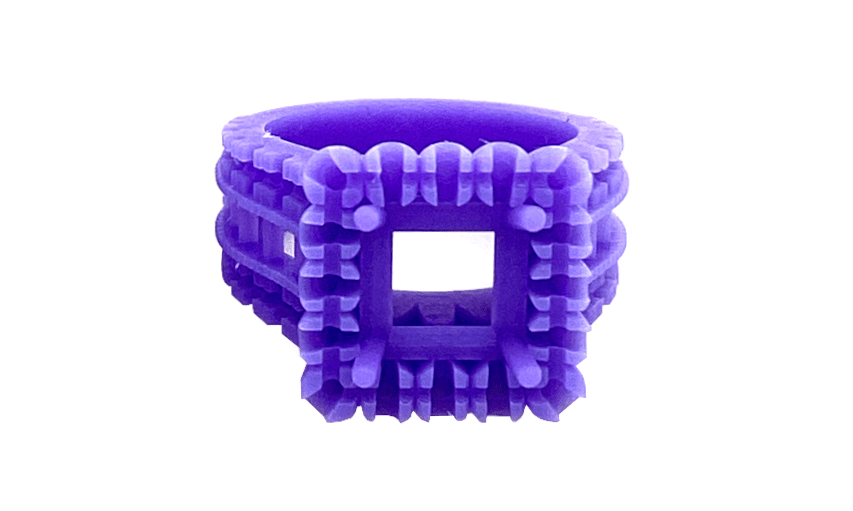 Next the resin model of your custom piece adds perspective as you can see all dimensions of size so that you can see a true-to-life model of the design.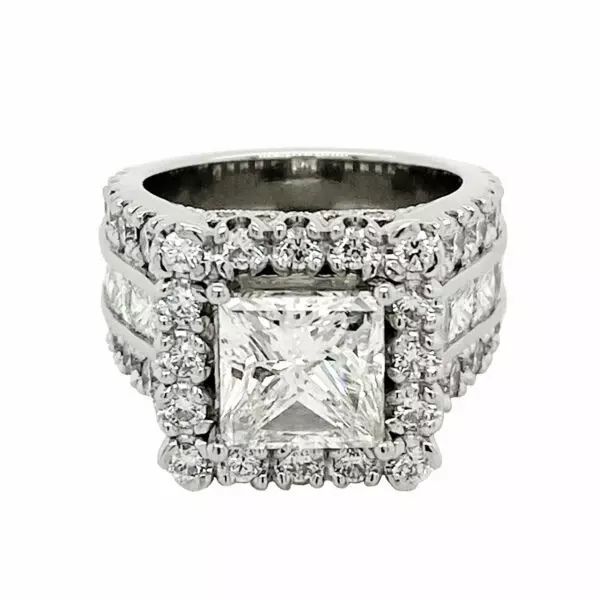 The resin model is then used to create your piece of jewelry with the precious metals and gemstones of your choice.
Check out some examples of custom jewelry created by our team at Bling Advisor
Are you interested in learning more about the custom jewelry making process?
The Bling Advisor team can help you create a custom piece of jewelry from scratch! Our team will walk you through the custom jewelry design process — from idea to delivered creation. Because the process is so simple, our services are available to everyone, even if you have no experience in jewelry design!
Visit The Process page for more information!
Ready to start your custom project?
Get in touch with the Bling Team here!
Feel that custom may not be for you?
There are other options:
Take a look at our Ring Builder, an easy-to-use program where you can still choose elements that you love to build your ring! Although using a ring builder is not customizing your piece, it still allows for some personal preferences. It is easy to visualize because you simply pick your setting, metal, and stone, and then you see the final piece.