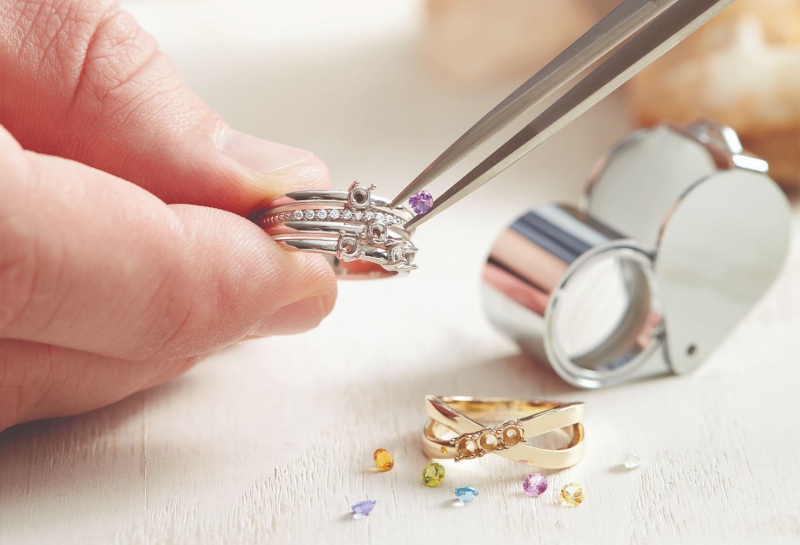 Professional Jewelry Repair Services from Our Expert Team at Bling Advisor
We offer professional online jewelry repair services to keep your favorite pieces looking their best. Our services include repair and restoration, laser welding, stone replacement, pearl and bead restringing, and laser and hand engraving. Our team also offers online consultation so that you can get the most accurate written estimate for your repair needs.
Are you looking for reliable, experienced, affordable jewelry repair? We recommend that you get three quotes anytime you have jewelry repair work done. Contact us today to learn more about our services and how we can help you with your requested repair!
Our top advisory consultants have over 100 years of combined experience with repair and restoration services using laser welding, and we know how to make the jewelry repair process easy and anxiety-free for our clients.
Why Choose Online Jewelry Repair
---
Benefits of online jewelry repair
There's nothing more frustrating than having your valued jewelry damaged. In the past, the only option to have your jewelry fixed was to go into a jewelry shop. Now you can have it restored to bring it back to its original condition without having to find a jewelry shop in your neighborhood.
Although this is still a viable option, it typically means you have to pay a heavy repair fee based on industry book prices. Today, many more cost-effective, trustworthy, high-quality methods exist to repair jewelry.
---
Online jewelry repair is a professional option.
A digital jewelry repair shop works similarly to a traditional jewelry store with increased convenience and transparency.
You won't have to worry that the quality of your item will suffer or that it will not be returned in excellent shape. In reality, as the jewelry market evolves, many jewelers with decades of expertise are moving online.
When you have your jewelry repaired by an online jeweler, you're supporting these professionals and helping to advance the Digital Jewelry Repair sector. Online jewelry repair services adhere to the same high standards as brick-and-mortar stores. For example, all pieces are meticulously examined for quality by a lead jeweler before they leave the facility, just like in a physical shop.
---
Access to seasoned, expert jewelers
Bling Advisor collaborates with jewelers who have done laser repair and restoration work for big jewelry brands and big box stores for decades. Our lead jewelers are known as the "Jeweler's Jeweler" for their ability to perform what is considered to be "impossible" when it comes to very challenging repairs and custom work. They've created THOUSANDS of beautiful custom jewelry pieces. They are also known for frequently repairing "botched" jewelry that was repaired at other popular jewelry brand stores.

The repair technicians behind the Bling Advisor platform have performed over ONE MILLION repairs and restorations. Over 70 MILLION pulses have been logged in on five different lasers in over twenty years.
When you choose to use our online platform, you will have access to these seasoned, expert jewelers no matter where you live in the US and Canada.
When you choose to use our online platform, you will have access to these seasoned, expert jewelers no matter where you live in the US and Canada.
---
Online jewelry repair is extremely convenient
The best part of online jewelry repairs is that it is so convenient! All you have to do is go online using your phone, computer, or tablet, choose the service you require and simply mail in your items. Online representatives are available to give you a quote, offer maintenance and aesthetic advice, and walk you through the process until delivery.
---
Online jewelry repair is quite affordable
Jewelry repair can come at a very hefty price. However, if you choose to have your jewelry repairs done online, you will get comparable services below industry repair book prices. The savings can be significant in almost all cases.

Why is online jewelry repair a more economical option? Many brick-and-mortar jewelry retailers, including big chain retail outlets, use the standard industry mark-ups associated with the industry's repair book prices. Many shops outsource some or all of their repairs. In addition to the high repair prices, they have to charge more to cover shipping fees and their overhead expenses.

Many shops have their own repair technicians on site. They claim that "repairs are about trust not price". Our repair platform is about both: trust and price! By using our online repair option, you're directly placing an order with a top repair shop and eliminating unnecessary high markups.
Here is a cost comparison example with the top five repair options in the country:
A white gold engagement ring needs the following five repairs:
A new 6 prong crown to secure the one carat round center stone.
Retip twenty tips on accent stones.
Size up one size.
Tighten the twenty side stones.
Polish and rhodium plate the white gold.
Industry average cost of repair based on book prices: $638.00 or more.
Bling Advisor Jewelry Service Center: $390.00
---
Online jewelry repair is a quicker process
Another disadvantage of the 'old school' repair approach is that it's extremely time-consuming due to inefficient tracking systems and operational chains. Why? Because jewelry stores and "brick-and-mortar" jewelry repair shops usually don't have repair services on-site. They send repairs to external facilities, extending the repair duration due to shipping and logistics. With online jewelry repair, your item will be sent to one single location: our repair facility.
---
Online jewelry repair requires low effort
One of the finest aspects of online mail-order jewelry repair is that you don't have to leave your house for the most part. The majority of the process takes place in the comfort of your own home. All you have to do is ship the items by dropping them off at a shipping location! After it gets repaired, your order is shipped straight to your home.

Do you have more questions about how online jewelry repairs work?
We're always delighted to assist or clarify anything about the repair procedures.