When it comes to our most cherished possessions, we want to make sure that we are protected in the best way possible. That is why jewelry appraisal and insurance services are so important. Your jewelry is unique and holds a lot of sentimental value, so you need to ensure that it is properly taken care of.

If your jewelry is valuable, it's important to keep it appraised and insured. At Bling Advisor, we offer our clients appraisal and insurance services through Jewelers Mutual. Our team of appraisers are highly qualified and have extensive knowledge of the latest trends in the jewelry industry.
Experienced & Accurate Jewelry Appraisals
A valuable piece of jewelry can be a great investment. To ensure that your pieces are protected, you'll need an appraisal.

A jewelry appraisal is a professional assessment of the value of your jewelry. This can be important for many reasons, such as ensuring your jewelry against loss or damage, selling your jewelry, or estate planning.

The value of your jewelry is determined by a lot more than just its weight, material, and markings. You need an appraisal from professionals who know what they're doing!

An experienced jewelry appraiser will consider the condition of your jewelry, the materials it is made from, any unique features, and current market conditions to arrive at a value for your piece.

At Bling Advisor, we take the time to understand your personal needs for jewelry insurance. Our team will work with you and provide a detailed inspection of each piece so that a qualified appraiser can value them accurately!
Through the Jeweler's Mutual appraisal platform, we'll provide you with an accurate appraisal of your jewels and comprehensive insurance coverage that will protect your investment.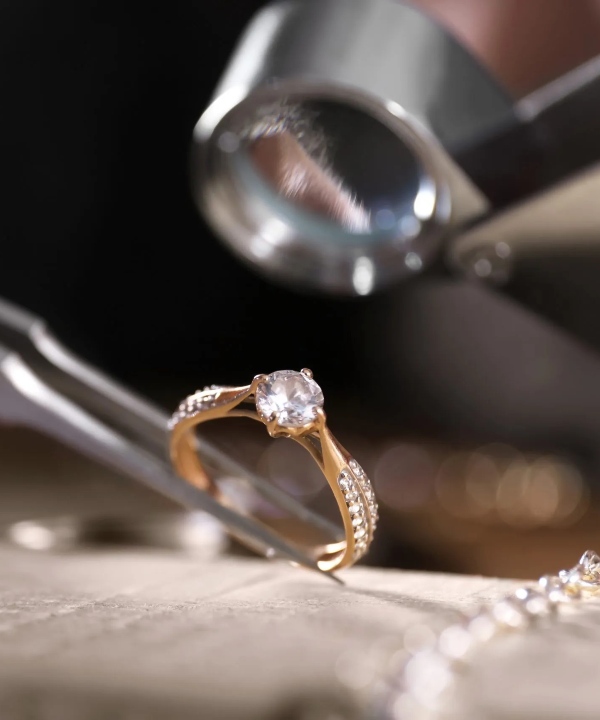 Jewelry Appraisals for Insurance
Jewelry is commonly seen as a symbol of love, appreciation, and status. It can be given to commemorate important life events, such as anniversaries, graduations, or births. So, if you own a valuable jewelry item, our qualified jewelry appraiser team we'll help you keep your jewelry insured.

Jewelry insurance can protect you financially if your jewelry is lost, stolen, or damaged. It is important to note that most homeowners' insurance policies will not cover the full value of your jewelry, so it is recommended to have a separate policy in place. A jewelry insurance policy will typically cover the replacement cost of your jewelry, minus any deductibles or coinsurance.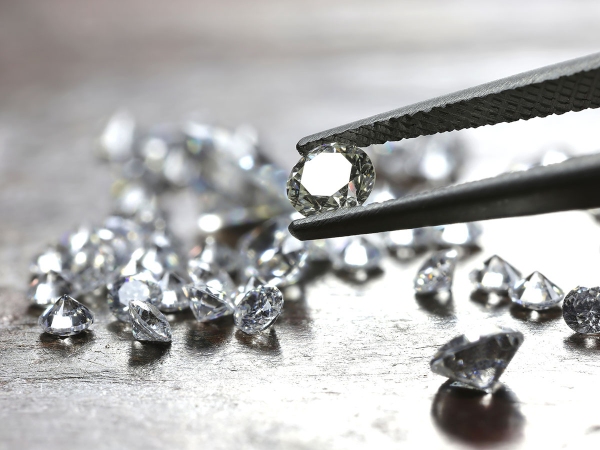 What Do You Need to Get a Jewelry Appraisal?
Proof of Ownership
Submit your design inspiration—whether it's a photo of a ring or a sketch on a napkin; we accept all ideas for projects big and small!
A Recent Photograph
The photograph should show all sides of the jewelry and should be in good focus.
The Item's Dimensions
Measurements should be taken in inches or millimeters.
Details about the Piece
Include information such as metal type, gemstones, weight, and age. If possible, include a link to an online auction or similar listing where the piece was purchased.
How the Jewelry Insurance Experts at Bling Advisor Compare
Renters and homeowners' insurance cover jewelry in most cases. However, coverage on this is not always adequate to cover the complete cost of replacement, and add-on jewelry-specific riders also have limits. That's where Bling Advisor's jewelry insurance experts can help. Through Jeweler's Mutual, Bling Advisor offers a wide range of coverage on your individually appraised jewelry items, and our insurance policies are designed to provide you with the best possible protection. And, because we understand that not everyone has the same needs, we offer various policy options to choose from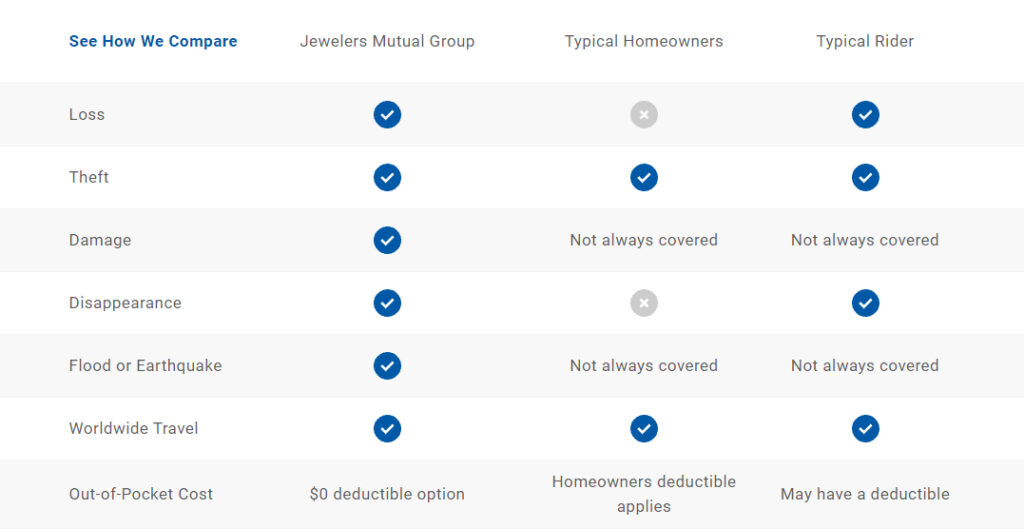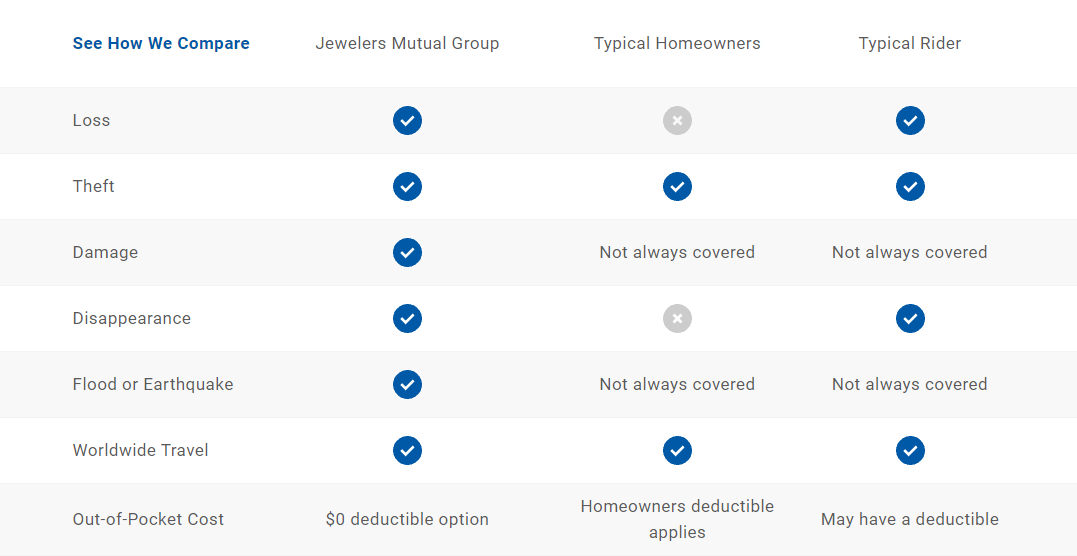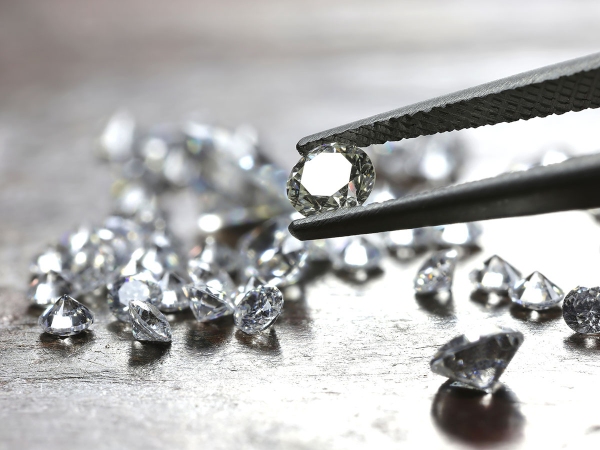 What do the jewelry appraisal & insurance services cover?
We offer jewelry insurance of all sorts, including engagement ring insurance. We also cover watches, earrings, and even loose stones that have been lost. Regardless of the sort of jewelry you insure, it will be covered by our comprehensive repair or replacement coverage. Your coverage includes worldwide travel. Our Jewelry insurance covers:
How Much Does Jewelry Insurance Cost?
Bling Advisor's insurance for jewelry through Jeweler's Mutual typically
costs 1-2% of the item's value each year. The cost of jewelry insurance is determined by various factors, including where you reside.


$77/year for a $5,000 ring in Chicago (60614) with $100 deductible
$77/year for a $5,000 ring in Chicago (60614) with $100 deductible
$65/year for a $7,000 watch in Ann Arbor (48103) with a $100 deductible
$25/year for a $2,500 watch in Milwaukee (53202) with a $0 deductible
$25/year for a $2,500 chain in Minneapolis (55416) with a $0 deductible
$55/year for a $5,000 ring in Columbus (43204) with $0 deductible
$80/year for an $8,000 ring in Indianapolis (46217) with a $0 deductible
$93/year for a $5,000 ring in New York (10016) with a $100 deductible
$47/year for a $3,000 bracelet in Houston (77008) with a $0 deductible