Custom Jewelry Inquiry
To start your custom jewelry project today, complete the form below by telling us what
you're looking for or what you'd like to create. Then, we will contact you for a consultation!

We Offer PayPal Credit as a Financing Option for Custom Jewelry

Why Choose Custom Jewelry
from Bling Advisor?
Bling Advisor's custom jewelry packages were designed with value and care in mind. We can help you to create heirloom pieces that will last for generations and provide you with a Jeweler's Mutual care plan to keep your fine jewelry piece in excellent condition for a lifetime.

Our custom packages are an amazing way to make a wiser spend on custom jewelry. At different price points, we offer added incentives that you won't find anywhere else! These incentives provide extra value, on top of the savings you receive by choosing Bling Advisor.
What's included with our custom packages?
Protect your Jewelry from Accidents and Damage
Purchase a JM Care Plan™ to protect your investment. The Care Plan includes:
See some of our Customer Reviews
---
Design Jewelry Online
Designing your own jewelry online is a great way to create your own pieces you will love forever, but it can be difficult without the right tools.
Whether you're looking for inspiration or want to design a new piece, we are here to help you get the exact style of custom jewelry you are looking for. Something you will find in your search for the jewelry you're looking for is that in most stores or companies you'll go to you will speak to a salesperson who doesn't actually make the jewelry and has very little knowledge to guide you and advise you on such an important purchase. We know that more than likely you don't have a lot of time to figure everything out on your own and that's why we do things differently here at Bling Advisor. When you design a piece of jewelry with us you'll have an appointment with an experienced jeweler that's walked thousands of other clients through the custom design process until they received the jewelry of their dreams.
Let us help you avoid pushy jewelry stores and get you the perfect piece you've been dreaming about.
Benefits of Designing Jewelry Online With Bling Advisor
You get to design from the comfort of your home (or wherever you may be)!
Major big-name brands have been coming to our jewelers to have their custom work done for decades and you will get access to them when you use our platform. If big-name brands trust us, you can too. *If you can think of a big-name brand you've seen a commercial for on tv, our jewelers have probably done a lot of work for them.*
As an online jeweler, we don't have the overhead that brick-and-mortar stores do so we don't pass that extra cost on to our clients. We also don't make our clients overpay for a brand name. That means you'll be able to use all that savings to invest in your jewelry, such as a bigger center stone, and you can feel great that you made a wiser spend and got so much more for your money. Imagine the jaws dropping when you get to show your CUSTOM ring with that extra big sparkly gemstone (or another design enhancement you want) that you were able to get!
When you choose Bling Advisor you get a very personalized, concierge experience with top-of-the-line communication. You will never have to wonder what is going on with your project because we keep you updated every step of the way.
How to craft your custom jewelry design online
Designing jewelry online is a great way to create your own pieces, but it can be difficult without the right design tools. At Bling Advisor, not only do we have the right tools, but we have 30+ years of experience bringing our client's dream jewelry to life.
How do I start making my Jewelry?
We make the process to customize your own jewelry simple:
Step 1: Schedule an appointment
Let us know the best way to contact you and send us any inspirational photos or sketches you may have of the customized jewelry you want to create; a ring, necklace, pendant, bracelet, or anything else.
Step 2: Meet with an expert
Then one of our expert jewelers will meet with you at the time you chose to answer any questions you may have and go over the details of what you want including anything from the type of metals you want to use, the size of the jewelry (ring size, length of chain, etc.), what type and size of stones you want to use, or anything else that you find necessary information for your new family heirloom. You will always meet with an experienced jeweler who actually makes the jewelry and can advise you on all the details you need to know instead of with a salesperson who may or may not know much about jewelry and how it's actually made as you'll find in most jewelry stores.

Step 3: CAD renders and Resin models
We will send you renders or images of your custom piece for you to approve and make any adjustments that you desire. Then, we will mail you a wax model of the piece so you can see and feel the piece in your hands, in person, and make sure everything is to your liking. Once you approve we will get started casting and creating the final piece!

Step 4: Enjoy your custom jewelry
Once you've given us all the necessary information, your custom jewelry will be created and shipped right to your door via insured mail!
What if I don't like it?
The benefit of the custom process is the computer images you'll receive and the resin model to ensure the ring matches the vision you provided us with. Most clients share the images and wax model they receive from us with the most important people in their future fiance's life, like their best friend(s), sister(s), mother, etc. This gives them extra confidence in their decision. The wax model allows you to hold an exact replica of what your ring will look like in your hands and approve it before the final piece is created. If you can see it with your own eyes and hold it in your hands you know you're going to love it. When the ring is delivered, we hear something like, "It's better than I could have ever imagined"!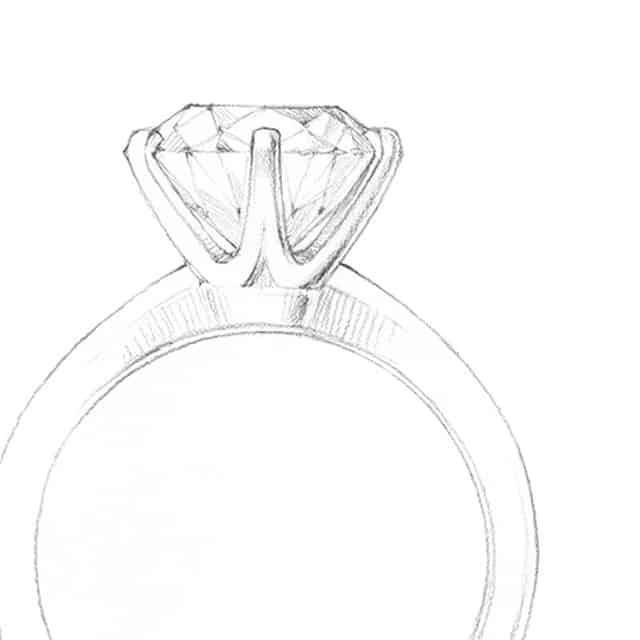 Create New Jewelry
We can assist you in converting your creative ideas into your jewelry piece. Our designers can handle logistics, feasibility, and durability with you while keeping costs as low as possible. This is a fascinating and gratifying process for our clients, resulting in a one-of-a-kind jewelry creation of your design. Many of our clients get inspiration from Pinterest.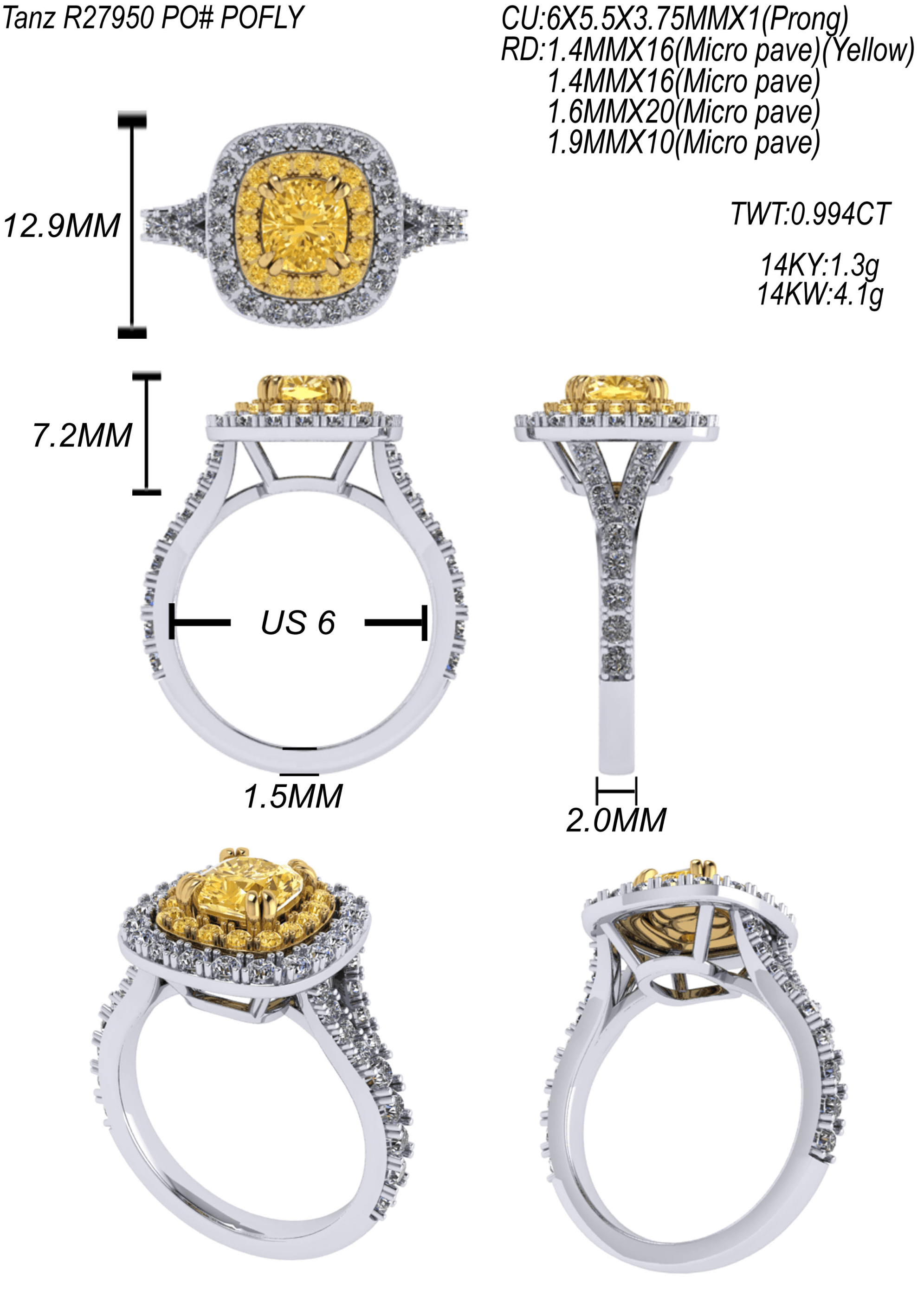 Modify Existing JEWELRY
Our Jewelry designers can redesign any piece of jewelry such as a family heirloom with sentimental value or an engagement ring that you want to upgrade. Just show us a picture or draw us a sketch, and we can help shape your inspired ideas with high expertise!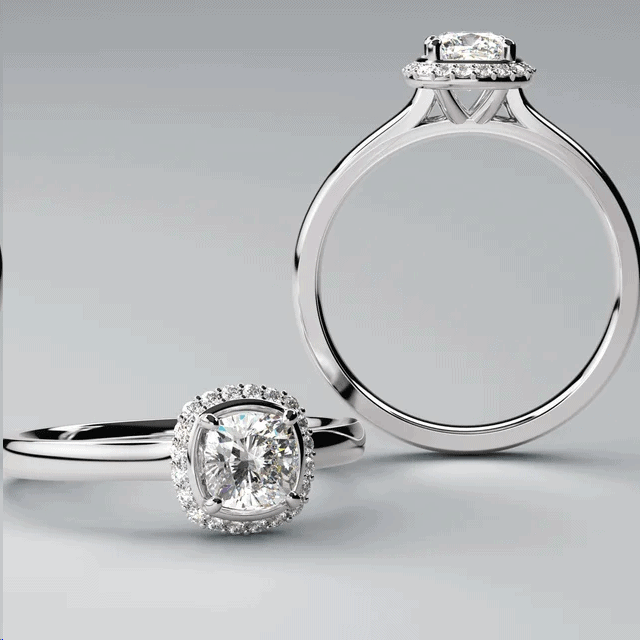 DUPLICATE ANY JEWELRY
We can assist you in duplicating any jewelry style you may have seen. For example, you may have lost a sentimental engagement ring that you want to replicate or saw a piece of jewelry online that you've never been able to find anywhere. Sometimes replicating a piece of jewelry is exactly what you need, and we can help!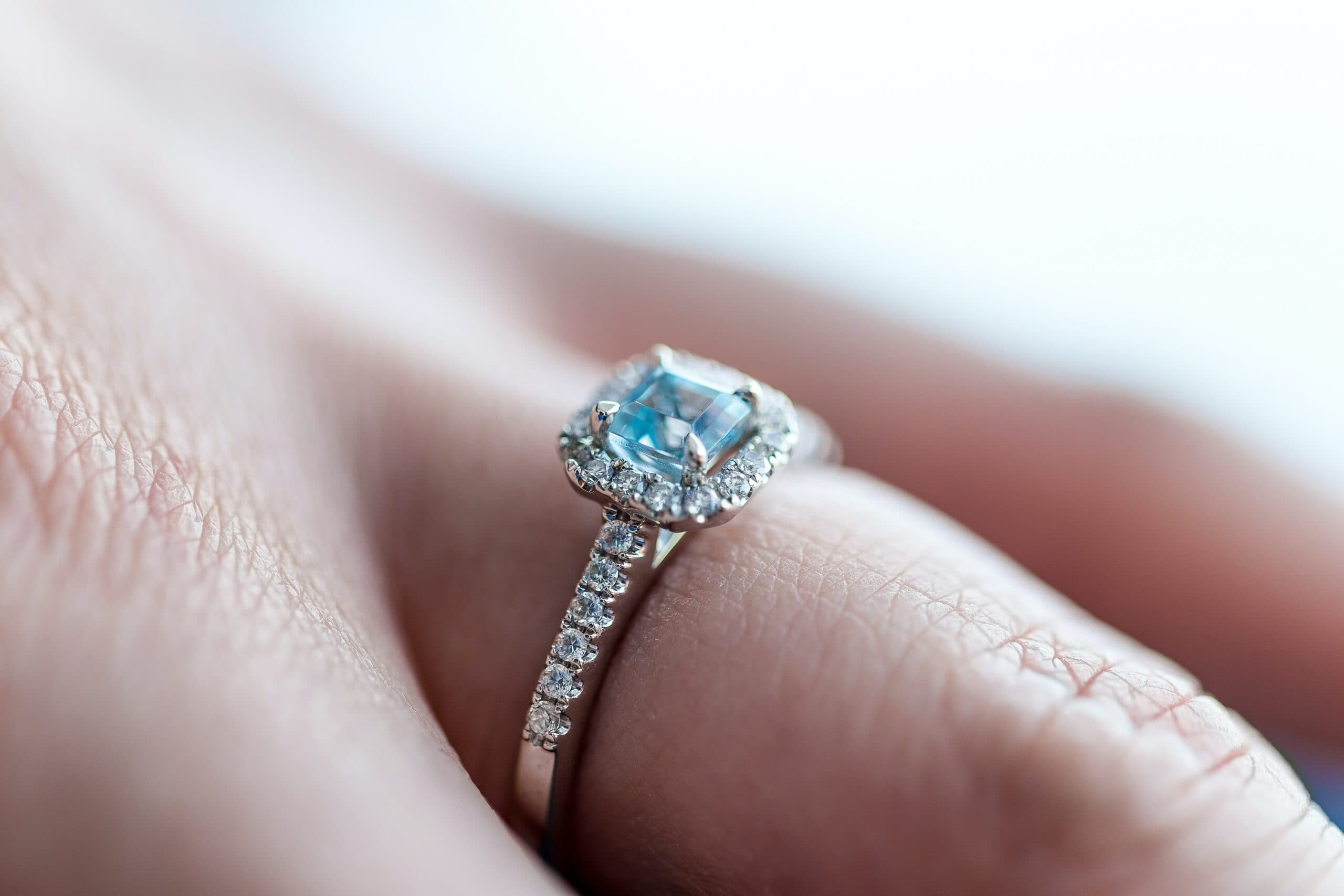 OUR CUSTOM FINE JEWELRY GUARANTEE
We work very closely with each customer to ensure we are designing exactly what you want. We guarantee that you will love your custom jewelry! If you are not completely satisfied with your design, notify us within 30 days of completion and we will modify, redesign, or start your project over one time. We will redesign or remake the project for free as long as the recipient is included in the entire design process.
How do I know what quality I'm getting by designing online?
You will get the same quality or, in many cases, better quality by going with us instead of a big-name brand company. Many people think it's working well for them to go to a big brand store but you are almost always overpaying, getting something a million other people have and getting something lower quality for your budget than what you would get with us. In our decades of experience, we have a lot of clients come to us with complaints about quality vname-brandhey're receiving elsewhere. Everyone wants the best quality they can get for the budget they have.
Blingadvisor works with companies that have been performing custom work, jewelry repairs, and restorations for huge name brand jewelry companies for decades. This has enabled them to know exactly where jewelry designs need to be improved to be heirloom quality and last for generations. Because we are an online company you will get access to these jewelry experts to create your jewelry. Many big-name jewelry companies cut corners to save on costs in order to create more profit. Bling Advisor does just the opposite. We look for areas to add integrity and additional structure and metal weight so your project will last longer. Certified diamonds have also leveled the playing field and removed those concerns. We have a concierge diamond service with global sourcing platforms that provide a certificate on each diamond. Because you will have a personal advisor and we have an in-house gemologist working with the industry's best resources to locate the most Bling for your buck, you don't have to worry. Bling Advisor can make a generational piece by recommending the best care plan, metals, and design enhancements to ensure your piece can be handed down to the next generation.
What Fine Jewelry can you make?
We can make any type of jewelry you can think of! Whether it's a wedding ring, anniversary gift for your partner, a necklace that will remind you of the trip to Paris you always wanted, or earrings that will make you feel like a celebrity, we can create it. Many clients have loved doing a family heirloom redesign, taking inherited or vintage gemstones, and recreating a new piece of jewelry. Clients often like different features of multiple rings and would like to include all the different features they like in one ring. Bling Advisor solves this problem by incorporating all the design elements our clients want into one dream ring using CAD engineering. The client will receive pictures of their design and then can make further changes if desired with the jewelry designer until it's perfect and they get exactly what they want.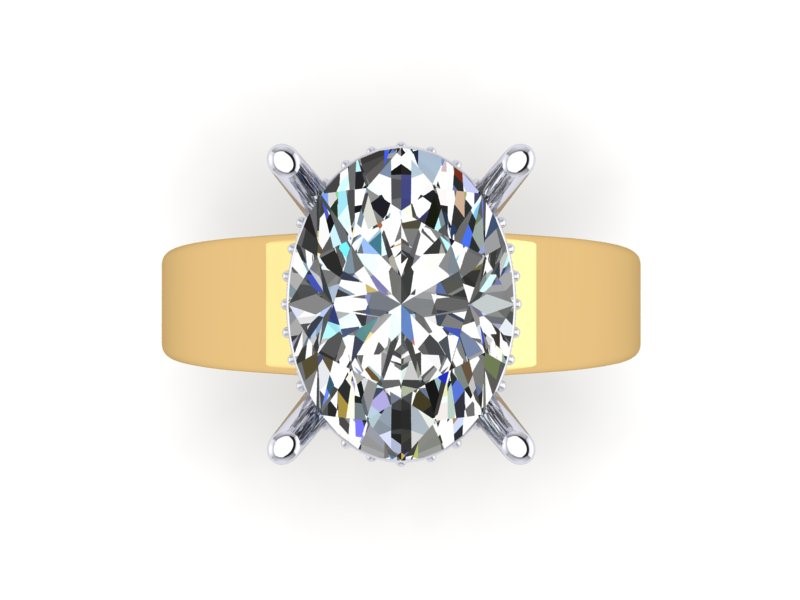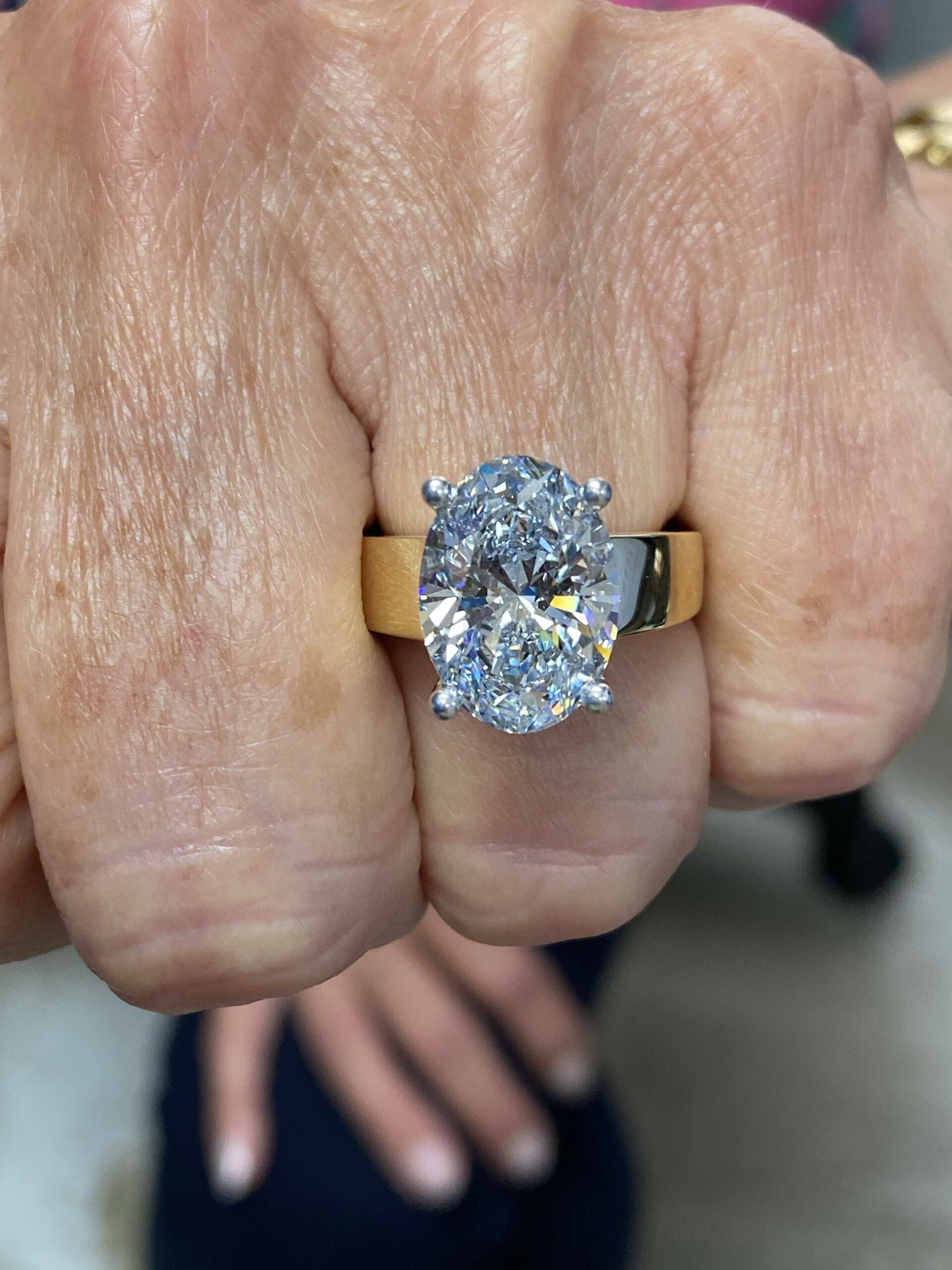 The process is very similar to creating a custom home. When you design a custom home you get to pick each detail for how your home is going to look and the designer will put it into the blueprints and bring your dream to life.
Maybe you just have one inspiration photo or a sketch of how you want your ring to look instead of several that you want to combine. This is perfectly fine. Many clients come to us with one image, knowing exactly what they want and we have brought that ring to life for them better than they ever imagined.
Types Of Custom Jewelry We Can Make
Do you want a ring that truly represents your love for each other? Then custom rings are the perfect solution.
Custom Rings come in all different types of metals and shapes, which can include any number of gemstones.
Is your partner the one?
Show them how much you care and how thoughtful you are with a custom engagement ring. One of our specialties is creating that perfect custom engagement ring that will have her saying "YES" more times than you can count!
Want to give your partner something extra special? Then why not try a custom jewelry set!
Do you want a ring that truly represents your love for each other? Then custom rings are the perfect solution.
Whether you want flashy diamond pendants or looking for something more subdued, custom pendants can be the perfect gift.
Whether it's a custom necklace with your birthstone or you want to celebrate the start of something new, Custom Necklaces are the perfect gift.
---
What Gemstones can be used?
We can use any gemstones in your design! Some of our most popular gems are:

Diamonds are a girl's best friend and the most popular gemstone. Using diamonds in your custom jewelry design can have a high impact and give you all the sparkle you're looking for.

Whether you want something a little more understated or bold, Topaz is the gem for you! Topaz comes in many different colors and can be used in custom jewelry designs.
Sapphire is the perfect gemstone for those who want to sparkle and create a piece they can wear every day.
---
What precious metal can be used?
While we can work with any type of metals, there are some main types that we recommend:

White Gold is a popular metal that is very affordable and can be used in almost any custom jewelry design.
Rose Gold is a popular metal that can add a little bit of the color pink to your jewelry design.
Platinum is the best choice for high-end jewelry and is also hypoallergenic for those with metal allergies. It also requires no rhodium plating as white gold does.
Sterling Silver is a popular metal that can add affordable elegance to your custom jewelry design.
---
How much does it cost to design a piece of your own jewelry?
The cost of designing a piece of jewelry is dependent on the amount of time that goes into creating your design, the types of stones and metals you choose, as well as many other factors.
The best way to find out the cost of your custom jewelry design is to schedule an appointment for a quote.
What design tools do we use?
We use many tools to help you design your custom jewelry. Our primary tool is CAD software, which allows us to create a three-dimensional image of your design that we'll share with you for your approval.
Where can I get design ideas?
There are many places you can get design inspiration. One of our favorite sites to find new and creative custom jewelry designs is Pinterest; however, you can find ideas from anywhere and anything around you!
How long will my custom jewelry piece take?
Depending on your customization options, most custom jewelry companies will deliver your piece in anywhere from three to twelve weeks. We usually deliver in four weeks.
We will keep you informed on the progress throughout the entire process.