In recent years, celebrity engagements have become more and more extravagant. From huge diamond rings to unique design choices, celebrities are pulling out all the stops when it comes to their engagement bling.
If you're curious to see some of the most outrageous celebrity engagement rings of all time, read on! You'll be surprised at some of the diamonds and jewel-encrusted baubles that have been spotted on prominent fingers over the years.
Top 20 Most Amazing Engagement Rings of All Times
#20: Jennifer Lopez & Ben Affleck – TWICE!
In 2002, actor and director Ben Affleck proposed to the star with a 6.1-carat pink diamond from Harry Winston, set on a platinum band, estimated to cost $2.5 million. The couple famously nicknamed the ring "Ben Affleck." It was one of the most talked-about engagement rings of the early 2000s.
Though Jennifer Lopez gave the ring back when they ended the engagement in 2004, she recalled how much she "loved getting it" in a 2020 interview with Apple Music host Zane Lowe. She remembered being starstruck upon meeting Barbra Streisand at an Oscar party, saying that the legend was impressed with the ring.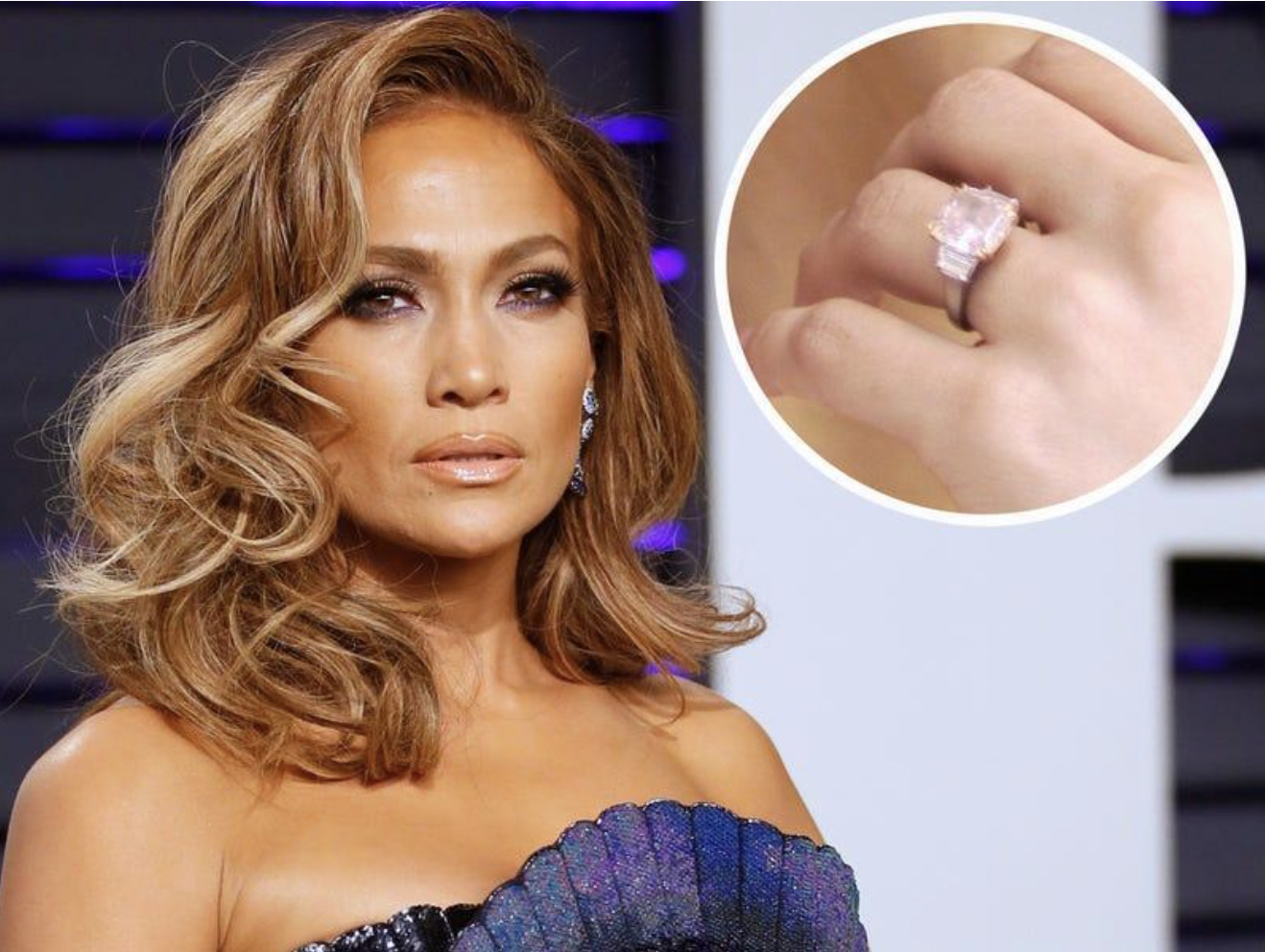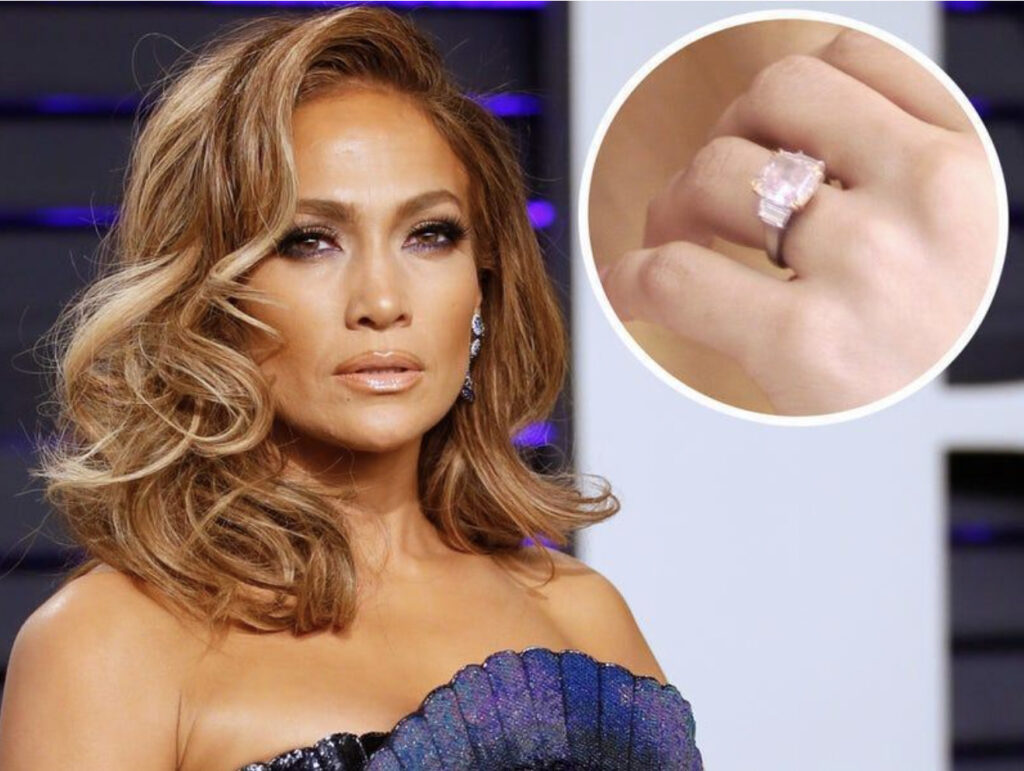 P.S. Guess what! After reuniting in 2021, Jennifer and Ben are engaged again!!! This time, the engagement ring is a stunning 8.5-carat green center diamond and two smaller white diamonds on the sides. Rumors have it that it might be worth over $10 million!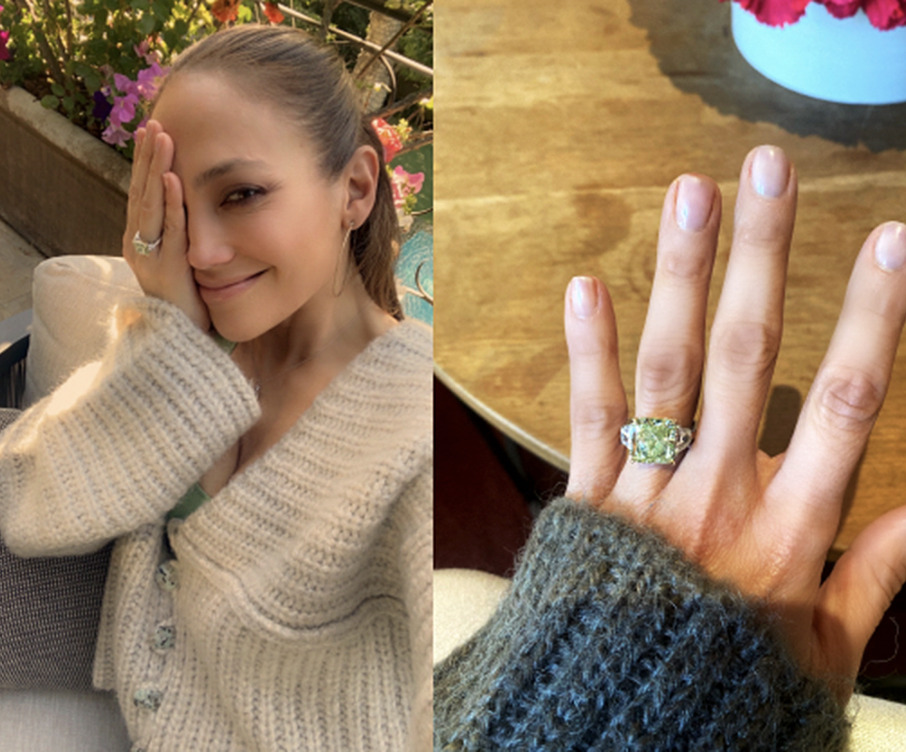 #19: Fergie & Josh Duhamel
Fergie and Josh Duhamel were married under magnolia trees filled with thousands of white roses in a white fantasy wedding. Her diamond wedding band was designed by H.Stern in 18K Noble Gold, his trademark tone with an antique look. It was said to be worth $90,000.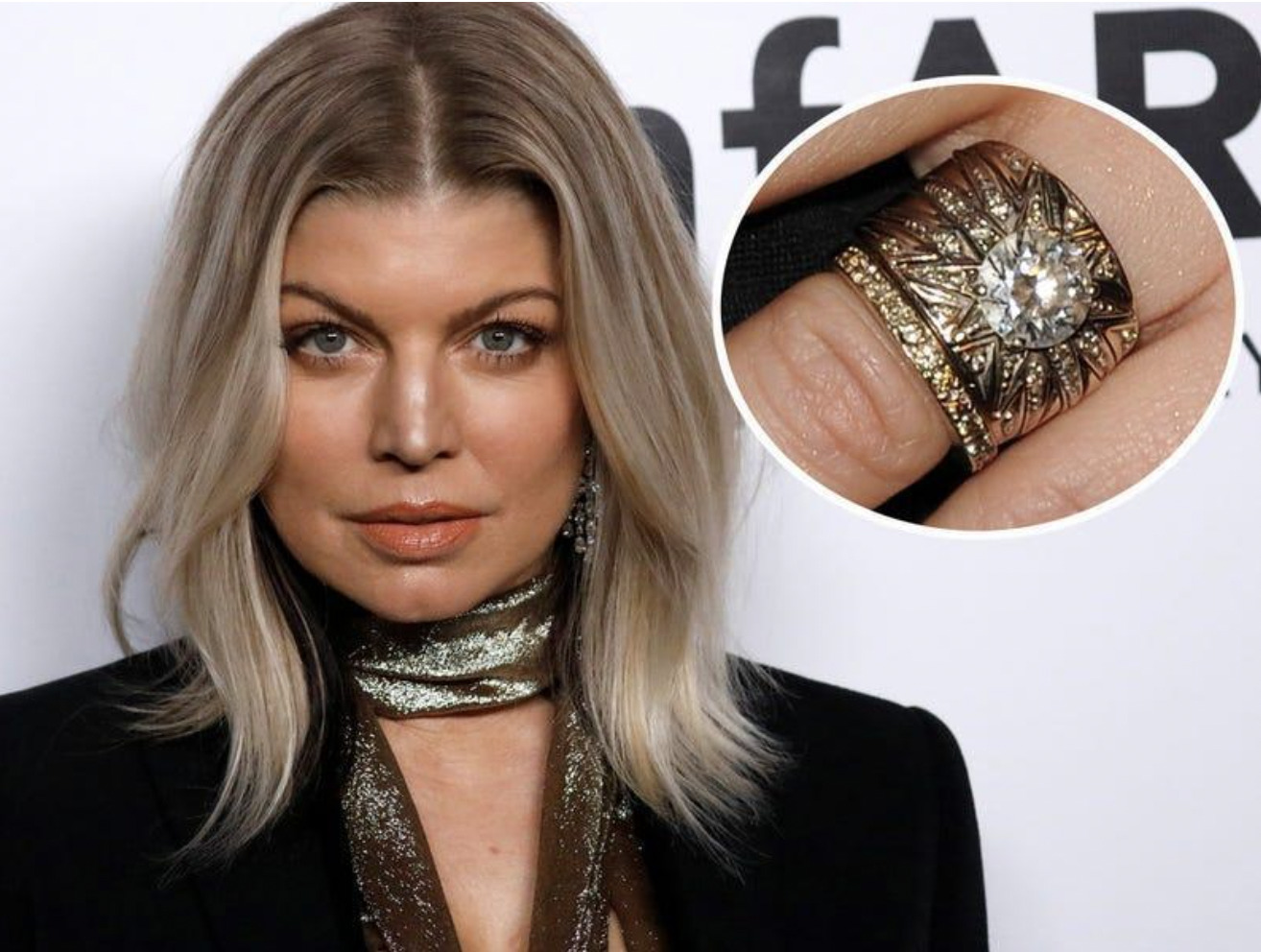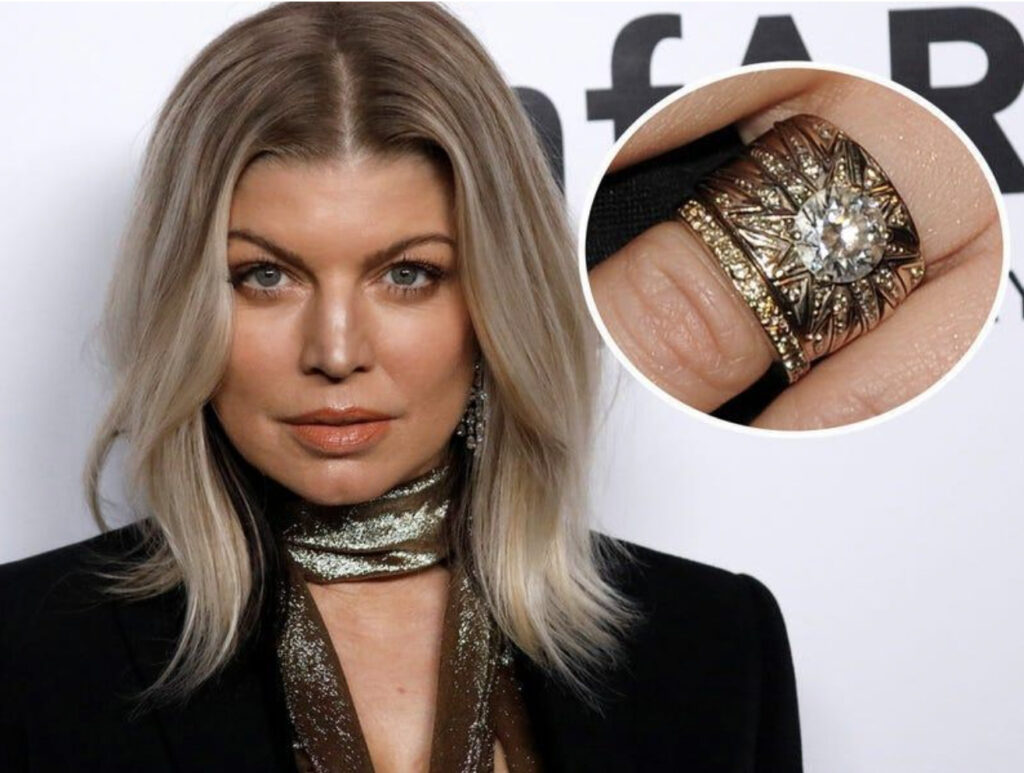 #18: Beyoncé & Jay Z
It's no surprise that Queen Bey herself carries one of the world's most valuable diamonds. Weighing 24 carats, it was crafted by Lorraine Schwart. Jay reportedly paid around $5 million for Bey's flashy emerald-cut ring back in 2008, when he proposed to her in Paris (which is one of Beyoncé's favourite places on earth).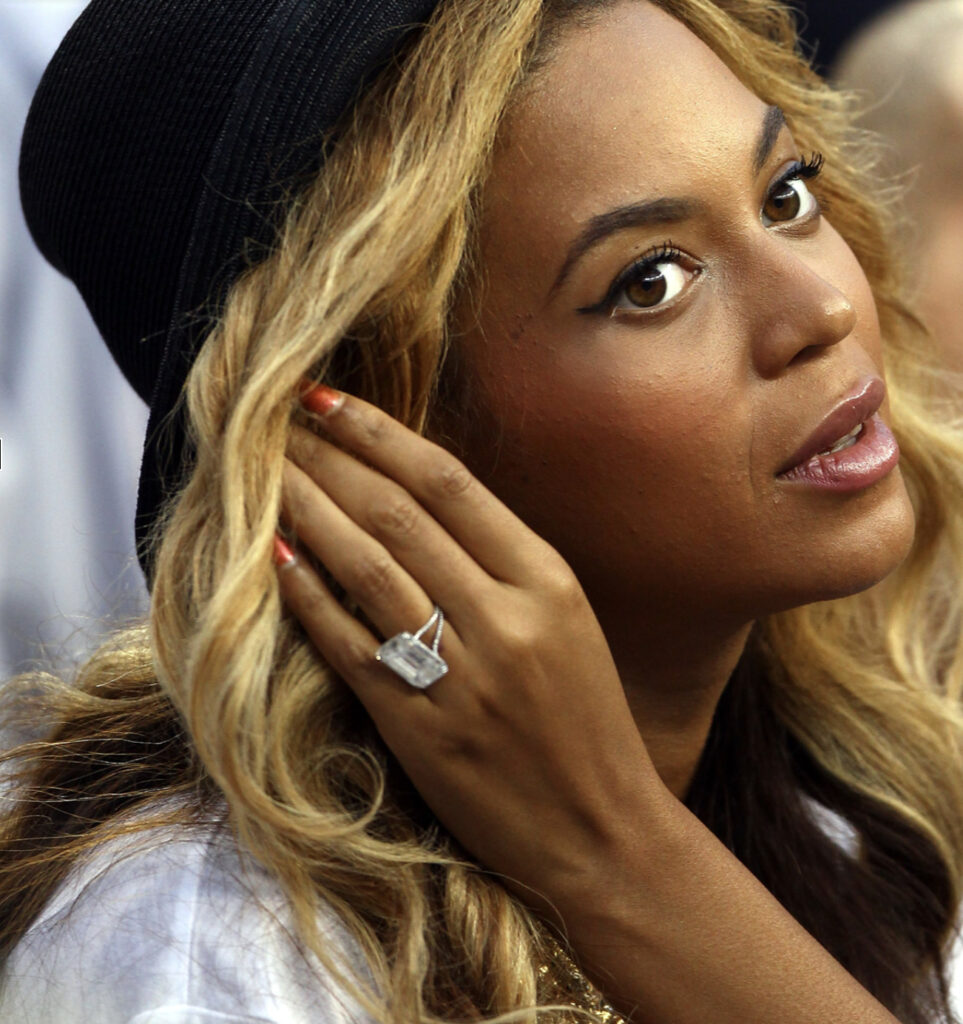 #17: Kate Middleton & Prince William
Kate's engagement ring was once owned by her late mother-in-law, Lady Diana, before her wedding to Prince Charles. The ring has quite a romantic (and somewhat sad) story. Kate's engagement ring was once owned by her late mother-in-law, Lady Diana, before her wedding to Prince Charles. After Diana's death, the ring was passed on to her two sons – William and Harry.
According to the Amazon documentary The Diana Story, Harry originally wanted to keep the ring. He said: "I remember when I held mummy's hand when I was a small boy, and that ring always hurt me because it was so big. So I went to the safe and gave Harry Diana's engagement ring."
Later on, Harry changed his mind and gave the ring to William: "Wouldn't it be fitting if she [Kate Middleton] had mummy's ring? Then one day, that ring will be sat on the throne of England."
While there are reports of the original ring costing between £28,000 to £47,000 in the 1980s, today, the royal ring costs a lot more.
Pre-owned jewelry specialist Est1897 named the ring the most expensive of all the royal engagement rings, estimating its worth to be £390,000 due to its carats and the size of the sapphire.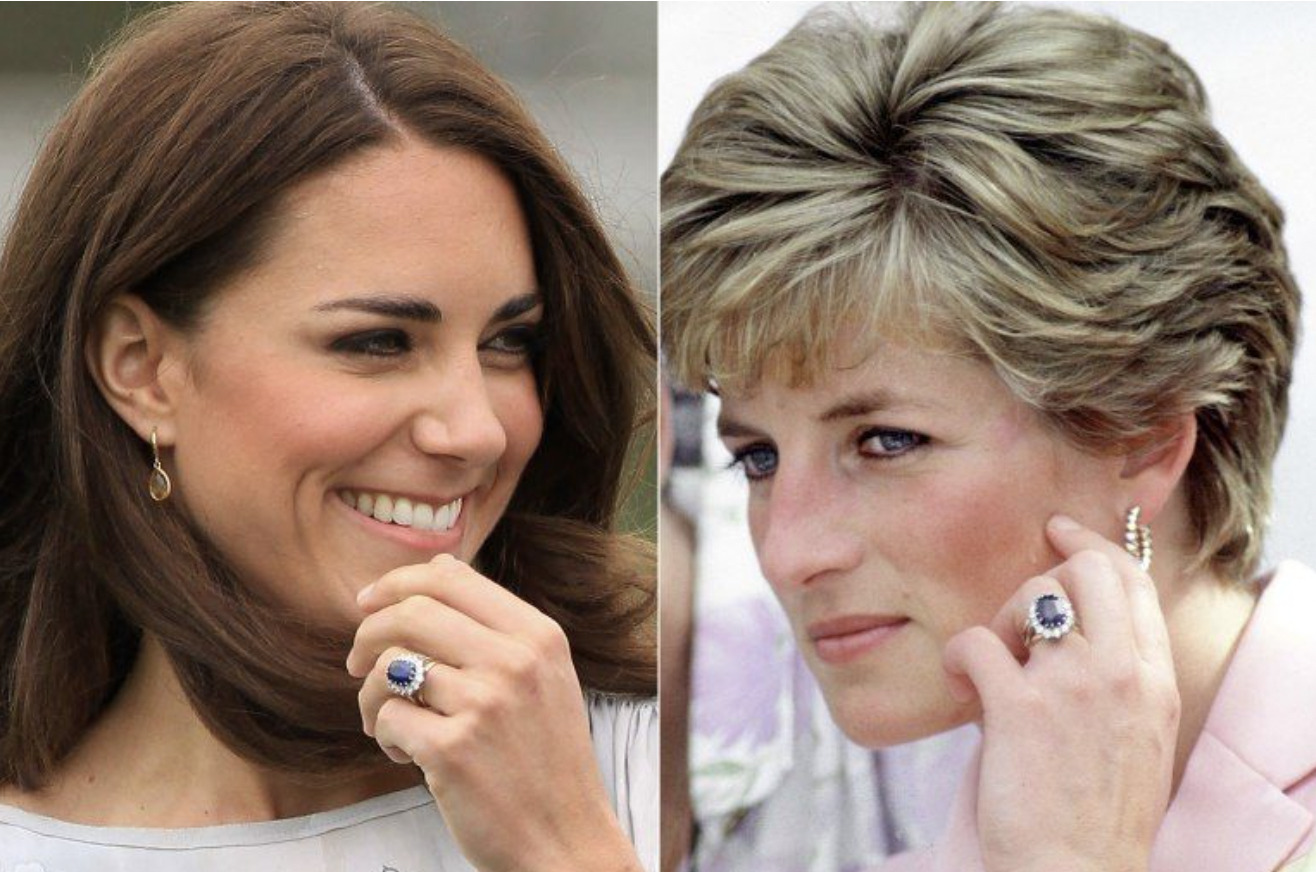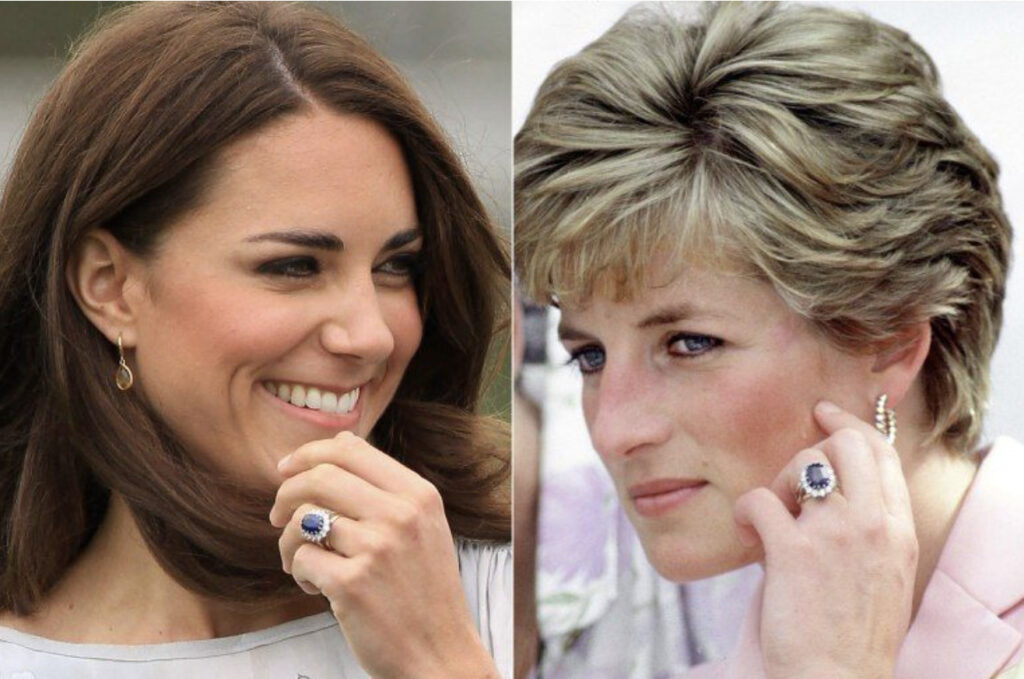 #16: Blake Lively & Ryan Reynolds
Fans were shocked in 2012 when Blake Lively and Ryan Reynolds married in a secret ceremony after dating for a year. The pair never made any public announcements regarding their engagement and Lively never posted a close-up photo of her engagement ring on social media. Still, it's impossible to ignore. Lively's engagement ring is so gorgeous that it stands out no matter what she's wearing. This stunning jewelry piece is made of rose gold and worth an estimated $2 million.
Reynolds worked with Lively's friend and favorite jeweler, Lorraine Schwartz, to design the piece – and he didn't ask his wife for any help picking it out. Lively told British Vogue that this is one of the reasons the engagement ring is her favorite thing she owns, saying, "My most treasured possession is my engagement ring by my dear friend Lorraine Schwartz, because of the love and meaning it symbolizes. No, I didn't have any hand in its design – I married a gentleman." Schwartz also designed the couple's wedding bands.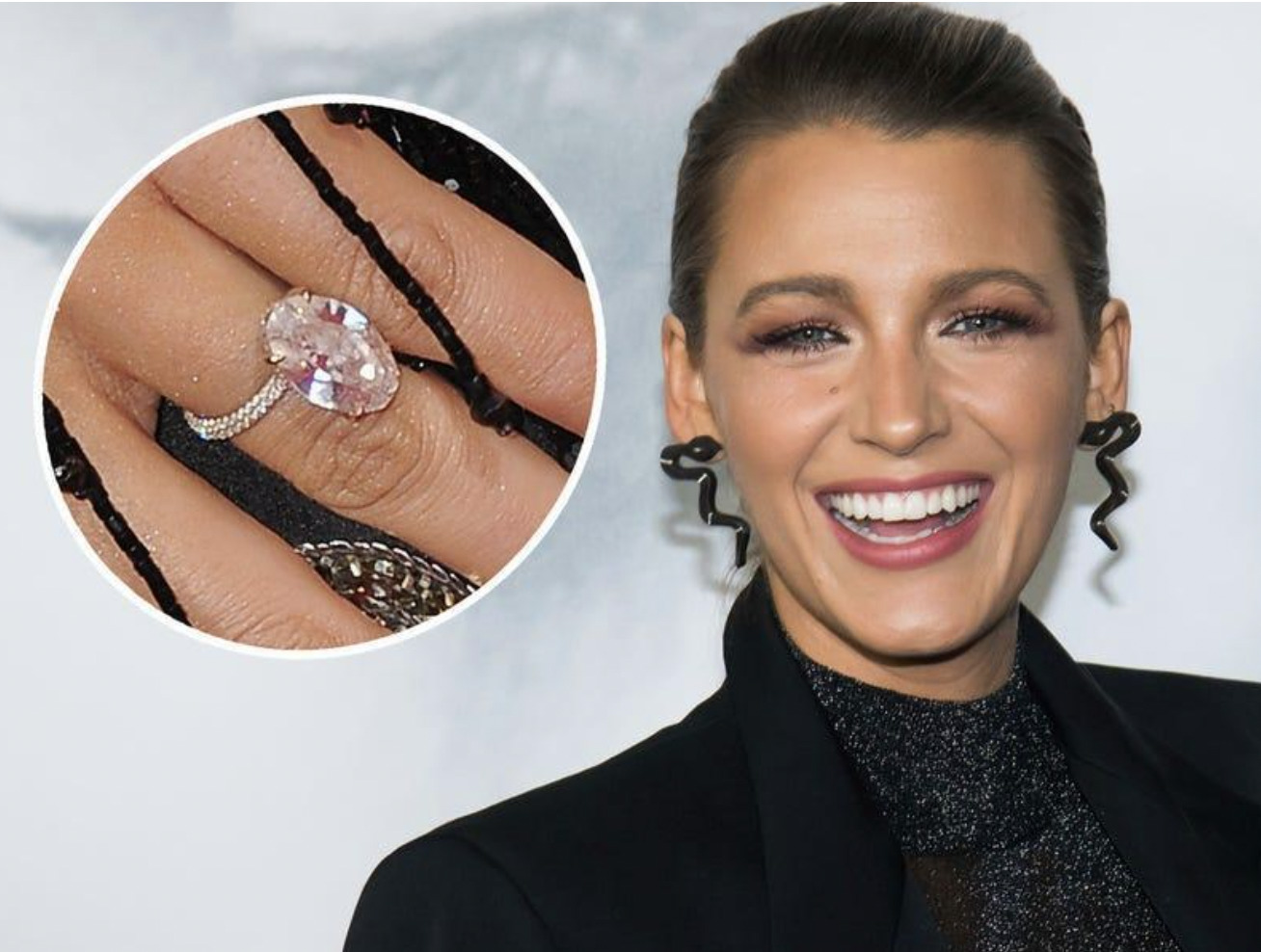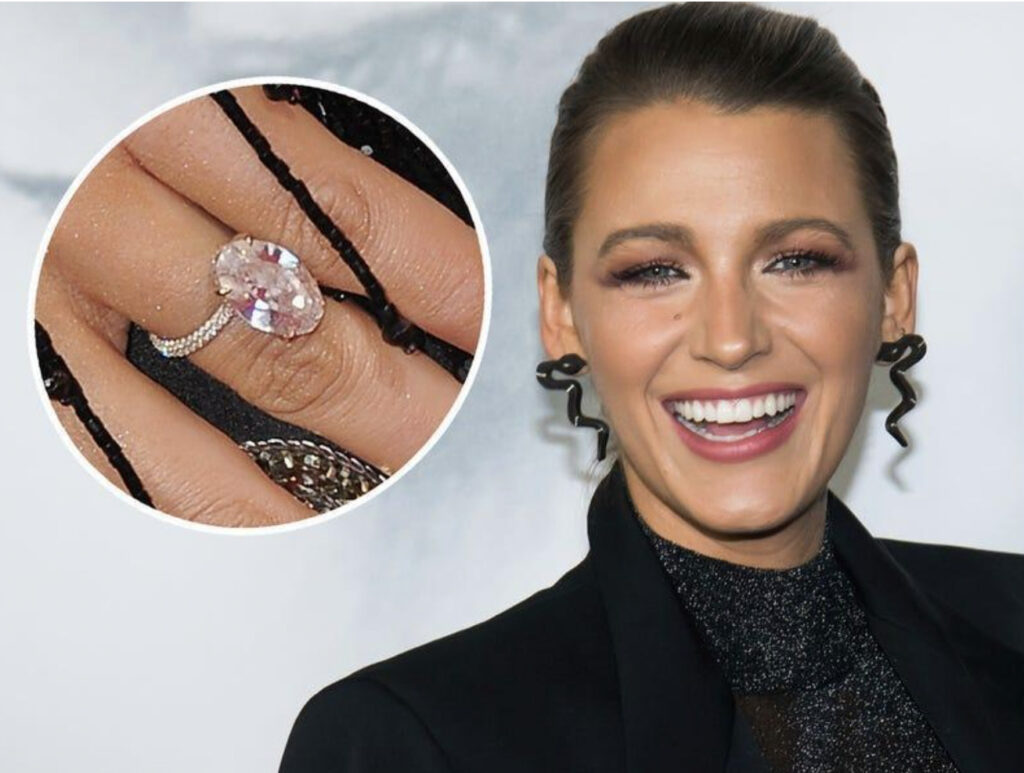 #15: Kim Kardashian & Kanye West
Even after Kim Kardashian and Kanye West multi-million-dollar divorce, they remain one of the most fascinating celebrity couples in the world. They've given each other a lot of pricey jewelry over the years, including a $1 million Lorraine Schwartz diamond necklace as North's push present and two Cartier bracelets.
Kanye West gifted Kim a 20-carat emerald-cut diamond ring that is reported to cost around $8 million. The diamond is categorized with a rating of a D color which means it is absolutely clean and flawless. Kim's ring was designed by celebrity designer Lorraine Schwartz. Hence, it was obvious the particular design gained media headlines.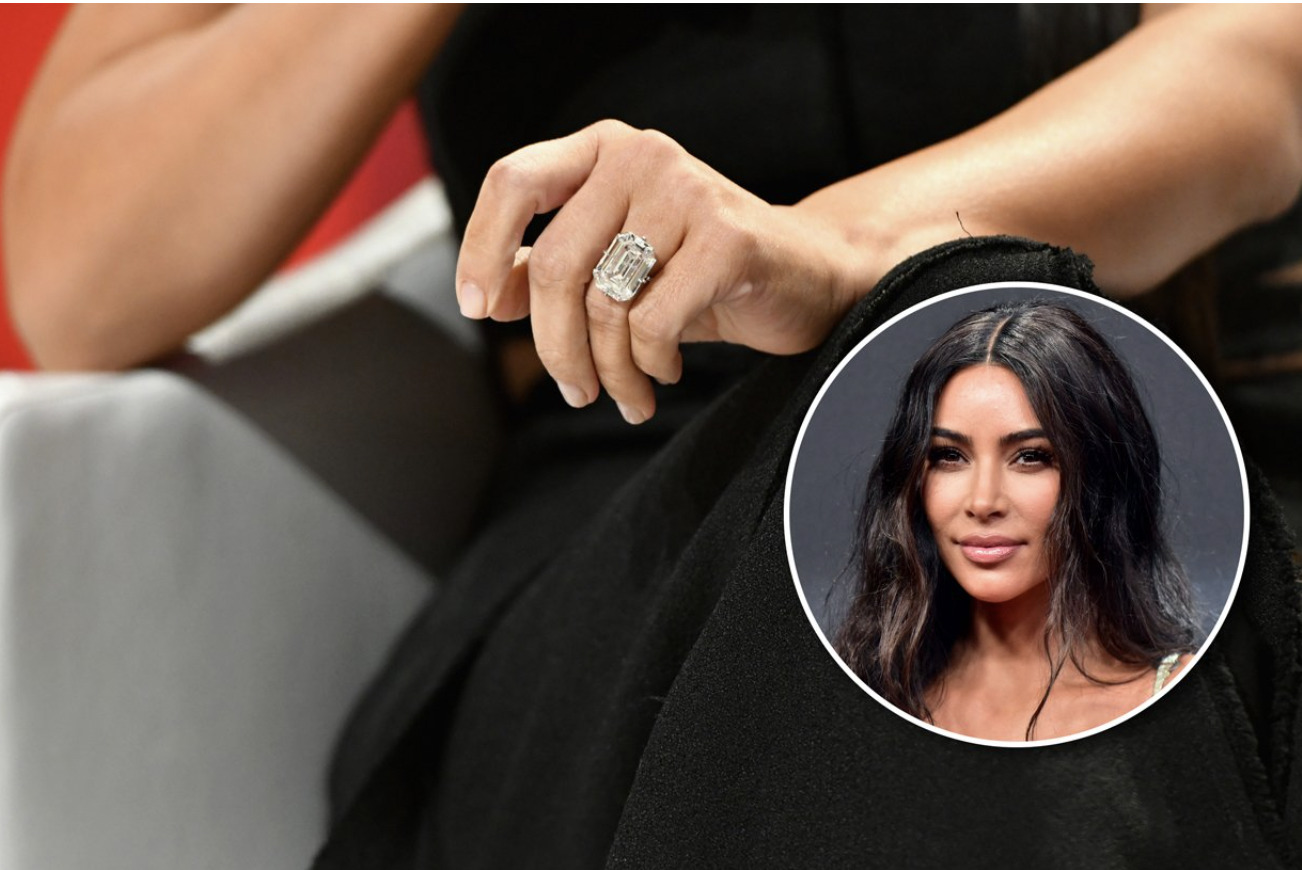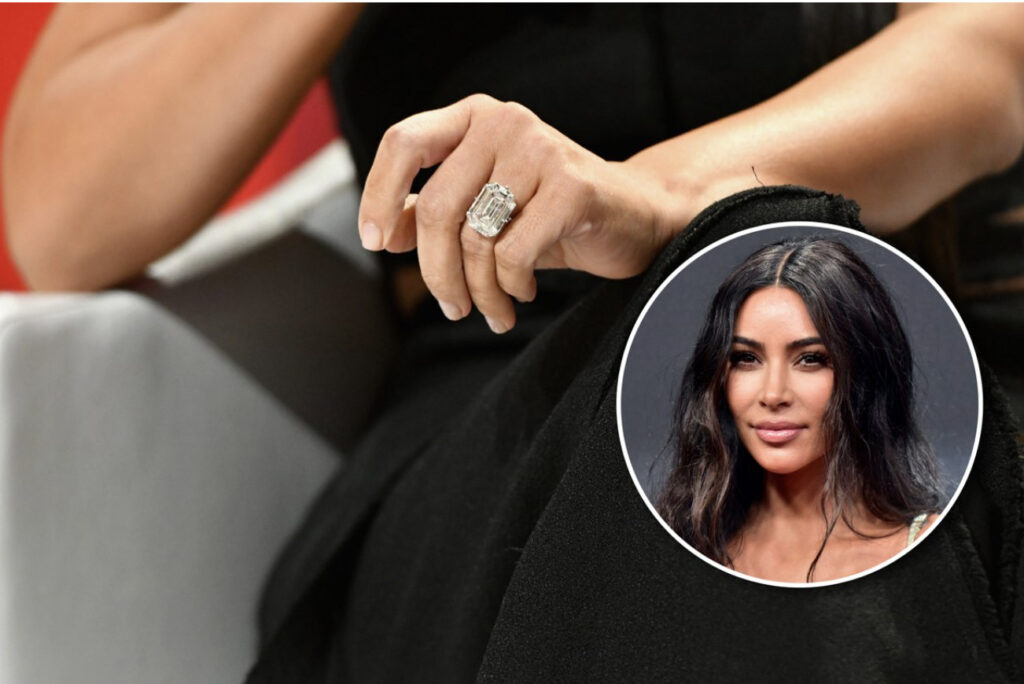 #14: Natalie Portman & Benjamin Millepied
In addition to winning countless awards for acting, Natalie Portman has earned a rank as one of the most eco-friendly celebrities. She's a committed social activist. She is an advocate for animal rights and environmental causes, so it should come as no surprise that Natalie Portman's engagement ring is also amongst the most ethically-made baubles in Hollywood.
Natalie's glamorous ring features an estimated 4-carat old-mine cut diamond surrounded by a double halo of pavé diamonds in a sustainable, recycled platinum setting. The ring features a surprise diamond-accented gallery and is worn alongside nested diamond wedding bands for a cohesive and elegant look. Portman's ring is valued between $35,000 to $90,000.
Unlike most celebrity engagement rings, Portman opted for a sustainable design using conflict-free, smaller stones for the band and recycled platinum for the metal.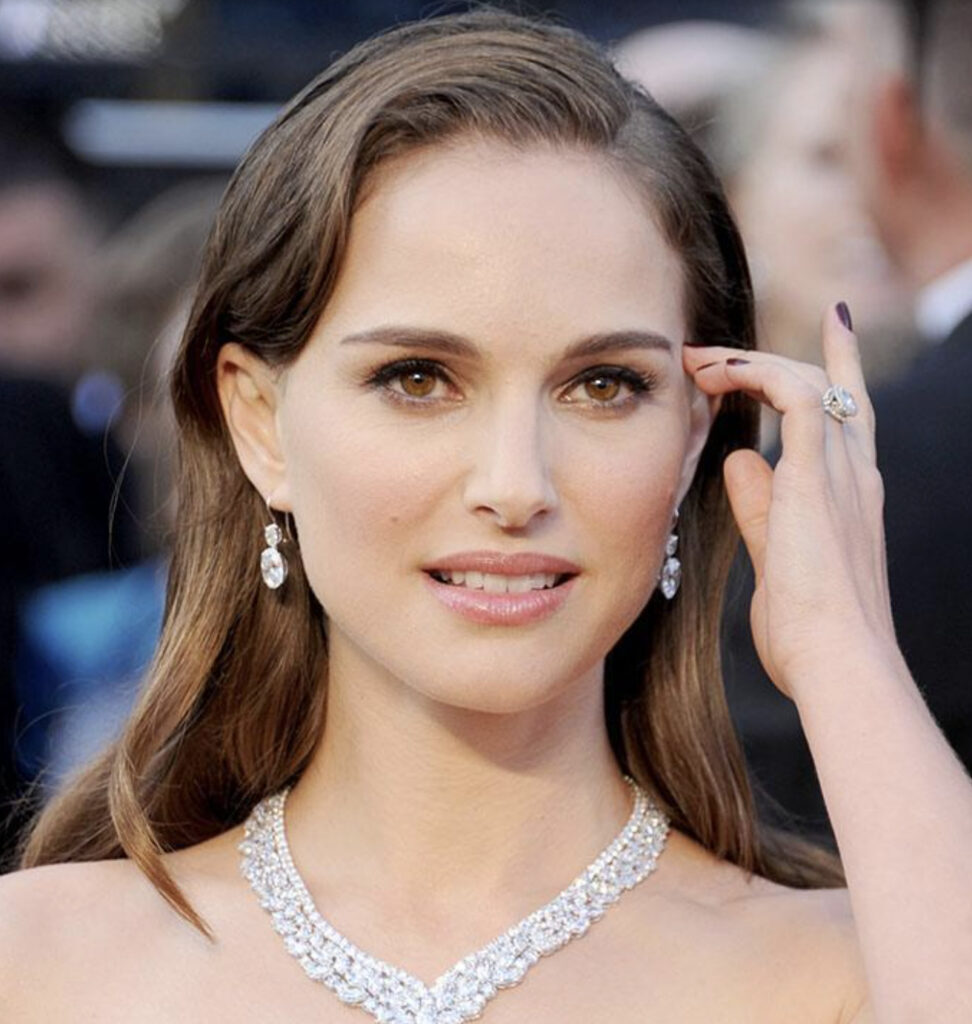 #13: Angelina Jolie & Brad Pitt
One of the most iconic celebrity marriages of all time, Angelina Jolie's marriage to Brad Pitt in the late 2000s will stay in the collective memory for years to come. Her stunning engagement ring, designed by a bespoke jeweler in Beverly Hills, is beautifully unique. The ring has a sizable emerald cut center diamond and multiple trapezoid diamonds extending down the shank.
Brad Pitt was involved in the design process with a specific vision for the ring. He wanted the side diamonds to embrace Angie's finger. Judging from the images, the entire ring looked absolutely flawless. The center stone is an emerald-cut diamond of 16 carats. Set in platinum with custom-cut trapezoid and baguette diamonds, the ring is worth $500,000.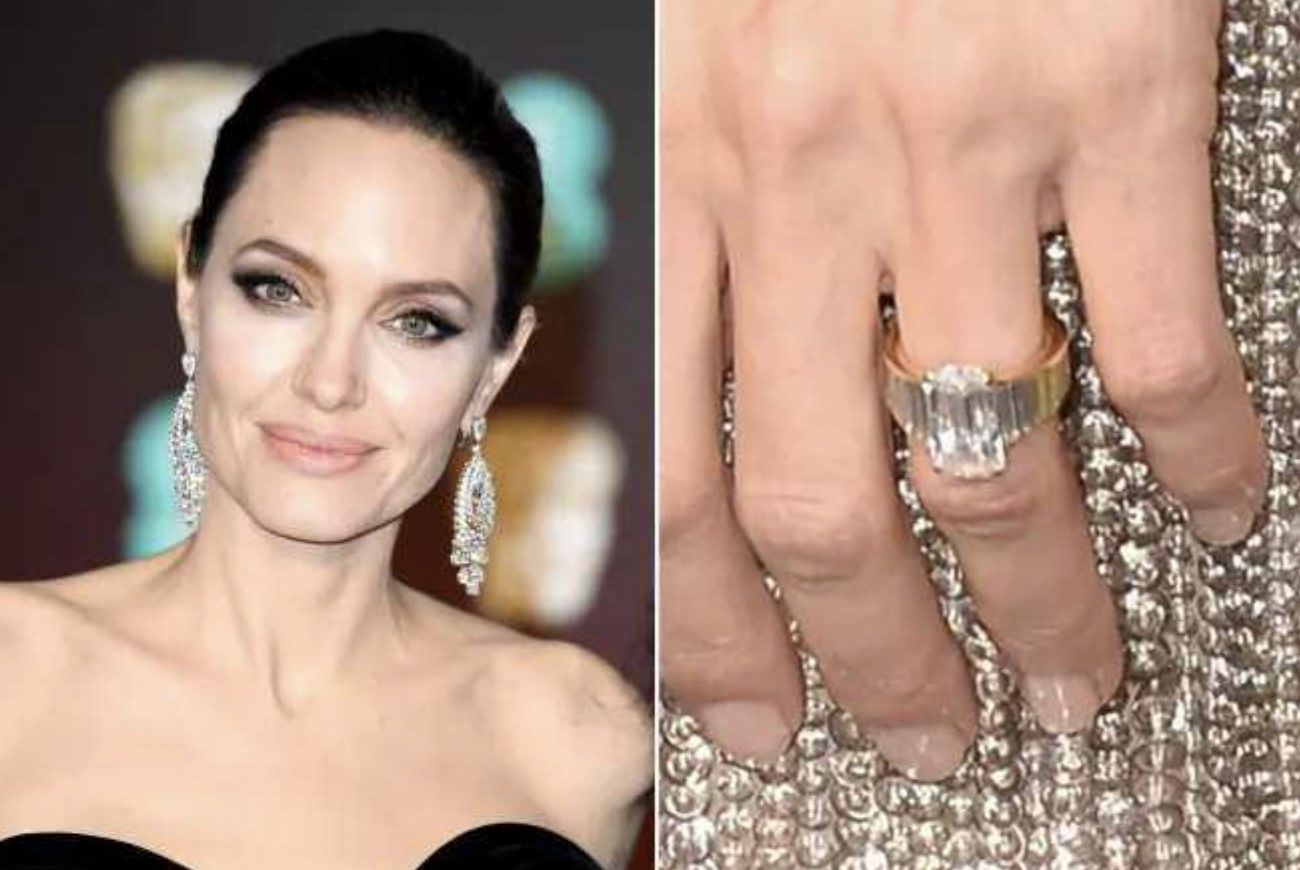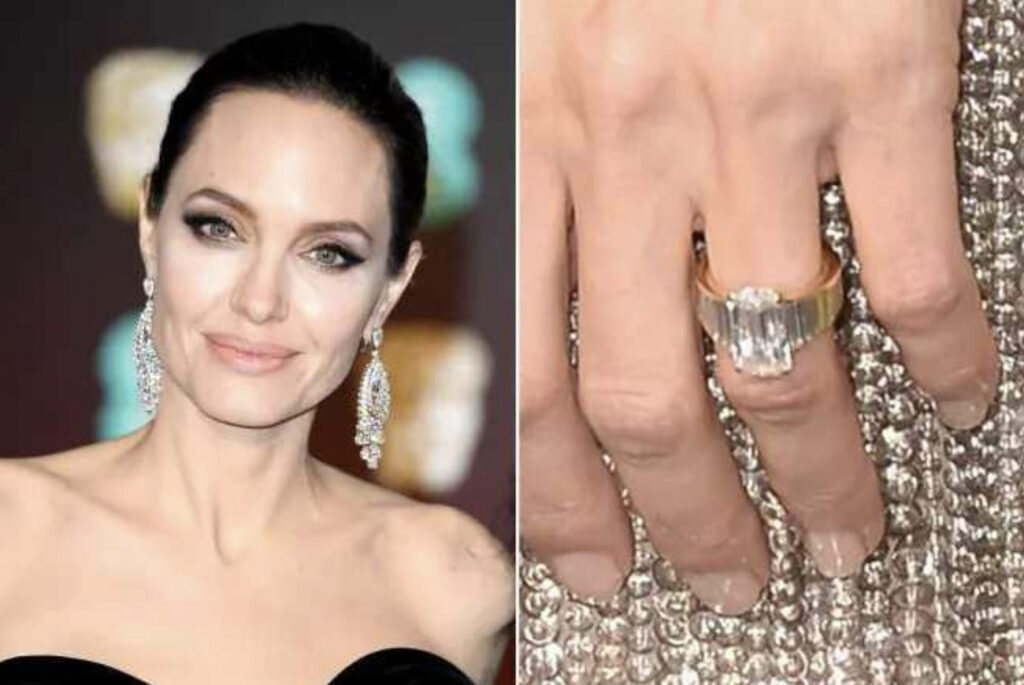 #12: Christina Aguilera & Matt Rutler
One look at Christina Aguilera's massive engagement ring and we need to take a moment for our eyes to adjust to the glare!
Matt had been working on the ring's design for over a year to ensure that every jewel and diamond placement had a reason and meaning.
Christina's engagement ring isn't just symbolic; it's also unique. The nine multicolor gemstones it contains were chosen for their meaning and are placed in the setting underneath the center diamond so that they always touch her skin.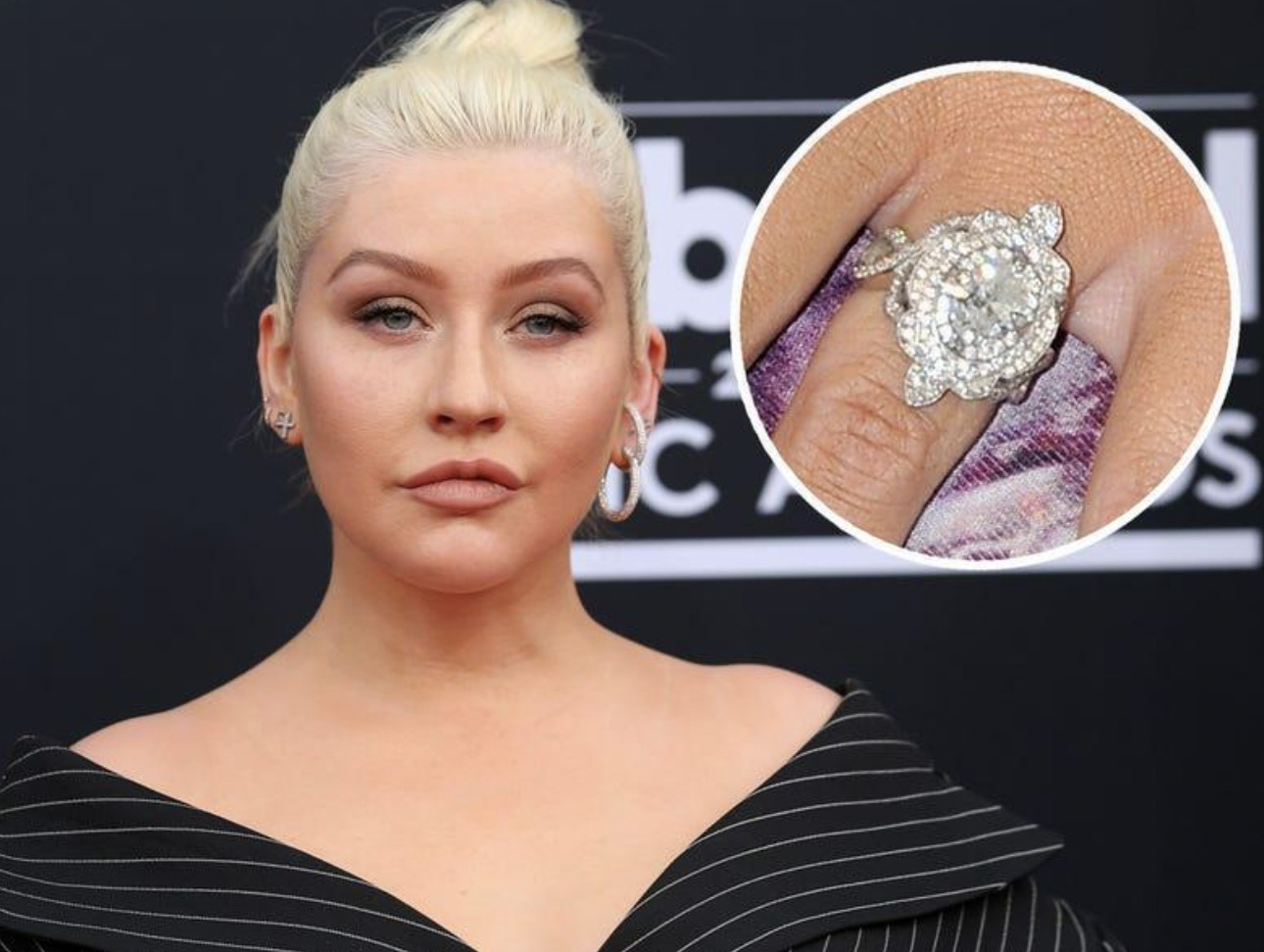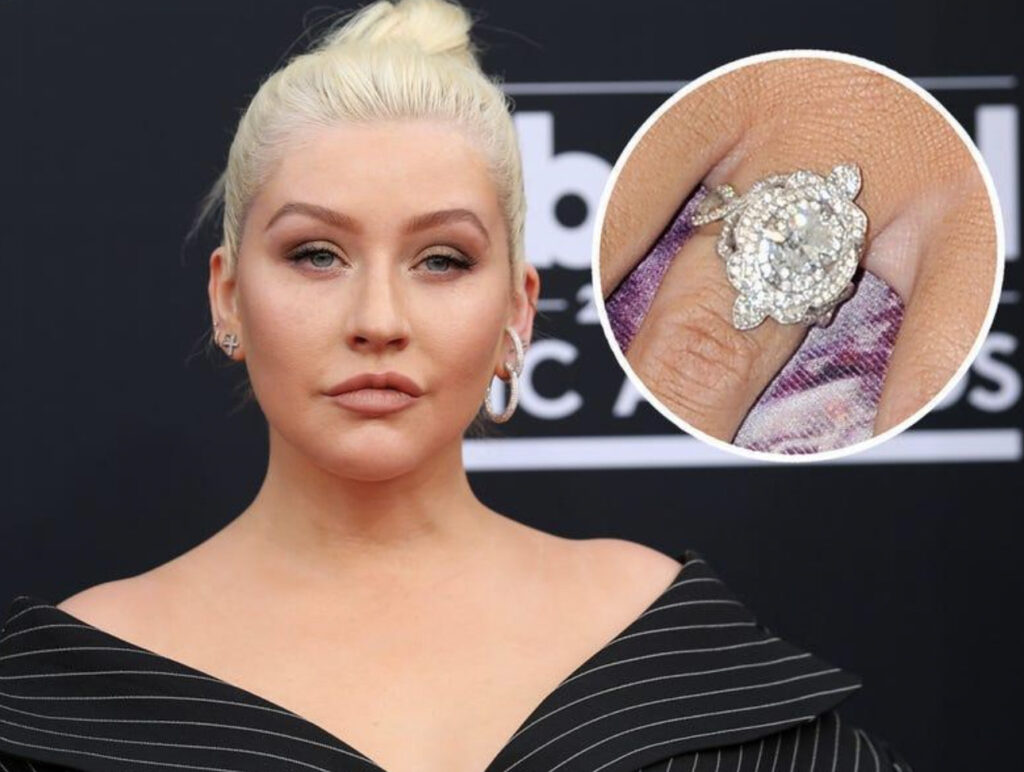 #11: Nikki Reed & Ian Somerhalder
After only six months of dating, Somerhalder, best known for his smoldering role on CW's The Vampire Diaries, proposed to Reed. All the diamonds are conflict-free and have the Kimberley Certification with recycled gold.
Nikki Reed's engagement ring design is an unconventional yet beautiful choice: a round diamond surrounded by 10 smaller diamonds forming a beautiful flower.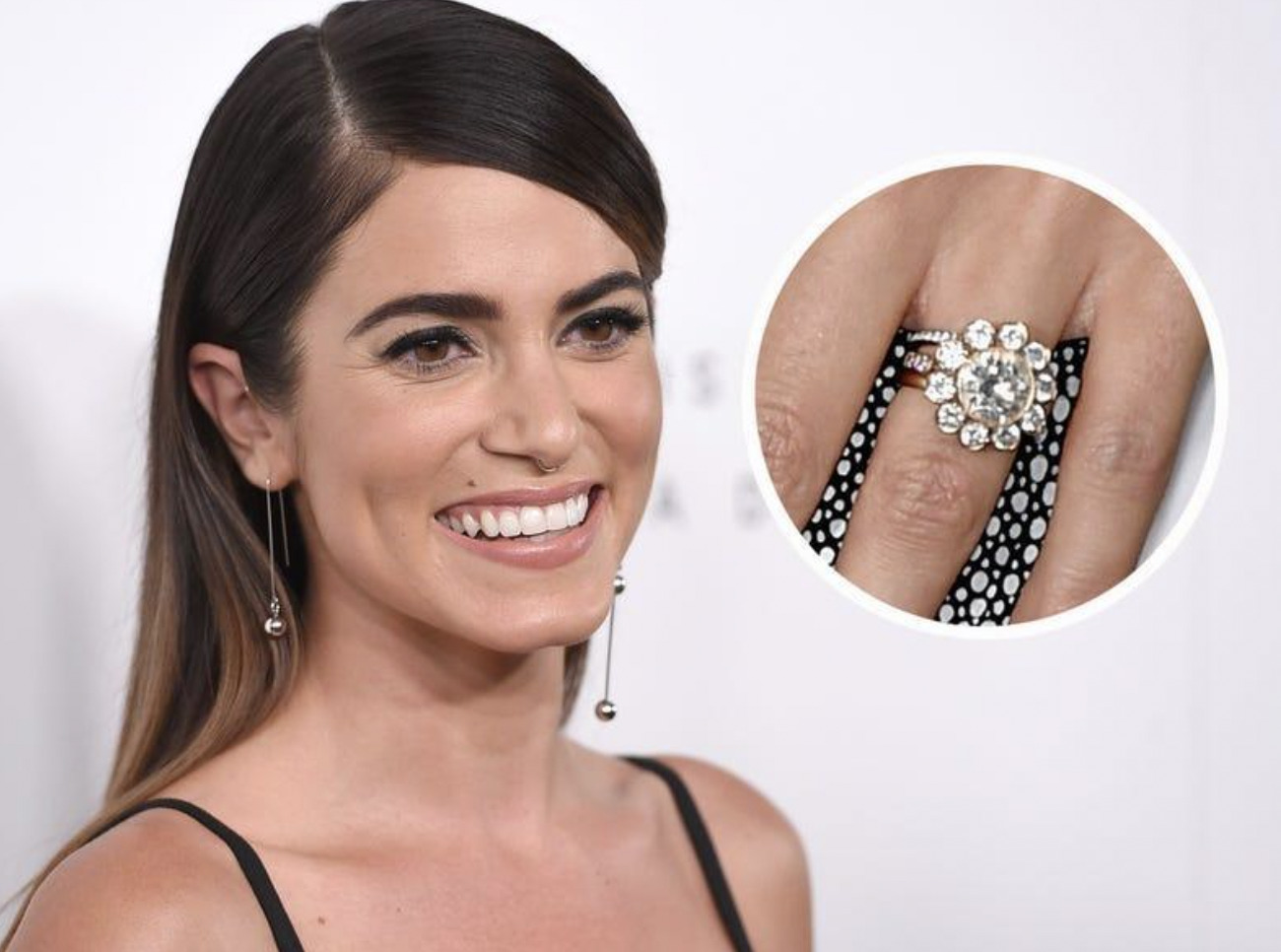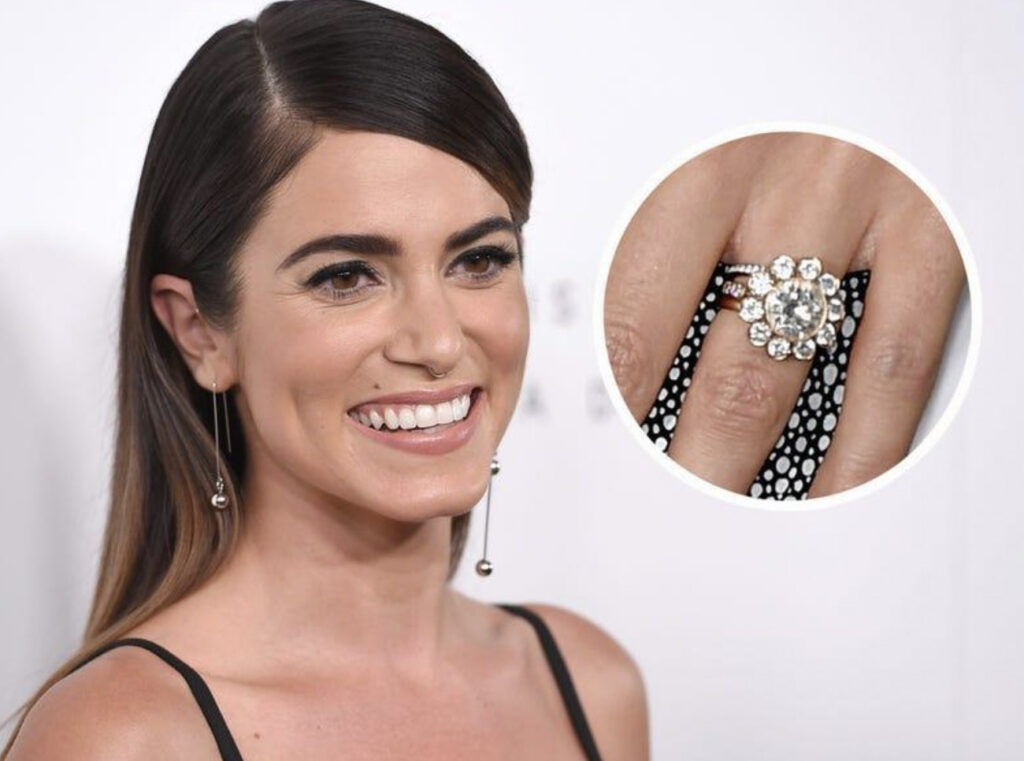 #10: Lady Gaga & Taylor Kinney
After meeting onset for her music video "You and I," and four years of dating, Kinney proposed to Lady Gaga with a diamond heart engagement ring that featured an 8ct heart-shaped white diamond set in platinum with diamond pave. On the back of the band, the phrase "T <3 S" is set in a diamond pave – a charming feature that means "Taylor loves Stephanie," Gaga's real name.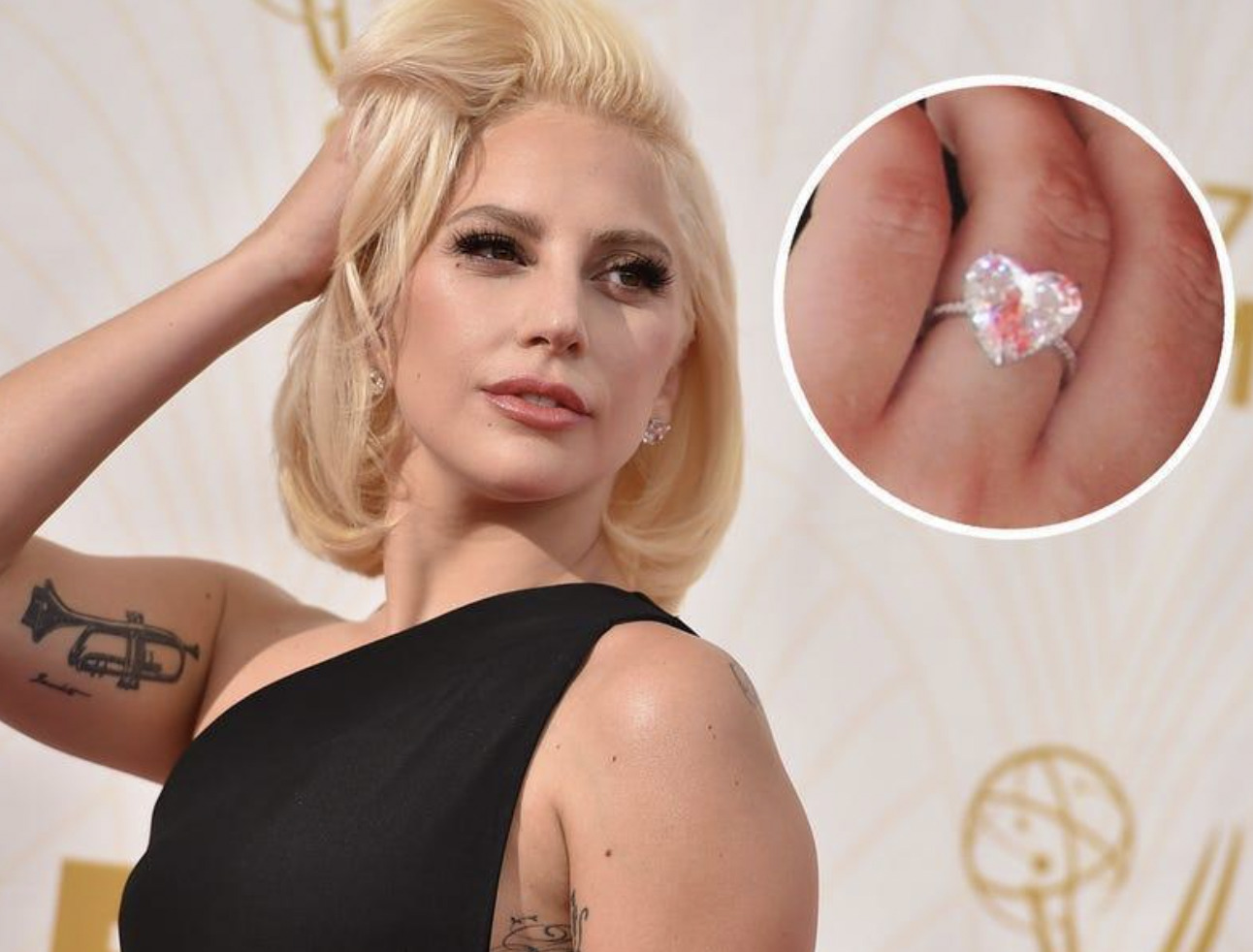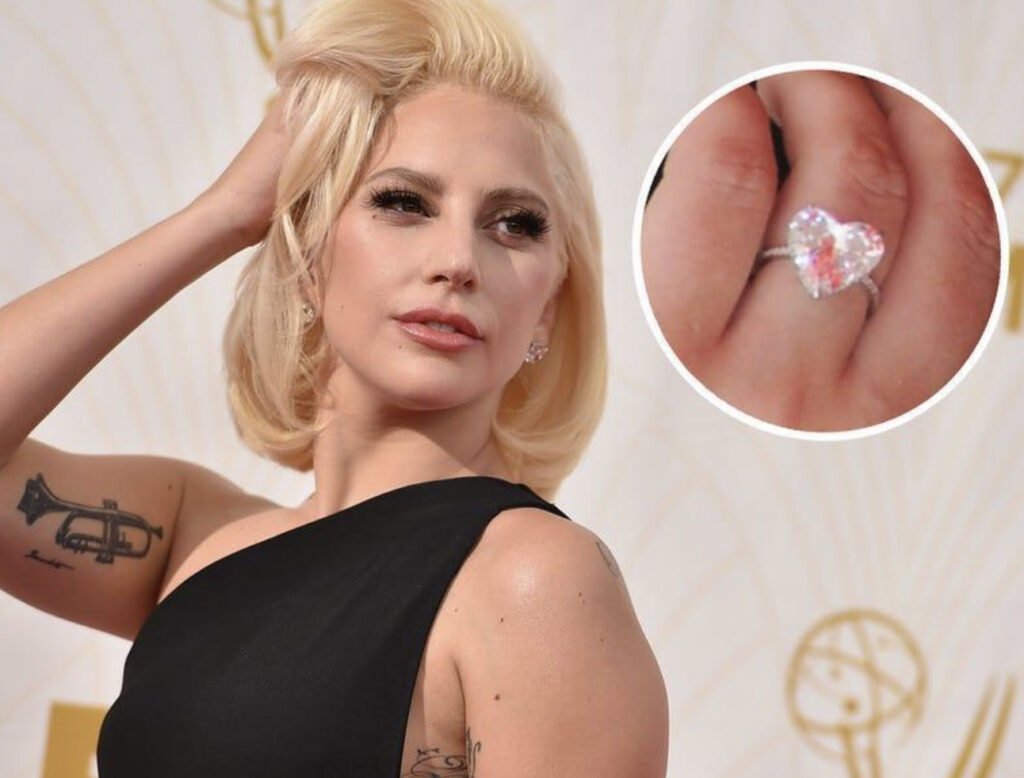 #9: Eva Longoria & José Antonio Bastón
When TV exec José Antonio Bastón proposed to Eva Longoria, he presented her with this gorgeous ruby engagement ring, which reminds us of Princess Diana and Kate Middleton's famous sapphire ring in design.
Surrounded by a halo of diamonds set on a white gold band, the ring is quite the showstopper, so she rarely wears it.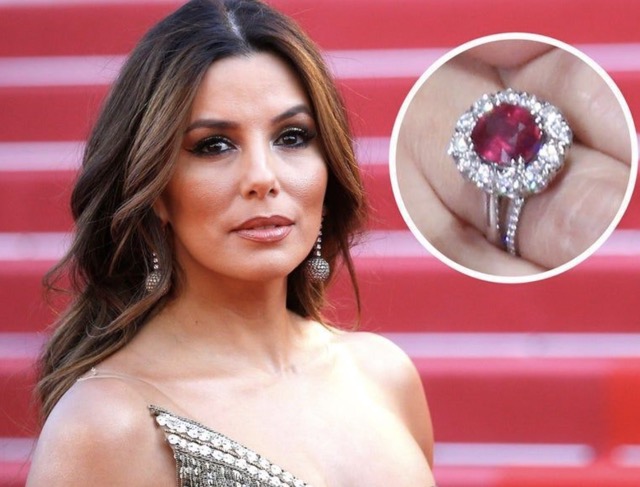 #8: Emily Ratajkowski & Sebastian Bear-McClard
When Emily Ratajkowski said "yes" to Sebastian Bear-Mcclard, her engagement ring made huge waves throughout the jewelry industry with its fresh take on the classic "Toi et Moi" design. The ring has a perfect combination of a square and pear-shaped diamond. Emily collaborated with an American jewelry designer to create the piece, proving that she has a discerning artistic eye for design alongside being a talented model.
Sebastian originally proposed to Emily with a hand-made ring out of a restaurant bill secured with a paperclip at a romantic meal out in New York City. The two had been dating for only a few weeks, suggesting that this partnership was love at first sight!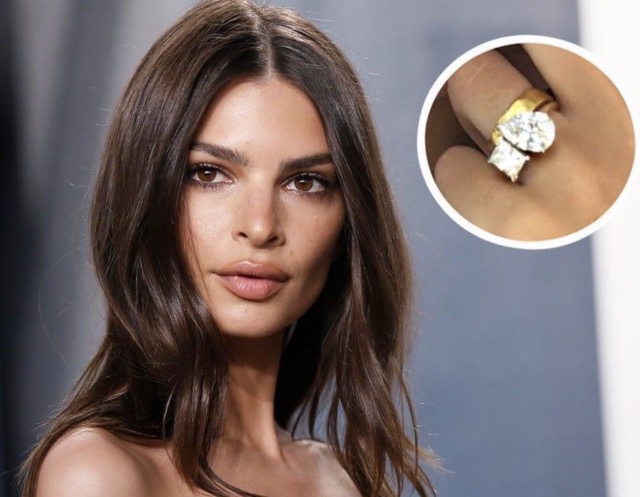 #7: Katy Perry & Orlando Bloom
American pop singer Katy Perry's engagement ring was bought in Dublin. Her fiancé, Lord of the Rings and Pirates of the Caribbean star Orlando Bloom, bought the antique red ring at Delphi Antiques in Powerscourt Townhouse shopping center in central Dublin.
If Perry's center stone is a ruby, the piece is valued between $25,000 to $50,000. If it's an actual pink diamond, the total value of the ring would be bumped up significantly with an estimated value between $500,000 to $2 million, experts say.
The couple got engaged on Valentine's Day in 2019, and Katy confirmed the news at the time with an Instagram post showing off her new rock captioned "full bloom."
#6: Ariana Grande & Dalton Gomez
The couple got engaged back in December 2020 when the singer announced the news with an Instagram post showcasing her one-of-a-kind ring made up of a large oval diamond and a delicate white pearl.
In an interview with E! News, engagement ring jeweler Jack Solow shared how the sparkler came together: "Dalton was involved in every step of the selection process through FaceTime and Zoom since he was on the west coast and I was here in my office in New York. He was very, very specific about what he wanted."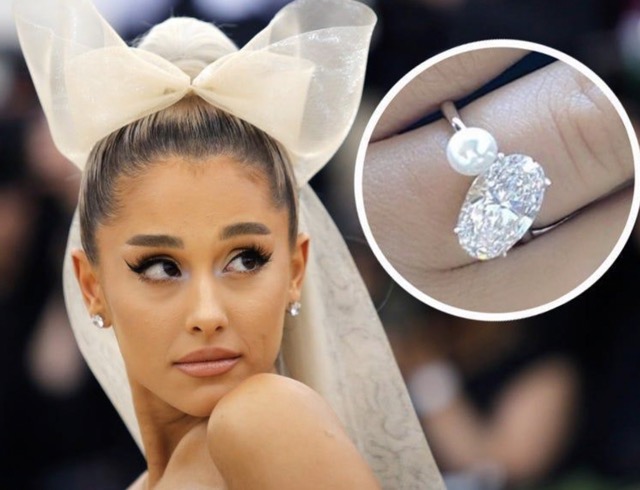 #5: Kourtney Kardashian & Travis Barker
After dating less than a year, Kourtney Kardashian got engaged to Barker when the rocker got down on one knee. Experts say the ring is worth at least $1 million, with a huge diamond of 12 carats.
Their jewelry designer Lorraine Schwartz opened up to PEOPLE about how Barker worked closely with her to craft Kardashian's jaw-dropping engagement ring: "It's a flawless, beautifully cut diamond stone. I worked on it with Travis, and he was a really big part of it."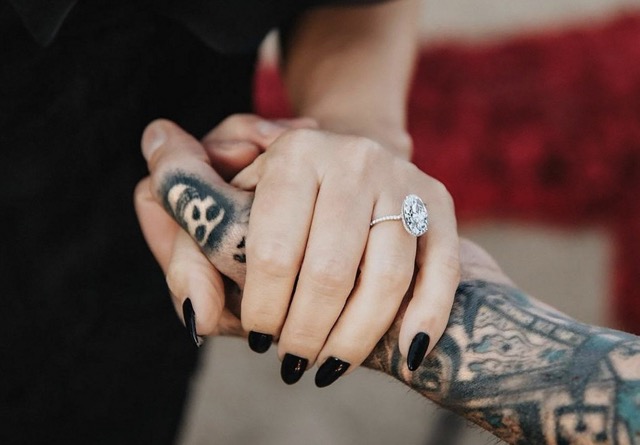 #4: Megan Fox & Machine Gun Kelly
The rapper might have given the most unusual engagement ring of all time. Why? The bands are actually thorns meant to hurt Megan Fox's finger if she takes it off! This custom two-stone ring can come apart to make two rings. When it's together, it's held in place by a magnet forming an obscure heart.
The $340K "band of thorns," embedded with sharp spikes, is meant to hurt because "love is pain."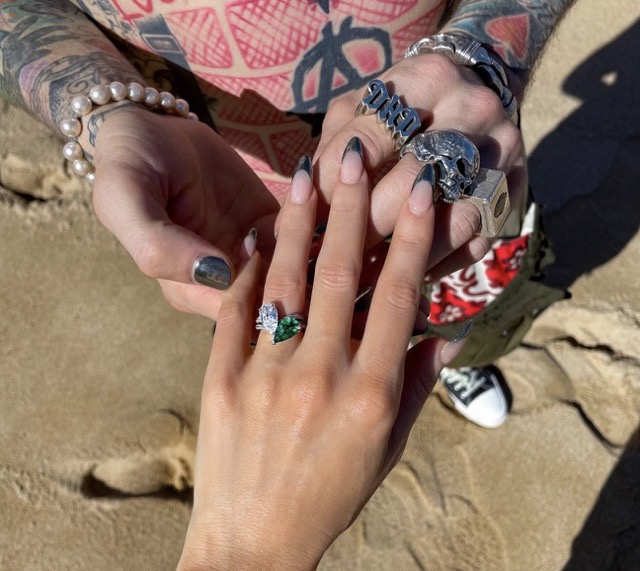 #3 & #2: Jackie Kennedy & Aristotle Onassis
Jackie Kennedy Onassis is one of the most well-known women in modern history. While most know her as First Lady, others can't forget her as a fashion icon. Jackie O. inspired an entire generation of housewives with her classy style.
When John F. Kennedy proposed to Jackie Bouvier, he did so with a vintage art deco ring worth over one million dollars in 1953. The iconic engagement bling featured a 2.88-carat emerald-cut diamond alongside a 2.84-carat emerald. An extra 2.12 carats of round and marquise-cut diamonds were added to the ring in 1963.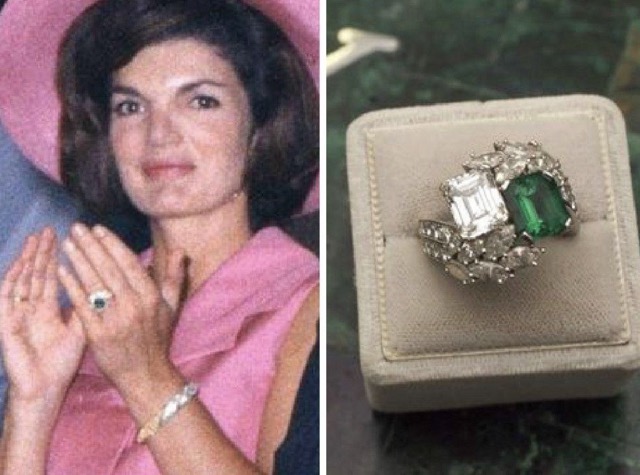 Billionaire Aristotle Onassis proposed to Jackie Kennedy in 1968. This truly massive 40-carat stunner was only worn twice before being locked in a vault until after her death. In 1996, the ring was sold at Jackie Kennedy's estate auction for $2.6 million.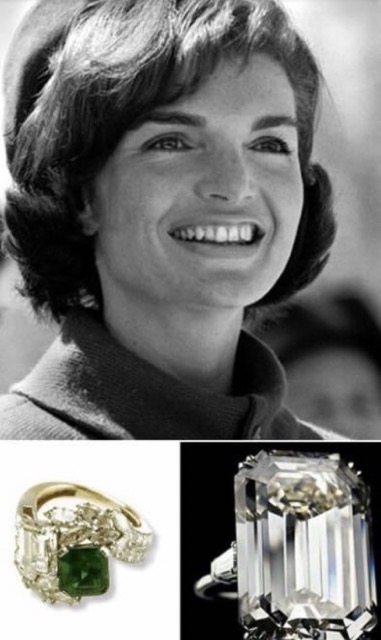 #1: Grace Kelly & Príncipe Rainiero III
Grace Kelly married Prince Rainier III of Monaco in 1956, and her dazzling $4 million engagement ring is considered one of the world's most expensive celebrity gems. However, the 10.4-carat Cartier jewel was not the first ring presented to Grace when her prince proposed!
It transpires that the movie star was given another Cartier eternity band when she was asked the all-important question by Prince Rainier III. The precious piece of jewelry included heirloom red rubies and white diamonds to represent the colors of Monaco's flag.
The couple had their religious ceremony in the Cathedral of Monaco with around 600 guests, while over 30 million watched from their black&white TV screens. The event was the wedding of the century, and people are still talking about it to this very day!
The ring has definitely grown in value since the 50s. It could be worth around $38.8 million now!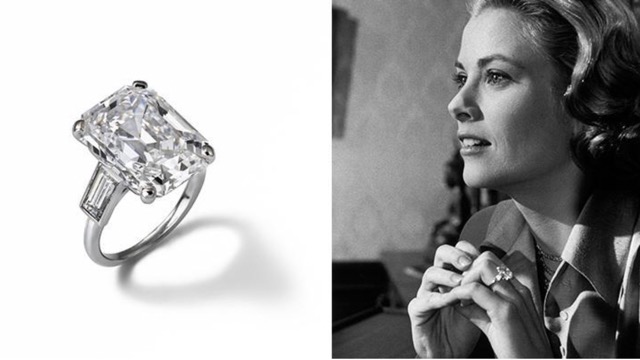 In Conclusion
Whether you're a fan of unconventional rings or not, it's hard to deny that these celebrities have some serious bling game. From classic diamonds to unique shapes and settings, these rings are sure to turn heads. If you're in the market for an unusual engagement ring, be sure to check out some of these celebrity designs for inspiration.
At Bling Advisor, we specialize in unique designs that are sure to make a statement. Contact us today to learn more about our custom jewelry process and how we can help you create the perfect engagement ring for your special someone.
The Bling Advisor team can help you to create a custom piece of jewelry from scratch. Our team will work closely with you through the custom jewelry design process – from idea to final creation. The process is simple as 1-2-3!